Wed Sep 7, 2022
My friend Brent Donnelly of Spectra Markets, tenured regular attendee at the annual gathering in Maine, has granted permission to share his excellent research note about US dollar strength and stock markets. Here are the details to learn about Brent's services: https://www.spectramarkets.com/subscribe/.

A video of Brent's comments to our gathering in Maine is available in the YouTube that follows this guest piece.
 
Now let's share Brent's research note.
 
---

Echoes and rhymes
by Brent Donnelly
President Spectra Markets

First of all, my entire piece yesterday has gone out the window as Swiss inflation comes in above expectations and the big EUR squeeze could already be over. There is always a risk of looking stupid when I put a short-term trade like this in am/FX. Fortunately, this is bad decision/good outcome as I cut with a 3-pip profit and move on. I would be more comfortable with EURAUD or EURCAD longs as I think VIX is about to go north of 30, but nothing in the official trades for now.

As Michael Saylor was accused of tax fraud by the DC attorney general yesterday, the quantum entanglement between the 2000 dotcom bubble and the 2021 crypto bubble continues to amaze me.1 While there are obviously differences, the macro stories then and now line up well: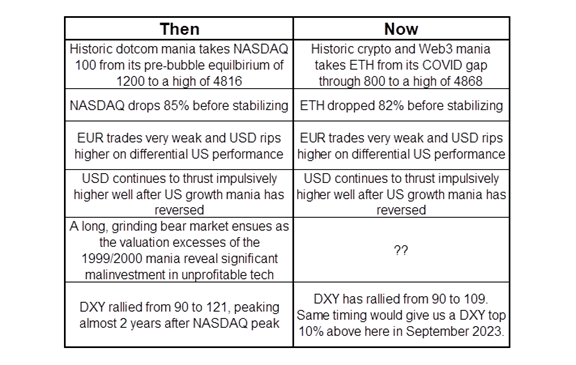 It's silly to expect everything to play out identically to last time and my belief is that we are in a combination of 2001 and 2018 markets as Fed policy now is more like 2018 than 2001. The Fed had already cut eight times by September 2001, whereas now they are hiking and just doubled QT. The main takeaways are:

• Pavlovian buy the dip strategies are still way too early.

• The dollar can continue from overbought/overvalued to "more overbought and overvalued."

Here is a chart of the DXY so you can see the rhyming:

DXY 1995 to now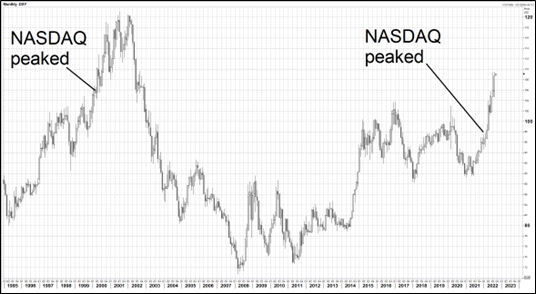 It is at least mildly interesting that the DXY started at 90.00 in both 2000 and 2021 and it got to 121.00 in 2001. This USD rally is more impulsive and less choppy than the 2000 rally, probably because Fed policy is unambiguously tightening now whereas much of the 2000/2002 DXY rally happened in synch with Fed rate cuts.

Combine the 2001 bubble unwind echo with 2018-style tightening, 1970s inflation, and a 2010-2020 QE-era addiction to buying the dips… And you get the current market. It took 12 Fed cuts in 2001 before SPX found a bottom. This market was trying to buy the dip on hopes for a pair of cuts a year out in 2023, entering the worst month of the year for SPX.

Wacky.

Fed Funds (orange) and SPX (blue)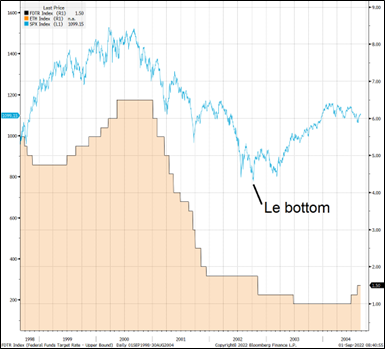 Quick message to new subs

There has been a record surge in new subscribers this month and I would like to inform all the new peeps of a few things:

1.   I will mix up the length of am/FX. Some days it's a zippy 1 or 2-pager; some days it's a 5-page essay. I will warn you if it's on the longer side.

2.   Topics vary from FX to global macro to crypto to philosophy of trading. I try not to hit the same topic over and over.

3.   Feedback, questions, and criticism are always welcome.

4.   I don't have a strong knowledge of retail brokerages or what products you can trade where. My background is working / trading at a bank. I came to Spectra in September 2021, and I use IBKR but I'm sure there are many good options. I don't know though, sorry.

5.   Sometimes I discuss products that cannot be traded by retail. My audience is both retail and institutional so sometimes I might pitch an idea involving something like a digital option or a one touch. Those cannot generally be traded by retail investors unless you have a really good private bank connection and know what you are doing so you don't get your face ripped off on the pricing.

6.   I publish the trade results quarterly and the next update is September 7 (approx.)

7.   Thank you!

Final thought

1-year USDJPY carry is now 4.3% which means with vol and skew, you can buy a 1-year 150.00 digital for 15%.

The 1-year ATMF digital is 133.90 right now with spot at 139.65. Spicy! Long-dated topside USDJPY is an interesting product when rates and vol are on the move. Thanks, Sal, for pointing this out.

Have a well-connected day.

good luck ⇅ be nimble

________________________________________________________ 
At Camp Kotok this summer, Brent gave us his take on globalization/deglobalization, with a focus on the economic effects. You can view his talk here: https://youtu.be/V5kirvXp2SM
David R. Kotok
Chairman & Chief Investment Officer
Email | Bio
---
Links to other websites or electronic media controlled or offered by Third-Parties (non-affiliates of Cumberland Advisors) are provided only as a reference and courtesy to our users. Cumberland Advisors has no control over such websites, does not recommend or endorse any opinions, ideas, products, information, or content of such sites, and makes no warranties as to the accuracy, completeness, reliability or suitability of their content. Cumberland Advisors hereby disclaims liability for any information, materials, products or services posted or offered at any of the Third-Party websites. The Third-Party may have a privacy and/or security policy different from that of Cumberland Advisors. Therefore, please refer to the specific privacy and security policies of the Third-Party when accessing their websites.
---
Sign up for our FREE Cumberland Market Commentaries
---
Cumberland Advisors Market Commentaries offer insights and analysis on upcoming, important economic issues that potentially impact global financial markets. Our team shares their thinking on global economic developments, market news and other factors that often influence investment opportunities and strategies.