Thu Sep 9, 2021
When I mentioned to a neighbor who collects rare books that I was drafting a commentary about the evolution of policy in China today and going forward, my neighbor brought me this little book to peruse:
 
Image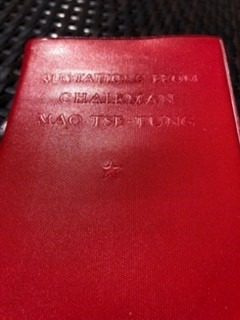 Can you read the faded title? It's hard to make out. It's a 1966 first edition of the "Little Red Book," The Quotations of Chairman Mao Tse-Tung [or Mao Zedong], in English. Paperback versions available from many bookstores keep the color red but often add Chairman Mao's photograph.
 
 
The China policy debate is heating up.  It now includes global debt markets, potential default (Evergrande) and continuing geopolitical risks and shocks. So, we have to understand the evolution of a country's policy in the context of its history and culture. In the case of China, we have to think of the period when China was closed under Chairman Mao Zedong, as well as the period when it was opening up under Zhou Enlai and Deng Xiaoping. It was Richard Nixon, of course, who went to China and met with Zhou Enlai after Henry Kissinger arranged that historic event. And now we confront a period where China is "closing up" or at least changing once again the terms of its relationship with the world, and the new strong man is Xi Jinping. But cultural context is rich and deep in China. We need only to visit the Forbidden City to gain a sense of China's imperial past versus the modern period of less than a century, to grasp the transitions that are underway, and to put the country's present evolution in this vast historical context, and it is China's ongoing evolution that we are writing about today.
 
As I thumbed through my neighbor's book, I found a passage from the early period of Mao's career in China's Communist Party. It reads,
 
"Who are our enemies? Who are our friends? This is a question of the first importance for the revolution. The basic reason why all previous revolutionary struggles in China achieved so little was their failure to unite with real friends in order to attack real enemies. A revolutionary party is the guide of the masses, and no revolution ever succeeds when the revolutionary party leads them astray. To ensure that we will definitely achieve success in or revolution and will not lead the masses astray, we must pay attention to uniting with our real friends in order to attack our real enemies. To distinguish real friends from real enemies, we must make a general analysis of the economic status of the various classes in Chinese society and of their respective attitudes towards the revolution."
(The passage from my neighbor's 1966 first edition is quoted from Mao Zedong, "Analysis of the Classes in Chinese Society" (March 1926), Selected Works, Vol. 1, p. 13.)
 
China was a hot topic at our Leen's Lodge gatherings this summer during both weeks. We had a number of China experts articulating views. Our conversations ran the gamut of history from Deng Xiaoping's gradual "opening up" initiative carried out over four decades to Xi Zinping's "closing up" or "tightening up" strategy taking place now. (For a brief history of Chinese economic reform, see https://en.wikipedia.org/wiki/Chinese_economic_reform.) We discussed the ramifications of all scenarios, from the desired but least likely "peace breaks out and everybody celebrates, kumba ya" to preparation for all-out war, which would entail China's being prepared to neutralize American military bases in Asia. All scenarios were explored without conclusion.
 
Here are some market issues. China was willing to take a hit of over $1 trillion in market cap on the 250 Chinese companies that are listed on the American exchanges ("How the delisting of Chinese firms on American exchanges might play out," https://www.economist.com/finance-and-economics/2021/08/14/how-the-delisting-of-chinese-firms-on-american-exchanges-might-play-out). China was also willing to impose a new regulatory structure and essentially alter its capital-raising system to bypass access to American capital markets or to create incentives to avoid them and institute penalties for using them. Chinese financial policy is now highly uncertain when it comes to markets. Xi Zinping has, however, recently announced the creation of China's own stock exchange, the better to channel investments to young Chinese tech companies: "China to Launch Beijing Stock Exchange to Steer Investment Into Innovation," https://www.wsj.com/articles/china-to-launch-beijing-stock-exchange-to-steer-investment-into-innovation-11630622825.
 
We also know that Chinese social policies have changed. Beijing is instituting a three-child policy to replace its one-child program. China has a population of 1.4 billion people, approximately four times that of the United States. Paul Schulte of Singapore, co-author of Race For 5G Supremacy, The: Why China Is Surging, Where Millennials Struggle, & How America Can Prevail, reminds us that China has 400 million millennials who are skilled in high-tech and well adapted to the rapidly evolving, well-structured systems of their country. In that regard he compares China to the United States, which has 90 million millennials. Of these, about 40 million contend with the impacts of social ills and economic obstacles of one kind or another that have shaped and impeded their journeys to reach their potential. As a result, the ratio of skilled high-tech, highly motivated millennials in China to those in the United States is roughly 8:1 in favor of China.
 
China is also exerting increasing "cyber sovereignty" over the Chinese internet experience. We're accustomed to one worldwide internet, but now we are seeing an emerging dissection of the internet into component parts. A recent article, "Chinese censorship is coming" (https://unherd.com/2021/08/chinese-censorship-comes-to-the-west/) maps four trajectories underway, as described in a new book, Four Internets: Data, Geopolitics, and the Governance of Cyberspace, by Kieron O'Hara and Wendy Hall (https://www.amazon.com/Four-Internets-Geopolitics-Governance-Cyberspace-ebook/dp/B096KXHQVP/) (hat tip to Barry Ritholz for adding this piece to his daily reading). Essentially, O'Hara and Hall conclude that there will be four different versions of the internet, though whether that scenario comes to pass in full remains to be seen. One of the four is, of course, the tightly controlled Beijing version.
 
We recommend reading and thinking about the issues the article raises. It's very easy to see how Beijing could construct and implement an internet system that would essentially reach a third of the population of the world within its sphere of influence.
 
(Let me digress for one moment. On one trip to China I actually drafted a Cumberland commentary from one of a bank of computers provided by China Mobile at the top of Yellow Mountain. I sat at the computer, typed the draft, edited it online, and sent it to my company in the United States to complete and publish. About three hours later I went back to the China Mobile system and logged in to check, and I saw the edited piece that I had completed sent back to me as a recipient of the email distribution that Cumberland makes to all of its clients and readers. The piece that I got back had been censored, and I was able to compare what the censor did with what I had originally written, while sitting at the top of Yellow Mountain. That was a few years ago, before technology automated the process of screening communications. The speed at which interventions are implemented is now measured in milliseconds.)
 
Think about this entire context in financial market terms. We do all the time. The result is a highly uncertain profile where various scenarios can be scripted but probabilities cannot be assigned to them with high confidence. So the situational structure entails risk, which requires data measurement and analysis and the assessment of probabilities. The process is exceptionally difficult, and the confidence intervals in any of the forecasts are very wide. Meanwhile, the uncertainty premium regarding China is higher than it has been in a long time and appears to be rising.
 
Portfolio structures must take into account the China risk profile and must also be aware of capital market flows. Remember, China is the second-largest economy in the world, the United States being first. But if you remove the domestic service sector from the US GDP calculations, China is now larger than the United States when it comes to production capacity and materials and goods. We are an aging service-sector economy with huge political divisions and disarray. China is a cohesive one-party system with a focus on expanding its global footprint and hegemony.
 
We've prepared a list of additional reads and accompanying points to consider. We hope it provokes thought.
 
(1) China revamps military policy
 
We start our list with two links in the Chinese language, articulating policy changes in the Chinese military. Our colleague, math professor and Cumberland Quantitative Strategist Leo Chen, helps us with the translation and surveillance of the Chinese-language websites. Leo summarizes for us:
 
"The official Chinese military enlisting website announced their revised draft of their conscription policy last week. The policy was originally published in 1985. The proposed regulatory draft increased the policy from 10 chapters with 55 items to 12 chapters with 77 items. One of the main changes in the latest draft is that China emphasizes the top priority for veterans for conscription in wartime for the first time."
 
The draft was open to public comment from July 2nd to August 2nd. The proposed draft in Chinese can be found here: https://www.chinanews.com/gn/2021/07-04/9512569.shtml. The latest version of the policy, again in Chinese, can be found here: https://www.gfbzb.gov.cn/zbbm/zcfg/byfg/201403/20140313/817828215.html.
 
The Hong Kong-based South China Morning Post (SCMP), which is currently still owned by Alibaba but is now subject to the intensifying surveillance of the Chinese government and propaganda machine, reported these plans for its English-speaking audience. Remember, nothing is published in the English language out of a Chinese-sourced publication without Beijing's nod of approval.
 
(2) Is China gearing up for war?
 
"China spells out wartime conscription plans for first time,"
https://www.scmp.com/news/china/military/article/3140064/china-spells-out-wartime-conscription-plans-first-time
 
A recent article from The Hill discusses Chinese preparations for war. You can read it and draw your own conclusions.
 
"China's military prepares for war, while America's military goes 'woke',"
https://thehill.com/opinion/national-security/561796-chinas-military-prepares-for-war-while-americas-military-goes-woke
 
In a PBS interview Taiwan's foreign minister, Joseph Wu, maps Chinese aggression toward Taiwan, which takes a number of forms.
"Taiwan's foreign minister says China is 'preparing for war.' Here's Taiwan's response plan,"
https://www.pbs.org/newshour/show/taiwans-foreign-minister-says-china-is-preparing-for-war-heres-taiwans-response-plan
 
(3) China sees opportunity in Afghanistan
 
Next, an article from the South China Morning Post conveys to an English-speaking audience a message about China's relationship with the Taliban and Afghanistan. One of the biggest concerns about the upheaval in Afghanistan is how the change in geopolitical forces which will take shape and how China and separately Russia and separately Iran may jockey for power in the new Afghanistan. There's a military approach, which we discussed in Maine, intended to enable the United States to address the situation in Afghanistan if a new Al-Qaeda-type cell surfaces and the Taliban essentially violate everything they said they would do and allow another Bin Ladin-type Al-Qaeda structure to emerge. The reach from US bases in the Middle East is powerful. We're not talking about that piece today. We're talking about the change to regional hegemony, with China as the dominant player.
 
"Risks and opportunities for China in Taliban's return to power in Afghanistan,"
https://www.scmp.com/news/china/diplomacy/article/3145142/china-russia-embassies-stay-put-afghanistan-us-and-allies-flee
It is expected that the Chinese government will invest significantly in economic development in Afghanistan the way it has in Pakistan. China offers economic development without the price of having to promise liberal or democratic policies. China has a great interest in making certain that Afghanistan is a stable nation and that terrorism does not extend into China and Pakistan.
"With economic assets to secure, China embraces the Taliban," https://www.aljazeera.com/economy/2021/8/17/with-economic-assets-to-secure-china-embraces-the-taliban
Indeed, China is wasting no time in making overtures to the Taliban.
"China pledges to help rebuild Afghanistan and, while blaming US for chaos, insists it pays too," https://www.scmp.com/news/china/diplomacy/article/3146986/china-calls-us-be-investigated-civilian-deaths-afghanistan
 
(4) China tackles the Delta variant
 
The opening of the speech I made in July at the Rocky Mountain Economic Summit includes a link to a 7-minute video in English from the South China Morning Post, which draws upon video footage from around the world to characterize the spread of the Delta variant as of June 30. Remember, this was a YouTube released worldwide, and this is the English-language version. You can see how well it was done, and you can also reread the speech if you would like and check the data structure. China missed its early opportunity to suppress the mystery epidemic in Wuhan, but it was prepared to act quickly on Delta.
 
"David R. Kotok's Remarks at the Rocky Mountain Economic Summit,"
https://www.cumber.com/market-commentary/david-r-kotoks-remarks-rocky-mountain-economic-summit
 
(An aside: The speech itself was received two ways. Some people have thanked me for the presentation, the links, and the warnings about the Delta variant. Others complained that there's been too much COVID, and they want COVID to be over, and they don't want to hear about the problem anymore.
 
I understand the frustration of some; but as I mentioned in this speech, the Delta variant doesn't know how we feel. It doesn't care if we are Republicans or Democrats. The Delta variant knows only one thing — how to infect us if we give it the chance. And if you are unvaccinated, it will get to you and — as we see in national statistics — it may put you in the hospital and may kill you.
 
If you are vaccinated, the virus may get to you anyway; but your body will at least have the means to fight it, supplied by the vaccine. Now that's an interesting point of view, so those who want to read the whole speech, the link will take you to it. And if you just want to take in the portion at the beginning with the link to the China video reporting on the Delta variant, feel free to do so.)
 
While US cases and deaths have risen again, China's response to the Delta variant has been swift, with strict measures and economic repercussions, reflecting a view that the short-term pain of restrictions ultimately pays off in terms of a stronger longer-term economic recovery. See "China Hits Zero Covid Cases with a Month of Draconian Curbs," https://www.bloomberg.com/news/articles/2021-08-23/china-crushed-covid-again-with-containment-on-steroids?sref=TG2o5EVv, and "Covid-19 Delta Variant Pummels China's Services Sector," https://www.wsj.com/articles/covid-19-delta-variant-pummels-chinas-services-sector-11630386778.
 
(5) China extends its reach with COVID vaccines
 
China has several vaccines, the Sinovac and Sinopharm vaccines among them. Recent studies suggest that they compare fairly well to the Johnson & Johnson, Pfizer, and Moderna vaccines and others around the world in terms of their efficacy. See "How do China's COVID vaccines fare against the Delta variant?" https://fortune.com/2021/08/31/china-covid-vaccine-sinovac-sinopharm-delta-variant-effective/. China is competing with the United States and other Western countries with respect to vaccines, and China's vaccines continue to achieve greater global distribution than the American vaccines have. Obviously, it is in China's interest to develop relationships around the world with the many countries that are plagued by COVID. The vaccine is a tool for achieving that.
 
Here is a link to a story in the South China Morning Post about how China could reach herd immunity through vaccination by the end of this year: "China could reach herd immunity against Covid-19 by end of year, Zhong Nanshan says," https://www.scmp.com/news/china/science/article/3145846/china-could-reach-herd-immunity-against-covid-19-end-year-zhong. Note how the Chinese government and the Chinese population are implementing their vaccination program internally and how they are messaging this effort and its promise of effectiveness to the billions of people and many countries of the world that are receptive to using their vaccines.
 
(6) China pulls the plug on hundreds of university partnerships
 
China has recently killed 286 partnerships between Chinese universities and foreign universities around the world, including some in the United States. As you read the story linked below, think about how the period of "opening up" from Deng Xiaoping forward has allowed Chinese-American collaborations and university exchanges, and how Xi Zinping is selectively scaling back the scope of this important interconnection.
 
"China kills almost 300 partnerships with elite foreign universities in places like New York, London and Hong Kong, after private tutoring ban,"
https://www.scmp.com/news/people-culture/trending-china/article/3145208/china-kills-almost-300-partnerships-elite
 
I find this development alarming, because dialogue is being shut down. I, for one, would not go to China and visit now, having done so in the past during a different period — the fear of being arrested and potentially being used as a political pawn keeps me from traveling to China. The same is true of many colleagues, including some who gathered at Leen's Lodge. Those conversations fall under the Chatham House Rule, but the takeaway from our discussions is that China is an increasingly dangerous place for people to visit; thus visitation is reduced. Further, the challenges for Chinese students trying to come to the United States to study are intensifying. The bottom line is, dialogue is shrinking; and suspicion, exposure to propaganda, and risk are rising as a result.
 
(7) China's economic trajectory
 
Market agents who have to make investment decisions, including Cumberland, look at the impacts of China in the debt markets in the world; we look at the interventions or lack of same in the currency markets of the world; and we watch Chinese holdings of US Treasury obligations and other obligations. China is a huge asset gatherer of global wealth, as we would expect from the second-largest economy in the world, and we look at the trajectory and direction of the Chinese economy. This lengthy article from the SCMP offers substantial food for thought on that subject.
 
"China's economy at an 'inflection point' as Xi Jinping embarks on sweeping regulatory crack down,"
https://www.scmp.com/economy/china-economy/article/3145764/chinas-economy-inflection-point-xi-jinping-embarks-sweeping
 
(8) For those who may want more contextual information on China, we suggest this Council on Foreign Relations Backgrounder on the Chinese one-party system, the challenges it faces now and going forward, and its policy directions: "The Chinese Communist Party," https://www.cfr.org/backgrounder/chinese-communist-party. The image below is sourced from this report.
We hope readers have enjoyed this discussion. The discourse in Maine about China was extensive and extremely worthwhile. Our gathering, which was conducted under the Chatham House Rule, enabled some people to speak freely, given the protection of their anonymity.
David R. Kotok
Chairman of the Board & Chief Investment Officer
Email | Bio
---
Links to other websites or electronic media controlled or offered by Third-Parties (non-affiliates of Cumberland Advisors) are provided only as a reference and courtesy to our users. Cumberland Advisors has no control over such websites, does not recommend or endorse any opinions, ideas, products, information, or content of such sites, and makes no warranties as to the accuracy, completeness, reliability or suitability of their content. Cumberland Advisors hereby disclaims liability for any information, materials, products or services posted or offered at any of the Third-Party websites. The Third-Party may have a privacy and/or security policy different from that of Cumberland Advisors. Therefore, please refer to the specific privacy and security policies of the Third-Party when accessing their websites.
---
Sign up for our FREE Cumberland Market Commentaries
---
Cumberland Advisors Market Commentaries offer insights and analysis on upcoming, important economic issues that potentially impact global financial markets. Our team shares their thinking on global economic developments, market news and other factors that often influence investment opportunities and strategies.