Tue Jul 19, 2022
We think the oil/energy price spike from Putin's war may be plateauing. Here's why.
Image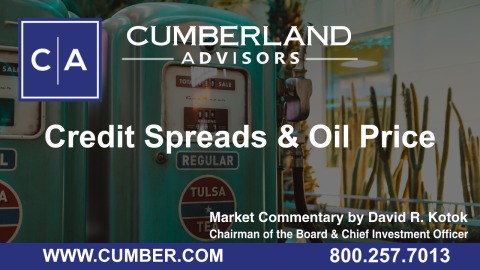 Remember that market-based pricing by market agents is a much stronger (more reliable) indicator than loud opinions spread by messaging via TV or radio or the hysteria of social media. Those who seek attention are focused on outshouting each other. Meanwhile, market agents make real-money bets every minute and win or lose. So talk is cheap, while the real-money consensus is the strongest indicator we have.

The chart below compares the credit spreads between two measures of bonds. The credit quality is the same. The difference between the two is that one includes energy bonds, and the other doesn't. When oil prices rise, the bonds that are issued by these energy companies get a windfall since their revenue coverage is higher and therefore the coverage of the bonds improves. The reverse is true when oil prices decline. Note that the issue becomes more complex with the use of futures and options. We will ignore those in order to simplify this commentary.

The chart below shows the history from pre-pandemic forward to the present. The widening and narrowing gap between the two measures indicates how markets judged the energy price risk.

Today, market prices of these bonds suggest that the energy price windfall is plateauing. Reason: Credit spreads in each series are about the same. Will oil prices start a strategic decline? This series says "not yet." Is the intensity of price increases lessening? This series says "yes." If oil plateaus, all of the energy price-related components will also start plateauing, and inflation estimates will follow. Note that I haven't gotten to actual energy price declines. That is still ahead.

We are underweight the fossil fuel energy sector in our US Equity ETF portfolio. We are overweight the climate change-sensitive alternative energy sector.

Here's the chart.
Image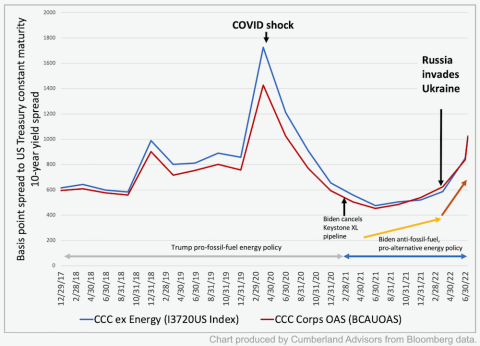 David R. Kotok
Chairman & Chief Investment Officer
Email | Bio
---
Links to other websites or electronic media controlled or offered by Third-Parties (non-affiliates of Cumberland Advisors) are provided only as a reference and courtesy to our users. Cumberland Advisors has no control over such websites, does not recommend or endorse any opinions, ideas, products, information, or content of such sites, and makes no warranties as to the accuracy, completeness, reliability or suitability of their content. Cumberland Advisors hereby disclaims liability for any information, materials, products or services posted or offered at any of the Third-Party websites. The Third-Party may have a privacy and/or security policy different from that of Cumberland Advisors. Therefore, please refer to the specific privacy and security policies of the Third-Party when accessing their websites.
---
Sign up for our FREE Cumberland Market Commentaries
---
Cumberland Advisors Market Commentaries offer insights and analysis on upcoming, important economic issues that potentially impact global financial markets. Our team shares their thinking on global economic developments, market news and other factors that often influence investment opportunities and strategies.