Tue May 31, 2022
We've witnessed the trillion-dollar crypto meltdown in prices of various cryptocurrency assets. To be more precise, the crypto market cap peak was about $2.7 trillion and now is about $1.1 trillion. Source: Money, Banking and Financial Markets, May 30, 2022.
Image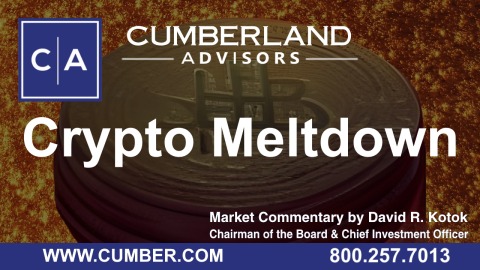 We've also witnessed so-called stablecoins become unstable, and we are in the throes of a debate as a society about the financial viability and reliability of cryptocurrencies.

Let me say up front that Cumberland Advisors does not have cryptocurrencies or related securities in its portfolios. We find value in traditional high-grade municipal bonds, taxable and tax-free, in the stock market and in exchange-traded funds. This commentary is about the discussion underway in the crypto debate, and we will present various points of view about cryptocurrencies. We're not taking a position in favor of them, and we currently don't use them in our actively managed separate accounts. We do have some clients who do use them, and they ask us about what's happening with the crypto market. So we have gathered this assortment of points of view to answer the many questions we've been getting. We have not and do not recommend the use of leverage, borrowing, or other types of debt-related structures to invest in cryptocurrencies. We don't think that's a good idea. But we have information about this practice and know there are some people who do use debt and leverage to invest in cryptocurrencies. Whether they ultimately suffer in this meltdown remains to be seen.

You will see below a number of links, briefly described, which address the pros and the cons of cryptocurrency investing. You will see a link to a major financial house, Fidelity, which is in the process of trying to put cryptocurrencies into a 401(k) model. You will see sponsors of cryptocurrencies saying this meltdown is a good buying opportunity, and you will see other points of view which say that investing in crypto is a fool's game and investors should be cautious. We're going to leave decisions to the reader, of course. In my own personal view, cryptocurrencies are still speculative investments. Here's the reading list.

For an excellent foundational discussion that is technical but readable, we recommend the following commentary by Stephen Cecchetti and Kermit (Kim) Schoenholtz. Cecchetti and Schoenholtz offer a thoroughgoing primer that includes discussion of how crypto-assets and decentralized finance may come to pose risks in the world of traditional currencies and finance.
"Crypto-assets and Decentralized Finance: A Primer,"
https://www.moneyandbanking.com/commentary/2022/5/13/crypto-assets-and-decentralized-finance-a-primer

Barron's offers this positive but cautionary summary of the crypto situation:
"Crypto's Future Is Even More Exciting, and Maybe More Volatile, Than Its Present," https://www.barrons.com/articles/bitcoin-crypto-blockchain-investing-51653676116

Crypto lobbyists have donated millions courting crypto-friendly politicians as the industry aims to ensure that Washington will craft consumer protections that weigh only lightly on the industry, ensuring that innovations can continue.
"Crypto industry wields its influence in Washington after pouring over $30 million into campaigns,"
https://www.cnbc.com/2022/05/17/crypto-industry-wields-its-influence-in-washington-after-pouring-over-30-million-into-campaigns.html

Forbes sizes up crypto's fifth, and perhaps most important, reset, noting Janet Yellen's congressional testimony that the Luna/UST crash is unlikely, on its own, to impact the financial world as a whole.
"Crypto's Great Reset: How Digital Asset Investors Will Recover from The Market's $1 Trillion Meltdown,"
https://www.forbes.com/sites/michaeldelcastillo/2022/05/17/cryptos-great-reset-how-digital-asset-investors-and-blockchain-will-come-back-from-cryptos-2-trillion-meltdown/

Ethereum co-founder Vitalik Buterin believes that Terra should protect those with "smaller wallets," though not larger ones.
"Ethereum co-founder says every 'average smallholder' impacted by Terra's stablecoin crash should be made whole, cites FDIC's $250,000 as 'precedent,'"
https://www.yahoo.com/video/ethereum-co-founder-says-every-215033542.html Kotok note — we think asking for the FDIC bailout of crypto losses is an outrageous suggestion and elevates moral hazard "chutzpah" to a new absurd level. That's like the story about the lawyer who took the limo to bankruptcy court and, when asked to pay the fare, said, "Come inside and join the unsecured creditors."

Kevin Zhou, who launched his crypto hedge fund Galois Capital back in 2018, began tweeting early this year about the systemic risk that Terra/Luna posed to the crypto world.
"Meet the Hedge-Fund Manager Who Warned of Terra's $60 Billion Implosion,"
https://www.bloomberg.com/news/articles/2022-05-15/luna-crash-this-crypto-insider-warned-of-terra-ust-s-collapse

Some advisers, maintaining their faith in digital currencies, believe that the crypto crash constitutes a buying opportunity.
"'Huge buying opportunity': As crypto craters, some advisors are keeping the faith,"
http://citywireusa.com/registered-investment-advisor/news/huge-buying-opportunity-as-crypto-craters-some-advisors-are-keeping-the-faith/a2387621

"Investors are now doing what they are supposed to: penalising instruments that are fundamentally flawed or issued by organisations that are badly run," opines The Economist, suggesting that government's regulatory role might be to identify those cryptocurrencies that do not meet disclosure standards.
"The cryptocurrency sell-off has exposed those swimming naked,"
https://www.economist.com/leaders/2022/05/18/the-cryptocurrency-sell-off-has-exposed-those-swimming-naked

Larry Roth of Wealth Solution Report foresees "a much-needed shakeout of crypto, with the more fundamentally sound assets and players persevering…."
"Crypto Bloodbath!! Where Wealth Management and Crypto Go from Here,"
https://wealthsolutionsreport.com/2022/05/18/crypto-bloodbath-where-wealth-management-and-crypto-go-from-here/

Fidelity Investments, positioning itself as a "holistic digital assets service provider," is broadening its offerings with a 401(k) offering that will enable employers to give employees the option of including Bitcoin in their retirement investments.
"Fidelity Investments Advances Leading Position as Digital Assets Provider with Launch of Industry's First-of-Its-Kind Bitcoin Offering for 401(k) Core Investment Lineup,"
http://fidelityinvestments2020news.q4web.com/press-releases/news-details/2022/Fidelity-Investments-Advances-Leading-Position-as-Digital-Assets-Provider-With-Launch-of-Industrys-First-of-Its-Kind-Bitcoin-Offering-for-401k-Core-Investment-Lineup/default.aspx

Others, including the Biden administration, have concerns about promoting Bitcoin in IRAs: "Bitcoin's crashing. The Biden administration wants to keep it out of your 401(k),"
https://www.politico.com/news/2022/05/13/bitcoin-crashing-fidelity-401k-00031241

Politico surveys the investing landscape after Terra's Luna crypto meltdown. "'The investing public is not that well protected,' SEC Chair Gary Gensler said at a securities conference Monday, reminding his audience that centralized crypto exchanges aren't subject to investor protection rules that govern trading platforms for stocks and bonds."
"The spectacular failure of Terraform Labs,"
https://www.politico.com/newsletters/the-long-game/2022/05/17/shaky-crypto-00033010

The SEC weighs in with an accounting bulletin that "expresses the views of the staff regarding the accounting for obligations to safeguard crypto-assets an entity holds for platform users."
"Staff Accounting Bulletin No. 121,"
https://www.sec.gov/oca/staff-accounting-bulletin-121 Kotok note: we oppose extending regulatory oversight to crypto since it raises moral hazard. Speculators may win or lose but let the risk remain symmetrical.

The Wall Street Journal reports, "Public data suggests that several anonymous crypto investors profited from inside knowledge of when tokens would be listed on exchanges."
"Crypto Might Have an Insider Trading Problem,"
https://www.wsj.com/articles/crypto-might-have-an-insider-trading-problem-11653084398

I have the permission of Fred Feldkamp to close this commentary by quoting a few of his observations. Fred is a retired lawyer with skills in the securities and financial services business and a scholar of history. A retired partner of Foley & Lardner LLP, he has worked on developing mortgage and asset-backed securities since 1973. Let me quote from a discussion that I've had with him via email.

Fred wrote,
 In a Bloomberg Opinion, Aaron Brown, a crypto expert, said:

"A failure of TerraUSD should cause you more worry about your dollars, ETFs and the traditional financial system than about crypto."

"I say baloney….

"What investors in crypto seem always to miss is what Salmon Chase, US Secretary of the Treasury under Lincoln and, later, Justice of the Supreme Court, learned while creating the foundation of US financial markets during the Civil War. After a long debate (primarily, it appears, with himself), Chase declared that henceforth US dollars would be "…LEGAL TENDER FOR ALL DEBTS PUBLIC AND PRIVATE."

"Since the US has authority to tax the US economy, that promise is both insignificant (because it only commits to exchange dollars for dollars) and the most powerful promise on earth. It is a primary foundation for US "Rule of Law."

"Crypto does not (and, in logic, cannot) be a promise to convert into anything that anyone can enforce by a power to tax (no less the power to tax owners of more than half the world's wealth to assure that a dollar of debt will be discharged by a US dollar)."

"It is true that crypto will always have "a" value among people that seek to evade governance, but only the US can guarantee that a dollar will be accepted for the payment of a dollar of debt. Just as Russia can only promise to pay in rubles, crypto cannot promise to convert to dollars and Russia has found it cannot guaranty to pay in dollars it does not own."

"In short, crypto is a scam. Its value only rises when "greater fools" want to pay more for an asset that has no conversion guarantee. When the fools try to cash out, crypto only promises to pay whatever new fools will accept with the risk of further decline."

We're going to find out where this huge asset class ends up. The debate continues. We thank readers for their questions and perspectives.
David R. Kotok
Chairman & Chief Investment Officer
Email | Bio
---
Links to other websites or electronic media controlled or offered by Third-Parties (non-affiliates of Cumberland Advisors) are provided only as a reference and courtesy to our users. Cumberland Advisors has no control over such websites, does not recommend or endorse any opinions, ideas, products, information, or content of such sites, and makes no warranties as to the accuracy, completeness, reliability or suitability of their content. Cumberland Advisors hereby disclaims liability for any information, materials, products or services posted or offered at any of the Third-Party websites. The Third-Party may have a privacy and/or security policy different from that of Cumberland Advisors. Therefore, please refer to the specific privacy and security policies of the Third-Party when accessing their websites.
---
Sign up for our FREE Cumberland Market Commentaries
---
Cumberland Advisors Market Commentaries offer insights and analysis on upcoming, important economic issues that potentially impact global financial markets. Our team shares their thinking on global economic developments, market news and other factors that often influence investment opportunities and strategies.