Wed Jul 27, 2022
"The traditional Chinese calendar divides a year into 24 solar terms.[1] Dàshǔ (大暑), Taisho, Daeseo, or Đại thử (Chinese and Japanese: 大暑; pinyin: dàshǔ; rōmaji: taisho; Korean: 대서; romaja: daeseo; Vietnamese: đại thử; "major heat") is the 12th solar term. It begins when the Sun reaches the celestial longitude of 120° and ends when it reaches the longitude of 135°. It more often refers in particular to the day when the Sun is exactly at the celestial longitude of 120°. In the Gregorian calendar, it usually begins around 22 July (23 July Chinese lunisolar calendar time) and ends around 7 August."
("Dashu: [solar term]," https://en.wikipedia.org/wiki/Dashu_(solar_term))
 
Image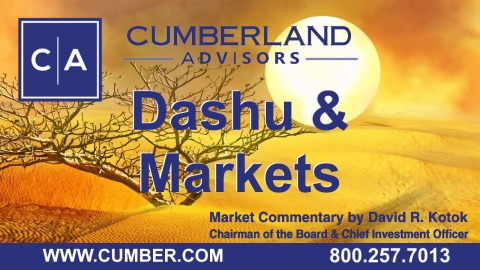 We start this commentary about heat and markets with the July 23 edition of the Global Impact newsletter from the South China Morning Post. Why? Because many readers will not normally see it and because nothing appears in any China-centric publication without official government sanction or permission.
In our opinion, China may be hiding its banking crisis from the outside world, but it cannot hide the heat. Here's the view of the climate change heat shock as seen through the eyes of Eugene Tang, SCMP's business editor. Readers can subscribe to the Global Impact newsletter through the SCMP website here: https://www.scmp.com/newsletter/scmp-global-impact.
Tang writes about the summer season called Dashu and about recent heat waves across much of China:
This annual day, known in Chinese as Dashu — or Great Heat — on the lunar calendar, has been foretold for millennia, observed by farmers over thousands of years to plan their planting and harvests….
Half of China has been affected by the unusually hot spell over the past month. The Yangtze River basin – encompassing megacities from Shanghai on the coast to Chongqing in the interior – has been hit by a week-long heatwave. Chongqing, China's biggest municipality, had four straight days of 40-plus degrees Celsius, and forecasters believe this trend will continue.
Inventorying Chinese cities that have been hardest hit, Tang concludes,
All of these episodes – combined with violent storms, super typhoons and tornadoes in unusual places – offer more evidence of climate change and serve as dire warnings to political leaders, businesses and individuals that they must act now to cut back on the emissions of carbon dioxide and other greenhouse gases.
Elsewhere, and in addition to the China reporting, we see that melting of polar ice is accelerating. Heat deaths are rising globally. Twenty-eight American states were under heat emergency warnings last week.
Droughts. Food shocks. Hundreds of millions of people facing starvation. Like it or not, we face massive global disruptions.
Meanwhile, Putin's "food deal" that was supposed to allow Ukrainian grain to leave the country lasted less than one day as Russian missiles landed on an Odessa grain facility. Putin's Russia has succeeded in undoing years of work to address global warming while Putin's war is causing the starvation of hundreds of millions of people globally.
As for America and the countries who are our allies, we confront intensifying and expanding regional war, global financial and economic war, and the continuing shock of the Covid pandemic while simultaneously facing an inflation sequence caused, in large part, by these non-monetary forces. Central banks cannot grow food, cannot treat disease, and cannot block the sun's scorching heat.
There is little prospect for anything positive on these issues, and the Moscow monster remains unleashed while he rewrites the entire Russian education system to show how he is a Russian hero. Putin is following the Stalin playbook which ended with many millions dead.
For the investor this is a difficult course to navigate. We're not going to tell anybody else what to do. We leave that for those pundits who outshout each other with extreme forecasts.
Here's how we are positioned. Our US Equity ETF portfolio is 28% cash (very high for us). We are overweight aerospace-defense, healthcare, and non-fossil-fuel climate change industries. We are underweight banks.
Of course, we can change any of this at any time.
See a list of citations below.
David R. Kotok
Chairman & Chief Investment Officer
Email | Bio
---
"Greenland lost enough ice over three days to put West Virginia under a foot of water,"
https://news.yahoo.com/greenland-lost-enough-ice-over-172550137.html.
 
"Ice in the Arctic is melting even faster than scientists expected, study finds,"
https://www.npr.org/2022/06/24/1107244530/ice-in-the-arctic-is-melting-even-faster-than-scientists-expected-study-finds
 
"Current Conditions,"
https://www.drought.gov/current-conditions
 
"Extreme heat warnings in effect in 28 states across US,"
https://www.theguardian.com/environment/2022/jul/21/extreme-heat-warnings-advisories-28-states
 
"Must Reads" on the European heat wave
https://s2.washingtonpost.com/camp-rw/?trackId=5d55c26a9bbc0f603e3e62ce&s=62dbf162cfe8a2160100d384
 
"Russia Strikes Odessa Port After Signing Deal to Unblock Ukrainian Grain Exports,"
https://www.wsj.com/articles/russian-hits-military-airport-and-railway-station-in-fresh-ukraine-attack-11658571374
 
"The food security crisis could kill more people than Covid has, says Senegal minister at G-20,"
https://www.cnbc.com/2022/07/19/food-security-crisis-could-kill-more-people-than-covid-amadou-hott.html
 
"Record number of people worldwide are moving toward starvation, U.N. warns,"
https://www.npr.org/2022/07/07/1110219180/record-number-of-people-worldwide-are-moving-toward-starvation-u-n-warns
 
"A Food Shortage Could Be Coming, Even in the U.S.,"
https://www.barrons.com/articles/drought-inflation-food-supply-solar-farms-51658513841
 
"Russian Schools to Teach Putin's Version of History,"
https://www.bloomberg.com/opinion/articles/2013-06-18/russian-schools-to-teach-putin-s-version-of-history
---
Links to other websites or electronic media controlled or offered by Third-Parties (non-affiliates of Cumberland Advisors) are provided only as a reference and courtesy to our users. Cumberland Advisors has no control over such websites, does not recommend or endorse any opinions, ideas, products, information, or content of such sites, and makes no warranties as to the accuracy, completeness, reliability or suitability of their content. Cumberland Advisors hereby disclaims liability for any information, materials, products or services posted or offered at any of the Third-Party websites. The Third-Party may have a privacy and/or security policy different from that of Cumberland Advisors. Therefore, please refer to the specific privacy and security policies of the Third-Party when accessing their websites.
---
Sign up for our FREE Cumberland Market Commentaries
---
Cumberland Advisors Market Commentaries offer insights and analysis on upcoming, important economic issues that potentially impact global financial markets. Our team shares their thinking on global economic developments, market news and other factors that often influence investment opportunities and strategies.