Tue Aug 31, 2021
"The rapid increase in the number infections had no impact on July's job numbers. Those figures were gathered the week of July 12, before the full impact of the delta variant surge. Going forward we do expect the new wave of infections to negatively impact economic activity in in-person services. We expect job growth to slightly slow as a result."
("The Top Trends In America's Job Market," https://www.forbes.com/sites/gadlevanon/2021/08/17/the-top-trends-in-americas-job-market/)
Image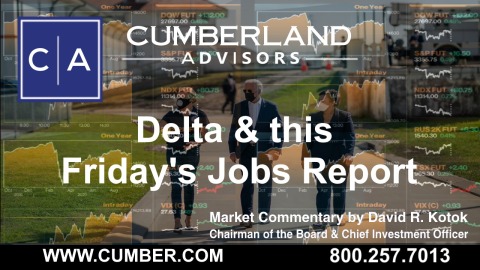 Our view is less sanguine and more alarmist than that which appeared in Forbes when contributor Gad Levanon penned the article quoted above.  We must note that Forbes published this a few weeks ago and that Gad is a skilled labor economist who is quick to change his view when the evidence changes.

We think the jobs data for August and September are going to be ugly. We may see the early signs of COVID long-haul temporary, partial, or permanent disability show up in labor force data.  We will examine details on Friday and the revisions as well.

Delta's rapid spread among the unvaccinated population is certainly disabling a portion of the American labor force. The difficulty is in guessing how many are affected.  We don't get hard data until hospitalization occurs.  So that means we are driving by looking through the rear view mirror.  Remember infections and spread precede hospitalizations, ICU admissions, ventilator usage and deaths by three to four weeks.

Delta is also overwhelming school systems that have opened without masking requirements or mitigation or preparation. That means thousands of sick or quarantined kids who need working parents to take time off for family healthcare. It also means that parents are, in many instances, likely to get sick, too.  We are witnessing a rapid deterioration of schools, at all levels from kindergarten to colleges, in Florida.

The national division over the handling of COVID in schools is depressing. In some states there is full masking and mitigation. In others, there is nothing. Politicians are condemning the nation's schoolchildren, their teachers, and their staff to become a monster Petri dish for Delta.  The national policy is nearly non-existent.  History suggests the United States is functioning like the Italian city states did during the Italian plagues of the 17th century.  Like then, we have become a competitive array of politically conflicting separate jurisdictions.

Traditional labor force forecast models are designed for traditional business cycle evolution usually assembled with a national perspective.  But COVID's ongoing impact means that we are not in a traditional business cycle, so flexible outlooks and realistic, anecdote-based projections are needed. Also needed is humility from forecasters and asset managers. We don't know yet how big the Delta shock will become.  We don't know what the next COVID shock with the South African variant C.1.2 will deliver but we do know it is coming.  It is now in seven countries.

In sum, we don't know what the next couple of months' labor force reports will reveal. But we don't like the anecdotes we are seeing. And we are collecting them from around the nation, daily and they are not a pretty picture.

We now expect a disappointing Q3 in America. Markets are just realizing that the Delta catastrophe means more death, disease, and a disruption of the economic recovery. For consideration, here's a Bloomberg article with associated charts depicting high-frequency data for indicators from job postings to travel to restaurants to the reversal of the return to the office and more, all of them pointing to the slowing of the US economic recovery: "High-Frequency Charts Show U.S. Economy Softening From Delta," https://www.bloomberg.com/news/articles/2021-08-29/high-frequency-charts-show-u-s-economy-softening-from-delta.

In our U.S. Equity ETF portfolio, we are continuing a cash reserve above 20% while maintaining what has become a 30% weight in healthcare (over double market weight), and we are overweight defense and selectively overweight in wind, water, and solar energy.

The political stewpot is also now more dangerous for financial markets, in our view. From the Delta domestic shock to the Kabul geopolitical shock, there is one consistent conclusion for this writer: Market risks are rising, and politics makes it worse.

We will have more on this issue in future writings. As our clients and consultants know, positions in portfolios may change at any time.  Let's see what Friday details show us.
David R. Kotok
Chairman of the Board & Chief Investment Officer
Email | Bio
---
Links to other websites or electronic media controlled or offered by Third-Parties (non-affiliates of Cumberland Advisors) are provided only as a reference and courtesy to our users. Cumberland Advisors has no control over such websites, does not recommend or endorse any opinions, ideas, products, information, or content of such sites, and makes no warranties as to the accuracy, completeness, reliability or suitability of their content. Cumberland Advisors hereby disclaims liability for any information, materials, products or services posted or offered at any of the Third-Party websites. The Third-Party may have a privacy and/or security policy different from that of Cumberland Advisors. Therefore, please refer to the specific privacy and security policies of the Third-Party when accessing their websites.
---
Sign up for our FREE Cumberland Market Commentaries
---
Cumberland Advisors Market Commentaries offer insights and analysis on upcoming, important economic issues that potentially impact global financial markets. Our team shares their thinking on global economic developments, market news and other factors that often influence investment opportunities and strategies.