Fri Mar 3, 2023
Economic and Financial Markets Review: February 2023
Summary

Hard landing, soft landing, no landing? Stronger economic indicators released over the past month (mostly for January) suggest that the economy started the year off solidly with no recession in the near-term. Moreover, inflation accelerated and expectations are for the Federal Reserve to be more aggressive (or at least to persist longer) in its tightening of monetary conditions. As a result, financial markets took a dive over the past month, reversing much of January's equity price gains and more than all of the January price gains on Treasury securities.
Image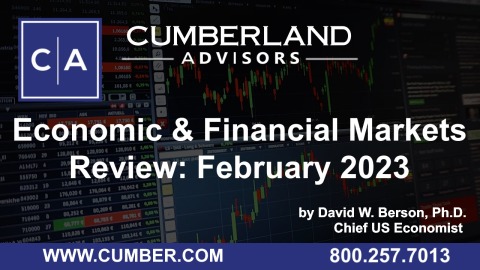 Economic Activity

After a couple of weak months, consumer spending jumped for January. The broad personal consumption expenditure (PCE) measure grew by 1.8 percent for the month, the fastest pace since March 2021. Even after accounting for the faster pace of inflation (see below), PCE climbed by 1.1 percent. And why not? Nonfarm payrolls surged by 517,000 for the month, with the unemployment rate dropping to the lowest level since 1969 (you have to go all the way back to 1953 to find a lower number) and wages/salaries up by 0.9 percent. Light vehicle sales rose to an annualized pace of 15.7 million units (the strongest since February 2021), helping to fuel the rise in spending.

Falling interest rates over the course of January (more than reversed since) helped to spur housing demand. Yields on 30-year fixed-rate mortgages dropped to around 6.0 percent by the end of January, after having climbed to over 7.0 percent in November (and around 6.5 percent at the start of the year). New home sales increased to an annualized pace of 670,000 units, the highest level since March 2022, when mortgage rates were significantly lower. Pending home sales (signed contracts to buy an existing home, typically closing 30-60 days later and then reflected in the National Association of Realtors' existing home sales figures) jumped to the highest level in five months.

Survey data were mixed but with more positive readings than negative. On the positive side, (1) the ISM's Services Purchasing Managers Index bounced to 55.2 for January, reversing a puzzling one-month drop below 50 in the prior month (figures over 50 indicate expansion); (2) the University of Michigan's Consumer Sentiment Index rose above 60 for January for the first time since March 2022; (3) the National Federation of Independent Business (NFIB) Small Business Optimism Index edged higher for January (although the level was still below average); and (4) the National Association of Homebuilders Housing Market Index climbed for January (and moved up still more for February, although the survey is taken in the first half of each month). On the negative side, (1) the ISM's Manufacturing Index fell to 47.4, below the break-even 50-level for a third consecutive month; and (2) the Conference Board's Consumer Confidence Index fell modestly to 106.0.

Based on the positive data in hand so far (granted, mostly for January), the Atlanta Fed's GDPNow measure shows first quarter real growth at 2.8 percent – little changed from the downwardly revised fourth quarter growth rate of 2.7 percent. As more complete data for the quarter become available, this growth estimate may change – perhaps significantly if the data for the next two months show much stronger or weaker growth. Continued modestly above-trend economic growth is occurring despite two of the best predictors of recession flashing red. The Conference Board's Index of Leading Economic Indicators (LEI) was down by 5.9 percent from a year earlier in January (a slight improvement from December), and it has never been down by this much without a recession following. Additionally, the yield curve is still significantly inverted, with the yield on the 10-year Treasury note about 100 basis points below that of its 3-month Treasury counterpart. While the inversion is about 20 basis points less than it was a month ago, it is still close to the steepest inversion since 1981, when the US economy had just entered what was then the worst recession since the Great Depression. These two measures have been excellent predictors of recession over the past 60 years (longer for the yield curve), and it is likely that they are correct in their call this time, too. But not quite yet.

Inflation and the Federal Reserve

A month ago, inflation was continuing to move downward, and financial markets viewed this as an ongoing trend. Moreover, markets expected this slowdown in inflation to moderate the Fed's tightening, leading to a drop in most interest rates and a rise in broad equity prices over January. But the January inflation figures and commentary from Fed officials have changed the market's view on the Fed, with virtually every inflation measure coming in hotter than expected.

The Consumer Price Index rose by 0.5 percent for January, although this increase still allowed the 12-month trend rate to edge lower to 6.4 percent. The core CPI (removing the volatile food and energy components) increased by 0.4 percent for the month, while its trend rate also ticked down a tad to 5.6 percent. Both monthly increases were above market expectations, leading to declines in the trend growth rates that were much less than expected. Importantly, the trend rates remained well above the Fed's long-term goal of 2.0 percent (which uses the broader PCE Price Index, see below).

While the CPI is the most commonly discussed measure of inflation, the Fed concentrates on the broader PCE Price Index – and the inflation news here was disappointing. The overall PCE Price Index jumped by 0.6 percent, well above the prior month's 0.2 percent rise. This rise led to an acceleration of the trend rate to 5.4 percent. The core PCE Price Index also climbed by 0.6 percent; and, as with the overall index, the trend core rate accelerated (up to 4.7 percent). Fed Chair Jay Powell has recently discussed the PCE services less energy and housing (sometimes called the super core rate) as his preferred measure of underlying inflation – and this measure was up by 0.6 percent, as well, moving the trend rate up to 4.6 percent, a significant increase from the prior month's 4.2 percent rise. Not only are these inflation figures well above the Fed's goal, but they are also now moving in the wrong direction.

It's still likely that inflation is trending lower as the Fed tightens monetary policy and fiscal policy is no longer as expansionary. But the downtrend is uneven and slower than hoped. Markets now expect the Fed to tighten monetary policy until the federal fund rate rises to around 5.5 percent from today's 4.5 percent – an increase of about 50 basis points from market expectations a month ago. What the Fed actually does with monetary policy will depend mostly on how far and how quickly inflation moves lower, with recent data suggesting that estimates toward the upper end of the Fed's expected tightening are more likely than not.

Financial Markets

After a very good January, with the S&P 500 Index climbing by 6.2 percent and the yield on the 10-year Treasury note dropping by 36 basis points, February was a huge disappointment. As noted above, data showing both economic strength and steady (if not higher) inflation led to a reassessment on the part of financial markets of the near-term view for Fed policy – more tightening for longer. This revised expectation, in turn, hit both equity and fixed-income prices.

The large-cap S&P 500 Index dropped by 2.6 percent, and the mid-cap S&P 400 Index fell by 2.0 percent, while the small-cap S&P 600 Index slipped by 1.4 percent. The good news, if there was any, about these declines is that prices didn't give up all of their January gains. Meanwhile, the yield on the 10-year Treasury note climbed by 40 basis points to 3.92 percent, the highest level since mid-November. Shorter-term rates rose by less, with the 3-month Treasury yield rising by 18 bps to 4.88 percent, the highest level since the middle of 2007.

Higher borrowing rates may be starting to have a negative impact on credit. According to S&P, delinquency and charge-off rates on US bankcards continued to move higher in January, although they remain historically low. Still, delinquency rates are back to the highest levels in nearly two years. Commercial bank data are available only through the fourth quarter, but they too show rising delinquency rates for consumer loans as well as for commercial real estate loans. New York Fed data on auto delinquencies show increases through the fourth quarter, as well. But as with the credit card data, the commercial and auto loan delinquency rates are still very low historically. Residential mortgage loan delinquencies are following a similar path, with modest increases in the fourth quarter to still very low levels.

Residential mortgage delinquencies on outstanding loans are unlikely to be greatly impacted by rising rates, with the adjustable-rate share of mortgage debt outstanding very low. The same is true for auto loans, as most are fixed-rate. But other debt categories can be significantly impacted by rising interest rates – either with higher rates at origination or rates adjusting over time. The higher interest rates go, and the longer they remain high, the higher delinquency rates could rise, although they are still, of course, starting from low levels. Some of the recent increases in delinquency rates are simply markets moving back to more historically normal levels, but some are coming from rising rates, with more likely to come.
David W. Berson, Ph.D.
Chief US Economist
Email | Bio
---
Links to other websites or electronic media controlled or offered by Third-Parties (non-affiliates of Cumberland Advisors) are provided only as a reference and courtesy to our users. Cumberland Advisors has no control over such websites, does not recommend or endorse any opinions, ideas, products, information, or content of such sites, and makes no warranties as to the accuracy, completeness, reliability or suitability of their content. Cumberland Advisors hereby disclaims liability for any information, materials, products or services posted or offered at any of the Third-Party websites. The Third-Party may have a privacy and/or security policy different from that of Cumberland Advisors. Therefore, please refer to the specific privacy and security policies of the Third-Party when accessing their websites.
---
Sign up for our FREE Cumberland Market Commentaries
---
Cumberland Advisors Market Commentaries offer insights and analysis on upcoming, important economic issues that potentially impact global financial markets. Our team shares their thinking on global economic developments, market news and other factors that often influence investment opportunities and strategies.