Sun Nov 6, 2022
The issue of current Texas policy toward ESG investing has ramifications in the financial arena. Texas has decided to punish financial firms that offer views inconsistent with the views of the government in power. So, our ESG question will focus on the governance category (G). The specifically named and targeted financial firms are prohibited by the TX government from participating in certain public financings. See for details "Texas bans local, state government entities from doing business with firms that "boycott" fossil fuels" (https://www.texastribune.org/2022/08/24/texas-boycott-companies-fossil-fuels/).
Image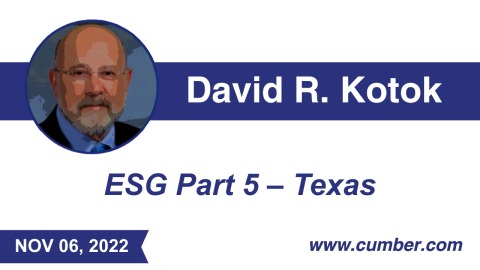 Texas has, it turns out, cast an indiscriminately wide net in its attempts to cancel ESG. Bloomberg reports, "Of the 348 funds singled out by Texas Comptroller Glenn Hegar, 14% don't qualify as ESG, according to an estimate by Morningstar Inc. What's more, almost 40% (of them) invest in the oil and gas industry they're accused of boycotting, data compiled by Bloomberg show." ("Texas' ESG Attack Sweeps Up Some Funds That Aren't Really ESG,"
https://www.bloomberg.com/news/articles/2022-09-30/texas-esg-attack-sweeps-up-some-funds-that-aren-t-really-esg)
 
Texas policy narrows the number of competitors in municipal bond issuance. In doing so, Texas state government increases the cost to the local governments in question and, ultimately, to taxpayers in Texas. The disconnect between the policy and the cost to the taxpayer is what makes this policy an ESG factor to consider. The parties who ultimately pay the cost are one or two steps removed from the policy implementation power, so they don't see the connection between the policy and their increased cost. Therein lies the issue, since politicians love to rig indirect taxation for many reasons, such that the results do not impact the electoral outcome. Limiting investment options for all Texas entities is not viewed as a form of taxation, but it is viewed as a means of protecting the fossil fuel industry from intrusion by outsiders. But the ultimate payment is extracted from Texas cities and retirement funds, etc. That is where the governance factor comes into play.
 
To apply the G, an analyst must first find the policy and then identify the costs and try to estimate them. Below we will list sources that lay out the issues involving Texas, the anti-ESG policy and the rules imposed to the detriment of taxpayers. There are estimates of the costs. The rest is up to readers to conclude for themselves.
 
Here's the list of companies Texas entities can no longer invest in: "Texas Comptroller Glenn Hegar Announces List of Financial Companies that Boycott Energy Companies,"
(https://comptroller.texas.gov/about/media-center/news/20220824-texas-comptroller-glenn-hegar-announces-list-of-financial-companies-that-boycott-energy-companies-1661267815099).
 
The bill, passed in 2021, adds to Texas law "CHAPTER 809. PROHIBITION ON INVESTMENT IN FINANCIAL COMPANIES THAT BOYCOTT CERTAIN ENERGY COMPANIES." For the language of the bill, see "S.B. No. 13,"
https://capitol.texas.gov/tlodocs/87R/billtext/pdf/SB00013F.pdf
 
Texas pensions will suffer as anti-ESG laws drafts all state employees' retirements into the political battle over ESG. Bloomberg reports on this issue: "GOP Fury Over ESG Triggers Backlash with US Pensions at Risk"
(https://www.bloomberg.com/news/articles/2022-08-25/esg-pros-say-republican-anti-woke-bashing-hurts-regular-savers?sref=TG2o5EVv#xj4y7vzkg).
 
Purposing to the quantify the higher costs the law imposes on municipalities and pension funds, Daniel Garrett, Assistant Professor of Finance at the Wharton School, University of Pennsylvania, and Ivan Ivanov, Senior Economist in the Research Division of the Federal Reserve Bank of Chicago authored the study "Gas, Guns, and Governments: Financial Costs of Anti-ESG Policies" (https://papers.ssrn.com/sol3/papers.cfm?abstract_id=4123366).
 
The abstract follows, but readers can read the entire paper and/or download it at the link above.
 
Abstract
"We study how government regulation limiting the adoption of environmental, social, and governance (ESG) policies distorts financial market outcomes. The state of Texas enacted laws in 2021 that prohibit municipalities from contracting with banks that have certain ESG policies. This led to the exit of five of the largest municipal bond underwriters from the state. We find that municipal bond issuers with previous reliance on the exiting underwriters are more likely to negotiate pricing and incur higher borrowing costs after the implementation of the laws. Among remaining competitive sales, issuers face significantly fewer bidding underwriters and higher bid variance, consistent with a decline in underwriter competition. Additionally, underpricing increases among issuers most reliant on the targeted banks and bonds are placed through a larger number of smaller trades. Overall, our estimates imply Texas entities will pay an additional $303–$532 million in interest on the $32 billion in borrowing during the first eight months following the Texas laws."
 
The study by Garrett and Ivanov has been the subject of a number of news articles, including one featured in Knowledge at Wharton, the business journal of the Wharton School. That article sizes up the stakes involved:
 
"After Texas passed the law, five of the largest underwriters exited the market: JPMorgan Chase, Goldman Sachs, Citigroup, Bank of America, and Fidelity.
 
"'This is a really big rule for the municipal space," [Daniel] Garrett said. "This is not the first time we've seen states use municipal markets as a way to enforce bank behavior they want to see, but this is new in its scale in that five large banks left Texas. [They] used to underwrite about 35% of the debt in the market, so they've left a really big gap.'" ("Texas Fought Against ESG. Here's What It Cost - Knowledge at Wharton,"
https://knowledge.wharton.upenn.edu/article/texas-fought-against-esg-heres-what-it-cost/)
 
Sarah Bloom Raskin, former deputy secretary of the U.S. Department of the Treasury and now a professor at the Duke University School of Law, warns that the Texas law also undermines foundations of financial stability.
 
"'We could see a decoupling of underwriting from risk management,' she mentioned. 'Corners will be cut and, if examiners don't notice, this then can become a financial stability problem. It's not just going to happen at one large bank; it could be the same dynamic with many of them.

'The cocktail of loose underwriting, coupled with inappropriate pricing, insufficient insurance and collateralisation, isn't a particularly tasty one when you have missing the ingredient of internal risk management processes.'" ("Texas anti-ESG law endangers financial stability, says Sarah Bloom Raskin," https://www.newsncr.com/business/texas-anti-esg-law-endangers-financial-stability-says-raskin/)

Unsurprisingly, the backlash from financial companies against the implementation of the law came quickly ("Companies assault Texas over 'politicised' ESG blacklist," https://www.newsncr.com/business/companies-attack-texas-over-politicised-esg-blacklist/).
 
This September, JPMorgan Chase took action to reenter the muni market in Texas by sending a letter asserting that it doesn't "boycott energy companies" or have "a practice, policy, guidance, or directive that discriminates against a firearm entity or firearm trade association"
("JPMorgan Takes Formal Step to Resume Muni Banking in Texas,"
https://www.bloomberg.com/news/articles/2022-09-14/jpmorgan-takes-formal-step-to-resume-muni-banking-in-texas?sref=TG2o5EVv#xj4y7vzkg).

JPMorgan's response addresses not only the law concerning ESG but also a parallel one designed to punish financial companies that decline to invest in makers of firearms. See "Texans are paying for state's ban on business when firms stop investing in firearms,"
https://www.npr.org/2022/08/29/1119973904/texans-are-paying-for-states-ban-on-business-when-firms-stop-investing-in-firear)
 
We now have an estimate of what an anti-ESG law is costing Texas in the present, but what about the future?
 
The organization Risky Business, founded in 1992 "to assess and publicize the economic risks to the U.S. associated with climate change," has attempted to quantify the costs of climate change if emissions continue at their current rate. Their "Southeast Report," subtitled "Come Heat and High Water: Climate Risk in the Southeastern U.S. and Texas," (https://riskybusiness.org/report/come-heat-and-high-water-climate-risk-in-the-southeastern-u-s-and-texas/) quantifies these risks for Texas and other states. Here's an excerpt from the introduction.
 
"If we continue on our current greenhouse gas emissions pathway, the Southeastern U.S. and Texas will likely experience significant drops in agricultural yield and labor productivity, along with increased sea level rise, higher energy demand, and rising mortality rates. In particular, the region's agricultural sector will be negatively influenced by the changing climatic conditions, with several commodity crops likely to face severe yield declines. Meanwhile, residents and businesses will likely be affected by higher heat-related mortality, increased electricity demand and energy costs, and declines in labor productivity, threatening the manufacturing base that is increasingly driving the regional economy." The report contains numerical estimates of the future losses to Texas.
 
In 2019, President Robert S. Kaplan of the Dallas Fed, published a paper on the impact of climate change on Texas. In part, he wrote,
 
"As a central banker, I do not delve into the political and other controversial aspects of this subject. However, I do intently focus on the ways severe weather events and climate-related trends are likely impacting economic conditions and financial stability in the Eleventh District and the nation.
 
"It is the view of Dallas Fed economists that severe weather events pose a "tail risk" for certain cities and industries in our district. This is not new. However, while many of the impacts of these severe weather events have historically been transitory, we are increasingly cognizant of the longer-term risks that are leading several cities and companies to make substantial capital investments in improving infrastructure in order to mitigate the damage of future severe weather.
 
"For now, it is the view of the Dallas Fed that severe weather-related tail risks are unlikely to materially negatively impact the medium-term economic performance of Texas and overall outlook for the region. However, if the National Climate Assessment predictions regarding the likely frequency and/or severity of extreme weather events turn out to be accurate, these extreme weather events may begin to have a negative impact on the region's longer-term business prospects and migration trends."
 
For the entire report, see "A Brief Discussion Regarding the Impact of Climate Change on Economic Conditions in the Eleventh District," (https://www.dallasfed.org/research/economics/2019/0627b.aspx).
 
Finally, Sarah Keohane Williamson, CEO of the nonprofit FCLTGlobal, suggests that Texas, rather than politicizing ESG, should focus on competitiveness, security, and duty instead ("ESG Needs a Texas-Sized Makeover," https://www.forbes.com/sites/sarahkeohanewilliamson/2022/09/02/esg-needs-a-texas-sized-makeover/?sh=2368703a65b7).

Thanks to readers who have taken time today to consider the case of Texas and how the G in ESG can impact costs and risks in both the present and the future. Texas is, of course, hardly alone in adopting an anti-ESG stance. See "Mapped: The polarisation of ESG in the US" (https://capitalmonitor.ai/regions/america/mapped-the-polarisation-of-esg-in-the-us/) for the state of the states on this issue.
 
Happy Sunday. More on ESG and its important role in investing will be forthcoming.
David R. Kotok
Chairman & Chief Investment Officer
Email | Bio
---
Links to other websites or electronic media controlled or offered by Third-Parties (non-affiliates of Cumberland Advisors) are provided only as a reference and courtesy to our users. Cumberland Advisors has no control over such websites, does not recommend or endorse any opinions, ideas, products, information, or content of such sites, and makes no warranties as to the accuracy, completeness, reliability or suitability of their content. Cumberland Advisors hereby disclaims liability for any information, materials, products or services posted or offered at any of the Third-Party websites. The Third-Party may have a privacy and/or security policy different from that of Cumberland Advisors. Therefore, please refer to the specific privacy and security policies of the Third-Party when accessing their websites.
---
Sign up for our FREE Cumberland Market Commentaries
---
Cumberland Advisors Market Commentaries offer insights and analysis on upcoming, important economic issues that potentially impact global financial markets. Our team shares their thinking on global economic developments, market news and other factors that often influence investment opportunities and strategies.