Sun Oct 9, 2022
A number of readers responded thoughtfully to the second installment in our series on ESG, which was focused on water system woes in Jackson, Mississippi: "ESG Part 2: Jackson, Mississippi." ESG Part 1 introduced the series and the upcoming ESG conference at Rowan University on October 14.
 
We would like to share selected responses to Part 2 in this commentary before moving on with the rest of the series. ESG factors call for reasoned, evidence-based discourse.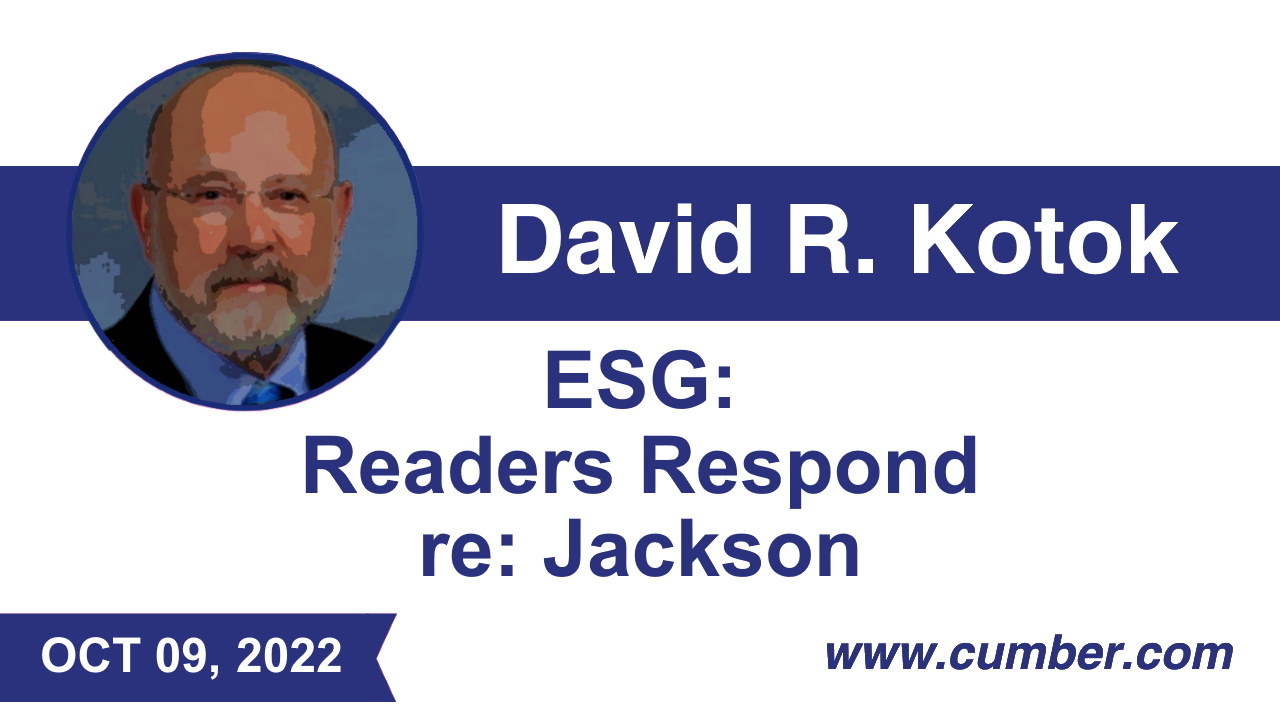 ---
 
Gregg gave us permission to share his response. As context for readers, Gregg explains, "I am a retired Wall Street hedge fund founder and currently am chairman of an economic research institute. During the past 15 years I have served on a number of boards, profit and not-for-profit, and I have had to learn the hard way what governance is really all about."

Here's Gregg:
 
You are correct to emphasize governance. Governance is taking responsibility to oversee the functioning of an entity. It requires a diligent process and adherence to Roberts Rules (modified or otherwise), checks and balances to ensure thoroughness and integrity. Good governance gets you close to perfection. Bad governance inevitably leads to disaster.
 
I live in Western MA and monitor with amazement the diligence of the county and local city councils as they argue and debate every issue affecting infrastructure: roads, sidewalks, bike lanes, water supply, internet towers, green energy, schools, public safety, etc. Local residents who become elected to posts of responsibility arguing and researching every issue — bringing in consultants if the issue is complex. Boring and beautiful is the process and the outcome.
 
Governance outcomes are also dependent on an electorate that chooses representatives wisely.
 
What happened in Jackson is a more complex story. I have an interest in the area and to simply allow yellow journalism to hold sway over our understanding is a great error. It isn't about racism, though the headlines would lead you to think it is. It is an issue of competence and integrity. The wrong people were elected. The wrong people had responsibility for the infrastructure.
 
Water pressure has been restored. It wasn't a difficult short-term fix — just required competence in understanding how water treatments systems work. The tax base is/was there but the money wasn't collected and water bills weren't paid.
 
Read the last article first. Here is a smattering of articles that bring the governance issue into better focus.
 
https://www.pbs.org/newshour/nation/mississippi-governor-says-jacksons-water-is-safe-to-drink-again
 
https://www.huffpost.com/entry/jackson-water-crisis-privatization_n_6324d6c2e4b0ed021dfd034f
 
https://www.axios.com/2022/09/06/jackson-mississippi-water-crisis-lumumba
 
https://www.wjtv.com/news/jacksons-water-crisis/jacksons-water-crisis-the-latest-updates/
 
http://kingfish1935.blogspot.com/2022/09/how-jacksons-water-system-collapsed.html
 
Steve responded,
 
Read the article which, as you stated, has been covered in the news.
Racism and economics is my take, sorry to tell the truth but there it is.
Another disgrace, me thinks.
 
I wonder what jobs these people affected and how they fit into the greater economics.
 
I wonder if the wealthier neighborhood in or near Jackson, Miss, have this problem.
 
Frank posed questions:
 
Has there ever been a situation in which a city that could not fix its brokenness simply disincorporated and all elected officials resigned? I can imagine a scenario something like that happening, which would create yet another disaster. What about declaring bankruptcy and going into receivership?
 
Neal wrote,
 
Outstanding — and as usual upsetting.
 
Bill concluded,
 
This is a failure of governments, not businesses.  The elected officials did not do their job. Same story in Flint, MI.
 
As a retired professional with many years of service to state and local government issuers of bonds, Gary wrote,
 
David, good morning. I go back to your piece on politics and investing. In my opinion nowhere is ESG more important than when investing in municipal bonds. As a person who advised various governmental units on municipal debt, most of the stronger credits I worked with were engaged in ESG, although I would say probably unconsciously.
 
Regarding cooperation between parties, I would suggest members of both parties and our citizens have a refresher course in 9th grade Civics. That is, government exist to provide those services that the private sector cannot provide on a profitable basis or chooses not to provide and provide the rules and regulations so that society can function on a civilized and orderly basis.
 
It is not an all or nothing game when it comes to private vs. public or R vs. D.
 
Hope all is well.
 
Elizabeth Pickett Gray made a request that we will share:
 
I thoroughly enjoyed reading your commentary on being outraged by the political motivations behind the clean-water crisis in Jackson, Mississippi. I am the President of a non-profit in Sarasota, Florida, called the Florida Environmental Film Festival [https://www.thefeff.org]. We present environmental-conscious films that address both state-wide issues and some focusing on global concerns. One of our recurring topics focuses is water quality, both seawater — red tide and raising sea levels, and freshwater — the recent toxic spillage in St. Petersburg and Monsanto's long history of poisoning the Florida Everglades. Last season, we presented Wastewater: A tale of two cities, about Mobile, Alabama's water, social, and political problems. This is why I reached out to you.
 
I have a request that hopefully will not require much of your time. We would be honored to showcase any films that document the water crisis in Jackson during one of our film festivals. If you know of such a film, would you please pass along our information to the filmmaker? As you may be keenly aware our governor, Ron DeSantis has banned ESG criteria by any investment company working for the state of Florida. DeSantis demands that companies only use profit and loss as sole criterion for success; they may not employ any social criteria. If you know of any investment companies in the state of Florida that employ ESG criteria and personnel who would appreciate viewing our environmental films, we again would be grateful for passing along our information so we may include them in our mailing list.
 
Finally, Peter raises a vital point and thoughtful questions:
 
Thank you. Please see below:
 
The Biden administration aims to quantify the costs of ecological decay
https://www.economist.com/united-states/2022/09/15/the-biden-administration-aims-to-quantify-the-costs-of-ecological-decay
 
"Any sensible business has a balance-sheet that tracks all of its assets and liabilities. But governments do not. A growing number of economists argue that gross domestic product (gdp), a single number that guides a plethora of policies but counts only income flows, is too narrow—especially when it comes to the environment. No national measurement exists to tally the full economic costs of depleting America's natural assets."

 
David, seems like some of the ESG attention is shifting to the question(s) of a) how can the public good, social good of ESG activities/Investing be converted to a "value" number for the balance sheets and financial statements? b) the inverse, how can social harm be valued for financial statements , and c) should there be a NET number ( sort of like setting off capital losses against capital gains—just conceptually). Financial performance includes netting for ESG ($$natural assets deplete? preserved in manufacturing process?)
 
This is a complicated multidimensional "octopus."
 
Some are also now proposing the revision of GDP or an additional indicator, "Change in Natural Asset Wealth." If GDP=X should there be subtraction for depletion/harm of national natural resources/public/social harm (i.e. costs of climate change).
 
---
 
We would like to thank all who responded.
 
Can we afford to ignore ESG factors in investing? Or is ignoring environmental,  social, and governance factors a potentially disastrous error? That is a discussion worth taking seriously.  To be continued with ESG, part 3.
David R. Kotok
Chairman & Chief Investment Officer
Email | Bio
---
Links to other websites or electronic media controlled or offered by Third-Parties (non-affiliates of Cumberland Advisors) are provided only as a reference and courtesy to our users. Cumberland Advisors has no control over such websites, does not recommend or endorse any opinions, ideas, products, information, or content of such sites, and makes no warranties as to the accuracy, completeness, reliability or suitability of their content. Cumberland Advisors hereby disclaims liability for any information, materials, products or services posted or offered at any of the Third-Party websites. The Third-Party may have a privacy and/or security policy different from that of Cumberland Advisors. Therefore, please refer to the specific privacy and security policies of the Third-Party when accessing their websites.
---
Sign up for our FREE Cumberland Market Commentaries
---
Cumberland Advisors Market Commentaries offer insights and analysis on upcoming, important economic issues that potentially impact global financial markets. Our team shares their thinking on global economic developments, market news and other factors that often influence investment opportunities and strategies.