Wed Sep 14, 2022
Many readers continue to ask about the Fed's 2% inflation target, especially after the recent CPI and the market's reaction to it. Here's the Fed's own explanation, courtesy of the Federal Reserve Bank of St. Louis. We recommend it for a clear explanation of what 2% means.

https://research.stlouisfed.org/publications/economic-synopses/2022/09/02/inflation-part-3-what-is-the-feds-current-goal-has-the-fed-met-its-inflation-mandate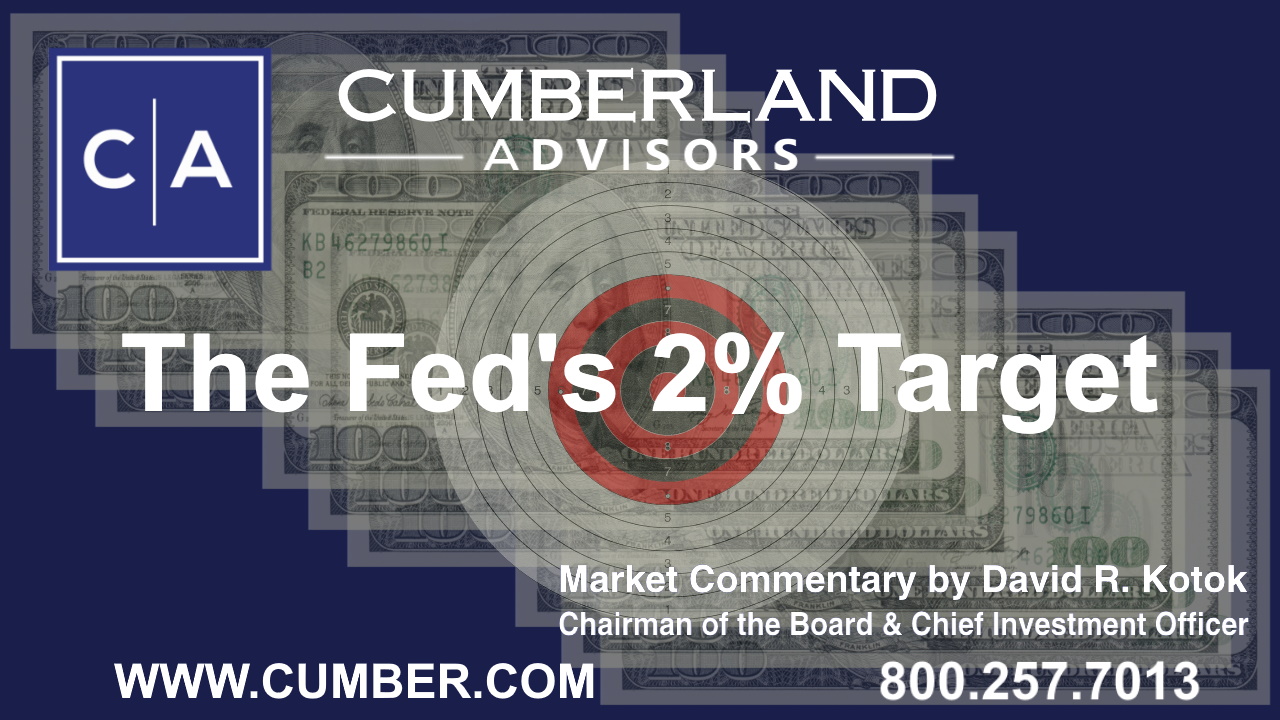 Our opinion, and we repeat the word opinion, is that the Fed can achieve its target. The questions for investors are, by when and at what cost. Today, we can only guess at those answers. Our opinion is that several years and a recession are what it will take to achieve that 2% target for PCE.  We use PCE and not CPI because the Fed preference is PCE.

The reason is spillover effects from shocks beyond the Fed's control. Those shocks include energy prices; food prices; long Covid disability in the labor force, with excess deaths and years of life lost (YLL); and a spreading regional shooting war in Europe, accompanied by a global financial sanctions and payments war, where the US is a leading antagonist on one side and Putin's cohort is on the other side.  Putin's losses in recent battles are serious setbacks for him but they have not ended the war.

Note that the Fed didn't create any of these shocks through monetary policy.

At Cumberland, we are currently in a targeted cash equivalent as a reserve in our US Equity ETF Portfolios. Cash and equivalents are slightly under 50% as we remain patiently waiting for the market entry opportunities.  That can change at any time.
David R. Kotok
Chairman & Chief Investment Officer
Email | Bio
---
Links to other websites or electronic media controlled or offered by Third-Parties (non-affiliates of Cumberland Advisors) are provided only as a reference and courtesy to our users. Cumberland Advisors has no control over such websites, does not recommend or endorse any opinions, ideas, products, information, or content of such sites, and makes no warranties as to the accuracy, completeness, reliability or suitability of their content. Cumberland Advisors hereby disclaims liability for any information, materials, products or services posted or offered at any of the Third-Party websites. The Third-Party may have a privacy and/or security policy different from that of Cumberland Advisors. Therefore, please refer to the specific privacy and security policies of the Third-Party when accessing their websites.
---
Sign up for our FREE Cumberland Market Commentaries
---
Cumberland Advisors Market Commentaries offer insights and analysis on upcoming, important economic issues that potentially impact global financial markets. Our team shares their thinking on global economic developments, market news and other factors that often influence investment opportunities and strategies.