Sat Nov 13, 2021
We thank readers for the emails about our "Florida?" Sunday morning missive for October 31. https://www.cumber.com/market-commentary/florida
Many of the replies were marvelous. Some were serious. Others took political sides. Or invoked history. Or suggested additional reading.
Image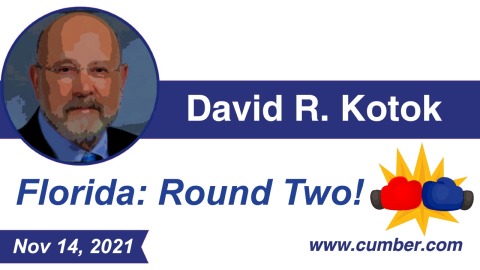 Here's a partial compilation of replies:

J wrote, "Barry is great, but Tim Dorsey is better! Serge Storms abides..."
__________
G recommended an essay by Dave Barry on a medical procedure some readers may be familiar with, saying, "If you have ever had a colonoscopy (and at your advanced age I'm sure you have), it is MUST reading."
Dave Barry's "Colonoscopy Journal" was originally published on February 22, 2008, in the Miami Herald, where subscribers have access to it but nonsubscribers don't. But it is also to be found here, at least for now: https://www.orangetractortalks.com/forums/threads/the-pulitzer-colonoscopy.49808/. If you've had a colonoscopy, enjoy some laughs. If you are scheduled for one soon, save it for afterwards.
__________
D responded: "To paraphrase Will Rogers: During the Depression and following the Florida Land Boom of the '20s, half the population of Florida moved to New England and the intelligence level in both places went up."
__________

J mulled the question of best places to live:

"I understood that you had to escape New Jersey…. I presume — possibly quite wrongly — that Florida's more favorable tax system was attractive.

"But Florida's usually "nice" weather occasionally poses death-danger risk. Many seem disposed to set-aside this risk.

"As one with 'Ice Age Hunter' DNA, I find heat and humidity unpleasant. So, New Hampshire — also with a pretty favorable tax system — better suits me. And, while blizzards are briefly disruptive, they do not generally create death danger.

"A snow-blower enables one to cope with blizzards. Sadly, Home Depot or Lowe's don't sell a piece of equipment that enables one to abate a hurricane's impacts."
__________
D had a personal recommendation for this Floridian: "I think you should move from Florida. You hate DeSantis, you are a climate fanatic so Florida will likely be submerged shortly. Yet despite your pandemic hysteria Florida is best in the nation in infections. Business is booming there and property values soaring and people moving there in droves. Go figure!"
__________
S responded, "Haha! And yes: weirdness abounds… though not always in a good way."
__________
M plunged into Florida politics today: "Florida has a congressional contest in the first district worth watching closely. Sitting Congressman Gaetz [https://gaetz.house.gov/], who just lost his Florida bar association privileges for "delinquency". Versus.  Famous Florida "whistleblower" Jones [https://www.rebekahjonescampaign.com/]. This may explain your reference to voter registration of alligators."
__________
[A different] D commented: "I've met Dave Barry a couple of times, and he's funny in person, too. Ask A about the napkin he signed for her when you next speak to her."
__________
Another commenter suggested another Florida history, Bubble in the Sun, by Christopher Knowlton, with this description: "[Knowlton's] book about the Florida land boom of the 1920s and the ensuing and infamous Florida land bust includes an incredibly detailed history of the development of Florida. Knowlton documents the following: 'the state was on its way to boasting the world's largest concentration of golf courses, a distinction it holds to this day (2020).' Knowlton also cites Willard A. Barrett, a 1920s writer for Barron's, who estimated that in the mid-1920s there were 20 million home building lots for sale across Florida. Barrett calculated that 'to occupy them all would require a population of sixty million—or roughly half the existing population of the United States at the time.' Knowlton suggests that 'problematically, Florida, by the late 1920s, had only one and a half million residents, although that was up 50% from the start of the decade.'"
[For interested readers, here's the book: Bubble in the Sun: The Florida Boom of the 1920s and How It Brought on the Great Depression, https://www.amazon.com/Bubble-Sun-Florida-Brought-Depression/dp/1982128380/.]
__________
R recommended another book: "Everyone should read A Land Remembered for real FL history." [Patrick Smith's much-loved historical novel about three generations of one Florida family can be found here: https://www.amazon.com/Land-Remembered-Patrick-D-Smith/dp/1561641162/.]
 
__________
N suggested "an interesting counterpoint to your email on Florida," citing an article by a Florida realtor: "'6 reasons not to move to Florida, according to a Floridian.' Michael Bordenaro has been a Florida Realtor for 12 years and says residential turnover is high. Residents are often surprised — and turned off — by high housing costs, weather, traffic, and more. He outlined six reasons transplants to the Sunshine State boomerang back to their hometowns. Read in Business Insider: https://apple.news/AAkIgsvILRzS7RQJ_pQGLtw."
[We note that Bordenaro has made a video about moving to Florida today, "Moving to Florida is Getting Out of Control (And So Are the House Prices)," https://www.youtube.com/channel/UCdxGqN9_aBisOJHzIRTGLfg.]
__________
G wrote, "New Jersey welcomes your return, and state income tax proceeds."
__________
 
Thanks to all who responded. We wish you a happy Sunday. Be safe and careful.
David R. Kotok
Chairman and Chief Investment Officer
Email | Bio
---
Links to other websites or electronic media controlled or offered by Third-Parties (non-affiliates of Cumberland Advisors) are provided only as a reference and courtesy to our users. Cumberland Advisors has no control over such websites, does not recommend or endorse any opinions, ideas, products, information, or content of such sites, and makes no warranties as to the accuracy, completeness, reliability or suitability of their content. Cumberland Advisors hereby disclaims liability for any information, materials, products or services posted or offered at any of the Third-Party websites. The Third-Party may have a privacy and/or security policy different from that of Cumberland Advisors. Therefore, please refer to the specific privacy and security policies of the Third-Party when accessing their websites.
---
Sign up for our FREE Cumberland Market Commentaries
---
Cumberland Advisors Market Commentaries offer insights and analysis on upcoming, important economic issues that potentially impact global financial markets. Our team shares their thinking on global economic developments, market news and other factors that often influence investment opportunities and strategies.