Sat Feb 18, 2023
According to Bloomberg News this week, the State of Florida is proposing legislation that will prohibit the use of ESG factors by state and local governments when issuing bonds, including a prohibition against relying on rating agencies when ESG factors could negatively impact an issuer's bond rating.
Image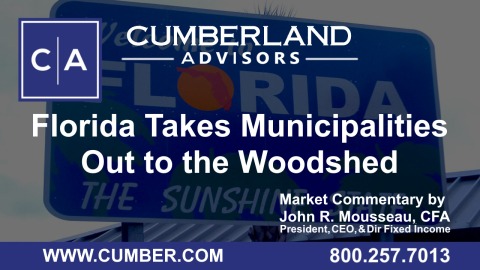 We can't possibly emphasize enough how misguided and unfortunate this stance is. Cumberland Advisors, like many other money managers, relies on bond ratings from rating agencies such as Moody's, Standard & Poor's, and Fitch in evaluating bonds for purchase or sale in our clients' portfolios. The rating agencies are relied upon not only by money managers like us but also by financial consultants, individuals, as well as institutional investors, and of course by issuers.

Issuers depend on the ratings they receive from the rating agencies to sell bonds in the capital markets. That doesn't mean that issuers always agree with the rating agencies. They often have ongoing discussions with agencies over points of disagreement or to reach consensus on what they might do to get a higher rating. It is the clarity of the ratings and the transparency of the process that allow buyers and sellers to transact at market-clearing prices on both newly issued bonds and bonds trading in the secondary markets, so that the municipal bond market operates in a reasonably liquid fashion.

The state's pronouncement is murky enough that it caused one issuer to pull a bond issue this week. Pasco County, FL, had to pull a $345 million bond issue for capital improvements because they were unclear about whether they could rely on the ratings they received (A1 by Moody's/A by S&P) in issuing bonds whose purpose was to support the Moffitt Medical Center there. Pasco County pulled the deal just as it was being marketed earlier this week, presumably because they didn't know if they would run afoul of the new regulations. In a rough week for bonds in general, we estimate that the pulling of the deal will probably cost the county at least ¼ point in higher interest costs if they have to come to market at new yield levels. This is approximately $850,000 per year in extra interest costs for Pasco County. Over an average life of 15 years, this would be an extra bill of $12,750,000. There are always market risks, but this is an example of UNNECESSARY INCREMENTAL costs borne by the county.

What are some other risks?

Liquidity

Some municipalities may forgo ratings. There is no question in our opinion that there will be a longer-term deleterious effect on issuers, even well-known ones, from not having ratings. An issuer that has a rating will trade at a lower yield/higher price than one that is similar creditwise but does not having a rating. In the secondary market, those who invest in the unrated issuer may be hurt in the long run. Over the long term, holders of bonds from that issuer THAT DO HAVE A RATING will also be hurt. And that is because, as time passes, the lack of clarity in a rating and the market's knowledge that the issuer is avoiding ratings will cause the issuer's bonds to drift higher in relative yield (lower in relative prices) to the market.

The audience for an issuer's bonds will become smaller without ratings. Many money managers require a minimum credit rating. (We are one of them.) So, if you start to reduce the audience, then by definition the cost of issuance will increase.

Corrective Measures

When things go awry financially, working with rating agencies and municipal advisors on certain metrics will often help issuers to correct problems. Remove the rigors of keeping ratings secure, and the credit quality of an issuer without a rating will become suspect over time. If financial results suffer, the effect in the market will presumably be worse without the benefit of ratings clarity.

The Climate in ESG

We knew from the devastation of Hurricane Ian that there were severe credit concerns in the Fort Myers and Cape Coral areas. And the rating agencies' reviews have helped to paint a clearer picture for investors of longer-term creditworthiness of those areas. But what if the affected areas lacked credit ratings because of the proposed legislation? Financing costs could soar. We know that tropical storm activity has picked up markedly in the past few years and that there is a probability of stronger storms on a more frequent basis. The importance of clarity on credit will also grow. We fear that the proposed legislation will keep municipalities with one hand tied financially behind their backs as they try to rebuild. Why hamper the ability of Florida's municipalities to recover after disasters?

The bottom line is that legislation like this hurts capital markets — for investors, for underwriters, and most importantly for issuers. Given that Florida is now the third-largest state by population in the United States, with people continuing to move to Florida for reasons of lifestyle, opportunity, and tax structure, municipal finance will play an ever greater role in the growth of the state. Why handicap that growth?
John R. Mousseau, CFA
President, Chief Executive Officer, & Director of Fixed Income
Email | Bio
---
Links to other websites or electronic media controlled or offered by Third-Parties (non-affiliates of Cumberland Advisors) are provided only as a reference and courtesy to our users. Cumberland Advisors has no control over such websites, does not recommend or endorse any opinions, ideas, products, information, or content of such sites, and makes no warranties as to the accuracy, completeness, reliability or suitability of their content. Cumberland Advisors hereby disclaims liability for any information, materials, products or services posted or offered at any of the Third-Party websites. The Third-Party may have a privacy and/or security policy different from that of Cumberland Advisors. Therefore, please refer to the specific privacy and security policies of the Third-Party when accessing their websites.
---
Sign up for our FREE Cumberland Market Commentaries
---
Cumberland Advisors Market Commentaries offer insights and analysis on upcoming, important economic issues that potentially impact global financial markets. Our team shares their thinking on global economic developments, market news and other factors that often influence investment opportunities and strategies.