Fri Jan 13, 2023
We're watching an issue which doesn't seem to make the stock market's radar screen, nor the bond market's credit risk analysis. Repeated incidents seem to be treated as separate "one-offs." That said, the issue runs the risk of creating a major dislocation; it impacts the utility sector and the electrical equipment supply sector. Our concern is that nothing will happen to address this national risk until a mass event triggers a crisis. Here's the story.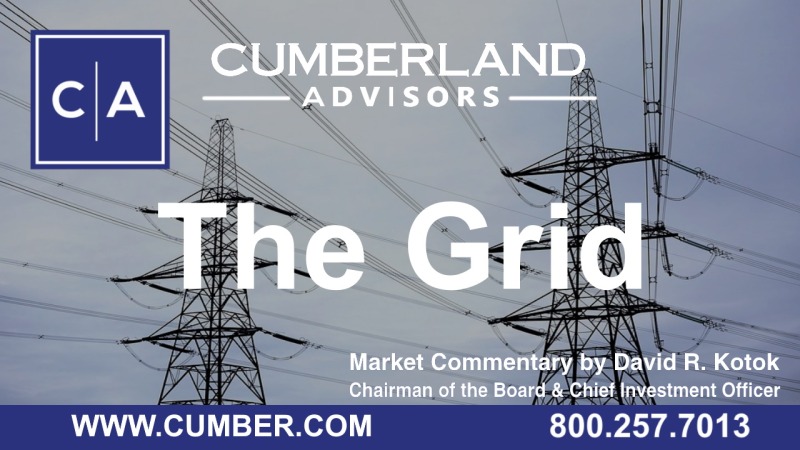 Attacks on power substations continue to make headlines. On Christmas Day, four substations were hit in Pierce County, Washington, near Tacoma, cutting power to thousands.

https://www.cnn.com/2022/12/25/us/tacoma-washington-substations-vandalized/index.html

These attacks have reached their highest level in a decade. According to Politico's examination of federal records, there were 101 such attacks recorded by the end of August this year.

"Physical attacks on power grid surge to new peak,"
https://www.politico.com/news/2022/12/26/physical-attacks-electrical-grid-peak-00075216

Let's comb back through the years; the precedents are there. Here's an instance of a coordinated 2013 attack described by National Public Radio (NPR). The target was four power substations that supplied power to Silicon Valley.

"Sniper Attack on Calif. Power Station Raises Terrorism Fears," https://www.npr.org/sections/thetwo-way/2014/02/05/272015606/sniper-attack-on-calif-power-station-raises-terrorism-fears

For years, anti-terrorist authorities and experts in the United States have warned about the exposure the nation has because of the lack of security in the electricity distribution system, otherwise known as "the grid". 

A year ago, January 2022, the Department of Homeland Security (DHS) warned: "Domestic extremists 'have developed credible, specific plans to attack electricity infrastructure since at least 2020,' according to the report from the Department of Homeland Security's Office of Intelligence and Analysis." See "Extremists see US power grid as target, gov't report warns," https://apnews.com/article/business-united-states-law-enforcement-agencies-9e3d1d4d4cd429b69a787235caa7e4b8. 

The risks posed by such attacks, according to the experts, are substantial, as this 60 Minutes segment from February 2022 suggests. You can count on your two hands the number of substations attackers would have to hit at once to potentially bring down the US electrical grid. "Vulnerable U.S. electric grid facing threats from Russia and domestic terrorists," https://www.cbsnews.com/news/america-electric-grid-60-minutes-2022-02-27/

A report from Energywire examines what it would take to enhance security at 55,000 substations around the country: "N.C. substation attack exposes grid risks," https://www.eenews.net/articles/n-c-substation-attack-exposes-grid-risks/.

Complicating efforts to better prepare for attacks like the one in Moore, NC, is the fact that the US currently faces a shortage of electrical transformers, which have to be replaced after an attack. The transformer shortage is already causing various kinds of delays and headaches for businesses and utilities. See two reports below:

"A shortage of electrical transformers holds back utilities, businesses," https://www.marketplace.org/2022/11/14/a-shortage-of-electrical-transformers-holds-back-utilities-businesses/ 

"Electricity transformer funding: a wonky but necessary solution to a critical resilience problem," https://thehill.com/opinion/congress-blog/3769365-electricity-transformer-funding-a-wonky-but-necessary-solution-to-a-critical-resilience-problem/

The situation is serious enough to trigger calls for use of the Defense Production Act to mitigate the transformer shortage. See "House Dems want to use DPA for electric transformers, seek $2.1B in funding," https://www.wwlp.com/news/house-dems-want-to-use-dpa-for-electric-transformers-seek-2-1b-in-funding/.

The largest exporter of transformers is China, currently facing a Covid tsumami.
 
China – $30.8 billion

Germany – $9.06 billion

United States – $5.45 billion

Japan – $4.32 billion

Mexico – $3.28 billion

"The 2021 Complete Guide to Transformer Producers," https://daelim-electric.com/transformer-producers/

The global transformer shortage is also a raw materials shortage. The supply chain for grain-oriented electrical steel (GOES) is a particular concern. Jeff Postelwait, reporting in July 2022 for T&D World, explains:
 
According to a Commerce Department report from October 15, 2020, the U.S. manufacturing base for GOES is on life support, with only one company, AK Steel, Inc., a unit of Cleveland Cliffs Inc., milling GOES at two factories in Ohio and Pennsylvania. These factories are not profitable, and the CEO has said the company may close the last GOES plants in the U.S., leaving the country entirely dependent on imports, according to the Commerce Department. Most of the GOES in the world comes from China (including Hong Kong), Japan, France, German, India, Poland, the Czech Republic, Russia, Brazil and South Korea.

It is also instructive to note that 70% of US transformers are more than 25 years old, some transformer ages average 38 years in service. See "Transformative Times: Update on the U.S. Transformer Supply Chain," https://www.tdworld.com/utility-business/article/21243198/transformative-times-update-on-the-us-transformer-supply-chain.

Here's a partial list of attacks on power substations this year in jurisdictions around the country. 
 
"Report shows 'intrusions' at Duke Energy power stations in Tampa Bay, elsewhere in Florida,"
https://www.wfla.com/news/local-news/report-shows-6-intrusions-at-power-stations-in-florida/

"Gunfire at South Carolina Hydropower Plant Stokes Grid Concern,"
https://www.bloomberg.com/news/articles/2022-12-08/duke-energy-says-shots-fired-near-south-carolina-power-plant?sref=TG2o5EVv#xj4y7vzkg

"Attacks on electrical substations in Oregon and Washington resemble those in North Carolina and raise questions about grid security,"
https://www.oregonlive.com/business/2022/12/attacks-on-electrical-substations-in-oregon-and-washington-resemble-those-in-north-carolina-and-raise-questions-about-grid-security.html

"String of electrical grid attacks in Pacific Northwest is unsolved,"
https://www.opb.org/article/2022/12/08/string-of-electrical-grid-attacks-in-pacific-northwest-are-unsolved/

"Attacks, plots similar to sabotage of North Carolina power grid have threatened infrastructure nationwide,"
https://abcnews.go.com/US/attacks-plots-similar-north-carolina-power-grid-attack/story?id=94574765

"Law enforcement in Moore County seeking search warrants as power is fully restored,"
https://www.newsobserver.com/news/local/article269763522.html

Will the new Congress accept that the threat is real and fund what is needed? It has economic consequences. It imposes extensive costs every time there is an outage. The threat requires changes in surveillance and a nationally coordinated effort. Protection of the power grid of America is enhanced by the Biden administration's $2.3 billion Building a Better Grid Initiative (see https://www.energy.gov/oe/articles/building-better-grid-initiative). It is delayed by culture war politics and balkanization of policies among the 50 states.

This issue gets little attention from investors and market agents. Each event seems to be perceived as a one-off with local law enforcement consequences when a perpetrator is caught. Each resulting outage is otherwise viewed as an inconvenience for a few days or few weeks as utility companies repair and replace the damaged portions of the system. While the serious security professionals remain focused on this problem, the rest of the country goes on about business as usual until the next power-outage event occurs. 

I do not see any market-based pricing mechanism in place to address this risk. There is some slight adjustment in insurance premiums but it seems to be minimal. The risk is clearly there. How to price it and how to estimate the costs are difficult challenges. At this moment, the best we can do is to ask the new Congress and the new Senate to make this issue a higher priority than culture war political theatrics.

Expectations for terrorism range widely. I personally expect more attacks on the national infrastructure, as those miscreants in America who are disruptors rather than builders seem to be encouraged by the politics that divide the country. They appear emboldened to wreak destruction for no constructive end.

Note that backup generators are already in growing demand. Many institutional facilities have them and are upgrading them. More and more individuals seek backup generation. That is a growing business. 

Insurers are changing their underwriting standards. Camera surveillance is ubiquitous and now includes facial recognition and even gait analysis. Screening of social media and dark portions of the web is constant. Yet the attacks continue as the perpetrators stay ahead of the authorities who are trying to prevent their destructive actions. 

Note that a terrorist attack on an electricity distribution system has an impact like that of a weather incident. The difference is that a hurricane track can be forecast and warnings issued. The domestic terrorist is unpredictable as to time and place. 

Infrastructure disruption risk is on our 2023 risk list whether the attacker is homegrown or a foreign adversary.
David R. Kotok
Chairman & Chief Investment Officer
Email | Bio
---
Links to other websites or electronic media controlled or offered by Third-Parties (non-affiliates of Cumberland Advisors) are provided only as a reference and courtesy to our users. Cumberland Advisors has no control over such websites, does not recommend or endorse any opinions, ideas, products, information, or content of such sites, and makes no warranties as to the accuracy, completeness, reliability or suitability of their content. Cumberland Advisors hereby disclaims liability for any information, materials, products or services posted or offered at any of the Third-Party websites. The Third-Party may have a privacy and/or security policy different from that of Cumberland Advisors. Therefore, please refer to the specific privacy and security policies of the Third-Party when accessing their websites.
---
Sign up for our FREE Cumberland Market Commentaries
---
Cumberland Advisors Market Commentaries offer insights and analysis on upcoming, important economic issues that potentially impact global financial markets. Our team shares their thinking on global economic developments, market news and other factors that often influence investment opportunities and strategies.