Sun May 29, 2022
"Investing and politics don't mix" concluded a recent Barry Ritholtz Sunday morning column. Here's the link and citation for readers who are interested: "Dangers of Mixing Business with Politics," https://ritholtz.com/2018/03/dangers-mixing-business-politics/.
We agree with Barry and will add some comments about the issue. We recommend reading Barry's column first, as this missive today embellishes on his theme.
Image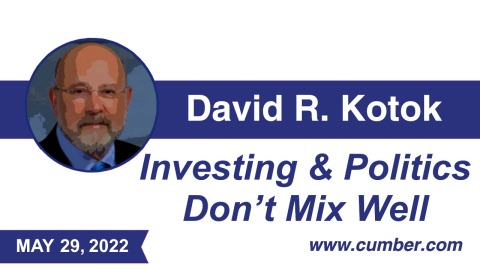 Please note that we encourage every citizen to be actively engaged in governance at all levels and to civilly discuss and debate diverse views. Civility and mutual respect are important.
Citizens and investors have to deal with the outcomes from government and that is where the politicians enter the fray. Some (not all) politicians tend to be self-serving and to engage in vendetta politics even if it leads to a reversal of a contract obligation. In a society that has First Amendment protection of speech and the press, virtually anything goes as long as it isn't libelous enough to inflict financial damage on an innocent victim. Even that standard requires proof of the damage, which can be very difficult to achieve. Meanwhile, politicians have protected themselves by passing laws giving themselves "sovereign immunity" and unrestrained speech in political venues. Politicians have also defined the corporate business form as a "person." This enabled political fundraising on this front, even though the corporation cannot vote. In so doing, and with the support of court decisions, corporations are exposed to political solicitation and face implied difficulties if they don't pony up money quietly. To quote a client who chooses to remain anonymous: "We have the best politicians money can buy."
That's the condition we find ourselves in.
So what can a business do?
Let's give an example from the extreme left and one from the extreme right.
You're a banker. You handle banking services, and you are heavily regulated and supervised by various agencies, all of which are constructed by governments. The governments may be federal or state. And sometimes they put you in conflicting legal positions.
Along comes US Senator Elizabeth Warren (D-MA), advocating a position of the extreme left to eliminate all overdraft fees on your checking accounts ("Warren Pushes JPMorgan, BofA, Wells Fargo to Kill Overdraft Fees," https://www.bloomberg.com/news/articles/2022-05-04/warren-asks-dimon-moynihan-and-scharf-to-kill-overdraft-fees).
Let's think about that. Banking and deposit processes and payments are a contract structure. All parties enter the transaction agreeing to a set of rules and a structure for costs. Now a politician says, "Let's change the rules in the middle of the checkers game. You no longer have to jump unless you want to." You can overdraw your bank account without penalty or cost.
Readers can see where this ends up. Contract clauses are weakened; costs rise.
Now to Barry's question. What do banks like Wells Fargo do as participants in this debate? Do they remain silent? Do they take public positions? How do they protect themselves and their shareholders? Is it wrong for JPMorgan to speak out if it's business interest is under attack?
Let's move to an example from the extreme right. The Florida legislature passed the "Parental Rights in Education" bill into law. The proposed bill was commonly known by some as the "don't say gay" bill and referred to by others as the "anti-grooming" bill. A worldwide corporation altered its public stance of silence and spoke out in opposition to this piece of legislation. It had many business reasons to do so. As a result of the law's passing, Florida is losing bookings, as conventions and other meetings rethink locations and shift to other states. I personally witnessed a relocation that cost Florida 200–300 visitors, totaling about 1000 hotel nights. There was no public fanfare. The event will be held in another state.
When Disney spoke up, the government in Tallahassee passed a law to punish the company. Disney's self-governing status on its Reedy Creek Improvement District site was revoked, effective June 1, 2023.
Gov. DeSantis has stated that the State of Florida will probably take over Reedy Creek rather than saddle local governments with control of the district and Disney's debt, estimated at up to $1 billion ("Gov. DeSantis: State Government Would Take Over Reedy Creek District From Disney, Not Pass On Debt To Local Districts," https://original.newsbreak.com/@toby-hazlewood-561626/2606025544326-gov-desantis-state-government-would-take-over-reedy-creek-district-from-disney-not-pass-on-debt-to-local-districts). The cost to Florida is currently unknown, and the cost of the $1 billion bond defeasance is also unknown. Separately, we have to ask how a state government agency can operate any municipal utility functions better than Reedy Creek has, with its nearly perfect record.
So we now witness a political fight between Florida government and a corporation that, as of 2019, brought Florida three times the visitors of the Las Vegas conventions. (By 2021, visits to the Magic Kingdom had more than recovered from the pandemic shock, topping 21 million, while Las Vegas convention numbers were still down from 6.6 million in 2019 to 2.2 million in 2021. See "Walt Disney World Statistics," https://magicguides.com/disney-world-statistics/, and this report from CDC Gaming Reports, https://www.cdcgamingreports.com/las-vegas-has-hosted-more-than-3-million-convention-visitors-since-june-rebound-key-to-filling-hotel-rooms-midweek/.)
Disney has paused all political contributions ("Disney pauses political donations in Florida, CEO Chapek apologizes for silence over 'Don't Say Gay' bill," https://www.cnbc.com/2022/03/11/disney-pauses-political-donations-in-florida-over-dont-say-gay-bill-backlash.html). The bond world is looking at a possible $1 billion defeasance. Two Florida counties face reallocation of municipal service costs which may end up in the millions.
This commentary is not about if you agree with Warren on the extreme left or DeSantis on the extreme right. That is not the question.
The question for investors is about contracts and agreed-upon structures and honoring financial and investment commitments. This is true for your bank deposit or for the sewer plant on Reedy Creek.
Barry Ritholtz has raised a profound question for investors who must now evaluate the risk that a government can create by interfering with a contract after the contract was created and implemented under an existing set of laws that were fully disclosed. Please note that there is no allegation of fraud from the politicians on either the extreme left or extreme right in these two examples.
Corporate political risk is now a part of security analysis and valuation, even if the corporation being analyzed has done nothing wrong. Rating agencies have a category called "event risk". It's directly tied to a weakening of a corporation's credit if a merger or acquisition alters the contracts or structure of a company. We now have to add political events to those risks.
A final note from history. A millennium ago, a Norman knight joined William the Conqueror and sailed across the English Channel to wage war and win a victory at the Battle of Hastings. That knight came from the French village of Isigny-sur-Mer, and once in England he and his brother chose the last name of d'Isigny to indicate and honor where they were from.
The journey they made and the victory he helped to win led to the first English legal decision to restrict the power of the government — the Magna Carta — and eventually to the establishment of the British High Court of Justice ("Magna Carta," https://www.britannica.com/topic/Magna-Carta). And it led to the evolution of English law in America (except in Louisiana, which has French legal origins).
One thousand years after Battle of Hastings, a d'Isigny family descendant named Walt Disney pioneered a theme park in Orlando. All payments on the financing for that project have been made since the beginning and without overdrawing bank accounts.
Long-term investors have been very successful because of the development of English law and adjudication of contracts and disputes. That success has involved the defense of business agreements using a system of courts and judges that are supposed to be impartial.
Investors have to think about this issue. So do all citizens.
David R. Kotok
Chairman & Chief Investment Officer
Email | Bio
---
Links to other websites or electronic media controlled or offered by Third-Parties (non-affiliates of Cumberland Advisors) are provided only as a reference and courtesy to our users. Cumberland Advisors has no control over such websites, does not recommend or endorse any opinions, ideas, products, information, or content of such sites, and makes no warranties as to the accuracy, completeness, reliability or suitability of their content. Cumberland Advisors hereby disclaims liability for any information, materials, products or services posted or offered at any of the Third-Party websites. The Third-Party may have a privacy and/or security policy different from that of Cumberland Advisors. Therefore, please refer to the specific privacy and security policies of the Third-Party when accessing their websites.
---
Sign up for our FREE Cumberland Market Commentaries
---
Cumberland Advisors Market Commentaries offer insights and analysis on upcoming, important economic issues that potentially impact global financial markets. Our team shares their thinking on global economic developments, market news and other factors that often influence investment opportunities and strategies.