Sun May 8, 2022
In an important new study, "Changes in Life Expectancy Between 2019 and 2021: United States and 19 Peer Countries," the authors have set forth an alarming result of the Covid pandemic, which may have deep implications for US economic growth.
 
Here's the link: https://www.medrxiv.org/content/10.1101/2022.04.05.22273393v1.full.pdf.
Image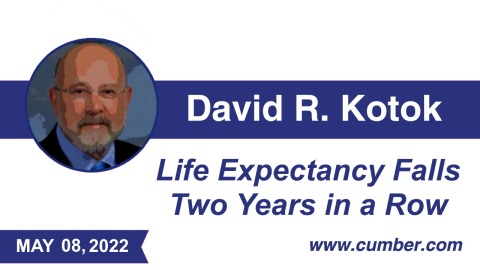 The abstract summarizes the study's findings as follows:
 
"US life expectancy decreased from 78.86 years in 2019 to 76.99 years in 2020 and 76.60 years in 2021, a net loss of 2.26 years. In contrast, peer countries averaged a smaller decrease in life expectancy between 2019 and 2020 (0.57 years) and a 0.28-year increase between 2020 and 2021, widening the gap in life expectancy between the United States and peer countries to more than five years. The decrease in US life expectancy was highly racialized: whereas the largest decreases in 2020 occurred among Hispanic and non-Hispanic Black populations, in 2021 only the non-Hispanic White population experienced a decrease in life expectancy."
 
Here are the peer countries used for comparisons and data sources. We recommend readers examine Table 1 and Figure 2 in the paper for graphics detailing the results. The awful conclusion for Americans is that the United States is now the worst example on the list.
 
"US and peer country death data for 2019–2021 were obtained from the National Center for Health Statistics, the Human Mortality Database, and overseas statistical agencies. The 19 peer countries included Austria, Belgium, Denmark, England and Wales, Finland, France, Germany, Israel, Italy, Netherlands, New Zealand, Northern Ireland, Norway, Portugal, Scotland, South Korea, Spain, Sweden, and Switzerland. Life expectancy was calculated for 2019 and 2020 and estimated for 2021 using a previously validated modeling method."
 
Some takeaways.
 
The authors do not offer an explanation for the continued decline in lifespans among the white (non-Hispanic) US population. Is it vaccine hesitancy? Is part of the US population cohort succumbing to disinformation about Covid, leading to choices that result in greater mortality? We do know that the preponderance of seriously sick and hospitalized Covid cases who die in the US are from the cohort of unvaccinated persons. We can see that in hospital statistics. Is this result from some 2021 racial bias? Many questions; few answers!
An overall decline in life expectancy is an economic shock. The United States has had a continuously rising life expectancy until the Covid pandemic. Remove a year of life from the expected aggregate, and the economy loses the consumption expenditures from that lost life year. The loss can never be replaced. Only a future population change and reversal of the trend can alter the economic deterioration.
Decline in life expectancy alters assumptions of all long-term projections for retirement benefits, Social Security payments, projections used by life insurance companies, and the other metrics that are part of the national longer-term projections for economic growth and income sustainability.
Large changes in trends like this one do not show up instantly in the day-to-day financial fluctuations of markets, banking and economic metrics. They do have huge impacts over time. One cannot do a short-term trade on a change in life expectancy.
Longer-term investment decisions are different. Changes in these long-term trends can have profound effects.
 
We are continuing our overweight position in the healthcare sector in our US Equity ETF portfolios. A trend of lower life expectancy is evidence of heightened consumer sensitivity to healthcare and to the development of new treatments and preventions.
 
We hope readers find this new paper thought-provoking. Remember that a growing life expectancy and a growing population are inputs into a rising rate of expected economic growth for a country like the United States. We now face two years of near-zero population growth coupled with two years of declining life expectancy.
 
The United States has not had to confront that "double whammy" combination for a long time. We're in a new era, and the premises about financial structures and markets have to be continuously reexamined. It ain't business as usual.
David R. Kotok
Chairman & Chief Investment Officer
Email | Bio
---
Links to other websites or electronic media controlled or offered by Third-Parties (non-affiliates of Cumberland Advisors) are provided only as a reference and courtesy to our users. Cumberland Advisors has no control over such websites, does not recommend or endorse any opinions, ideas, products, information, or content of such sites, and makes no warranties as to the accuracy, completeness, reliability or suitability of their content. Cumberland Advisors hereby disclaims liability for any information, materials, products or services posted or offered at any of the Third-Party websites. The Third-Party may have a privacy and/or security policy different from that of Cumberland Advisors. Therefore, please refer to the specific privacy and security policies of the Third-Party when accessing their websites.
---
Sign up for our FREE Cumberland Market Commentaries
---
Cumberland Advisors Market Commentaries offer insights and analysis on upcoming, important economic issues that potentially impact global financial markets. Our team shares their thinking on global economic developments, market news and other factors that often influence investment opportunities and strategies.