Thu Apr 28, 2022
We've received permission from AMG Funds to share a chart they have created. We thank Ben Stevens for granting permission.
Image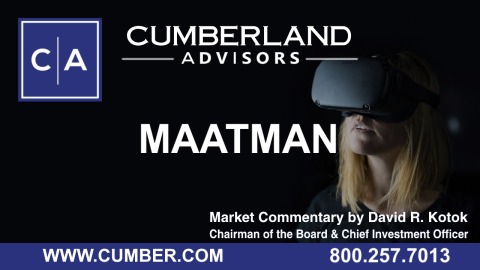 Here's Ben's morning missive for April 25 and a chart pairing that shows the narrow list of holdings that are having a dramatic effect on the market averages.

The cliché "A picture is worth a thousand words" is validated by the charts and Ben's explanation.

Ben wrote,
This week's chart, Growth of $1M-MAATMAN, is an update of our popular chart that shows the growth of $1M in MAATMAN stocks (Meta, Apple, Amazon, Tesla, Microsoft, Alphabet, Netflix) vs. major indices. The chart covers two periods, first is Dec '14 – Mar '22 and the second period is Q1 '22.

Takeaway: After years of outperformance by MAATMAN, the collection of those stocks are down more than the remainder of the S&P 500 since the beginning of 2021. Do you expect this trend to continue?
Ben asks the profound question about a very large concentration in a narrow list of stocks. The answer will be revealed in time.

We continue holding a cash reserve in our US Equity ETF accounts. That may change at any time.
David R. Kotok
Chairman & Chief Investment Officer
Email | Bio
---
Links to other websites or electronic media controlled or offered by Third-Parties (non-affiliates of Cumberland Advisors) are provided only as a reference and courtesy to our users. Cumberland Advisors has no control over such websites, does not recommend or endorse any opinions, ideas, products, information, or content of such sites, and makes no warranties as to the accuracy, completeness, reliability or suitability of their content. Cumberland Advisors hereby disclaims liability for any information, materials, products or services posted or offered at any of the Third-Party websites. The Third-Party may have a privacy and/or security policy different from that of Cumberland Advisors. Therefore, please refer to the specific privacy and security policies of the Third-Party when accessing their websites.
---
Sign up for our FREE Cumberland Market Commentaries
---
Cumberland Advisors Market Commentaries offer insights and analysis on upcoming, important economic issues that potentially impact global financial markets. Our team shares their thinking on global economic developments, market news and other factors that often influence investment opportunities and strategies.