Tue Nov 22, 2022
NFIB

Investors and portfolio managers watch the headlines about publicly traded companies, their stock prices, their bond or debt ratings, their news releases, etc. But what about the other "half" of the US economy? It doesn't trade on the stock exchange. 
 
That said, the other half is critical to the performance of the publicly traded companies. That "silent" or "quiet" contingent contains thousands and thousands of independent businesses of all sizes. Cumberland is one of those businesses. Many of our clients originate from that sector of the American economic engine. Most are smaller, domestically active companies. Some are large, and a few are quite large. Some have international operations. Some have thousands of employees, and others may be a one- or two-person enterprise.
 
So, while we don't see a daily fluctuation in a stock price on an exchange, we do see billions of transactions every day that originate from this half of the American economy that is mostly under the radar screen. At Cumberland we look at that sector closely. We follow its developments because the publicly traded half of the American economic engine would fail miserably if the privately owned sector collapsed or floundered. Remember — in every economy, one person's income is another person's expenses.
 
Below is the link to the National Federation of Independent Business (NFIB) monthly Small Business Economic Trends Survey (SBET). NFIB has been around for a long time. Walk into a private business, and you may see a NFIB emblem displayed on the door or a wall to show that the business is a member of the organization. Now to be fair, NFIB is a lobbying force acting on what it perceives as the financial interest of the independent businessperson. 
 
For the public at large and for the financial community, the NFIB's monthly survey information is important. That survey has been consistently conducted and published for decades. NFIB's chief economist, Bill Dunkelberg, is a longtime personal friend who has applied his Michigan-learned data-collecting survey techniques such that his database and his findings are scrutinized by the professionals in the financial world every month upon release. Holly Wade is his colleague at NFIB. She is also a board member colleague of mine at the Global Interdependence Center, while Bill Dunkelberg previously served as chair of the GIC during his distinguished career.
 
Below is part of the latest NFIB survey so that readers who are unfamiliar with it can see what it offers. I look at it every month. For the full survey results each month, here's the link: https://www.nfib.com/foundations/research-center/.
 
We thank Bill Dunkelberg, Holly Wade, and the NFIB for giving us permission to share this with our readers.
 
The online introduction to the report, found at https://www.nfib.com/surveys/small-business-economic-trends/, includes key takeaways from the report, and comments on specifics in particular areas follow. We share it, with permission, below.
 
October 2022 Report:
Small Businesses Struggle with Inflation, Labor Shortages

NFIB's Small Business Optimism Index declined 0.8 points in October to 91.3, which is the 10th consecutive month below the 49-year average of 98. Thirty-three percent of owners reported that inflation was their single most important problem in operating their business, three points higher than September's reading and four points lower than July's highest reading since the fourth quarter of 1979.
 
"Owners continue to show a dismal view about future sales growth and business conditions, but are still looking to hire new workers," said NFIB Chief Economist Bill Dunkelberg. "Inflation, supply chain disruptions, and labor shortages continue to limit the ability of many small businesses to meet the demand for their products and services."
 
Key findings include:
 
Of the 10 Index components, two increased, seven declined, and one was unchanged.

Owners expecting better business conditions over the next six months deteriorated two points from September to a net negative 46%.
 
The net percent of owners raising average selling prices decreased one point to a net 50% (seasonally adjusted). Half of all firms are raising prices, that's inflation.

The net percent of owners who expect real sales to be higher decreased three points from September to a net negative 13%.
 
As reported in NFIB's monthly jobs report, 46% of owners reported job openings that were hard to fill, unchanged from September. Of those hiring or trying to hire, 90% of owners reported few or no qualified applicants for the positions they were trying to fill.
 
Fifty-four percent of owners reported capital outlays in the last six months, down two points from September. Of those making expenditures, 37% reported spending on new equipment, 22% acquired vehicles, and 17% improved or expanded facilities. Eleven percent spent money on new fixtures and furniture and 6% acquired new buildings or land for expansion. Twenty-three percent plan capital outlays in the next few months.
 
A net negative 8% of all owners (seasonally adjusted) reported higher nominal sales in the past three months, three points worse than from September. The net percent of owners expecting higher real sales volumes declined three points to a net negative 13%.
 
The net percent of owners reporting inventory increases improved one point to a net negative 1%. Sixteen percent of owners reported increases in stocks and 16% reported reductions as solid sales reduced inventories at many firms and owners cautiously reduced inventory purchases.
 
Thirty-one percent of owners recently reported that supply chain disruptions have had a significant impact on their business. Another 31% report a moderate impact and 27% report a mild impact. Only 10% of owners report no impact from recent supply chain disruptions. A net zero percent of owners viewed current inventory stocks as "too low" in October, down one point from September. By industry, shortages are the most frequent in finance (18%), retail (15%), transportation (13%), services (11%), and manufacturing (11%). A net 2% of owners plan inventory investment in the coming months.
 
The net percent of owners raising average selling prices decreased one point from September to a net 50% (seasonally adjusted). Unadjusted, 8% of owners reported lower average selling prices and 56% reported higher average selling prices. Price hikes were the most frequent in retail (69% higher, 6% lower), wholesale (64% higher, 12% lower), construction (61% higher, 5% lower), and services (54% higher, 5% lower). Seasonally adjusted, a net 34% of owners plan price hikes.
 
Seasonally adjusted, a net 44% of owners reported raising compensation, down one point from September. A net 32% plan to raise compensation in the next three months, up nine points from September and the highest since October 2021. Ten percent of owners cited labor costs as their top business problem and 23% cited labor quality as their top business problem.
 
The frequency of reports of positive profit trends was a net negative 30%, up one point from September. Among owners reporting lower profits, 34% blamed the rise in the cost of materials, 22% blamed weaker sales, 12% cited labor costs, 12% cited lower prices, 7% cited the usual seasonal change, and 2% cited higher taxes or regulatory costs. For owners reporting higher profits, 47% credited sales volumes, 20% cited usual seasonal change, and 16% cited higher prices.
 
Two percent of owners reported that all their borrowing needs were not satisfied. Twenty-six percent reported all credit needs met and 62% said they were not interested in a loan. A net 6% reported their last loan was harder to get than in previous attempts.
 
The NFIB Research Center has collected Small Business Economic Trends data with quarterly surveys since the 4th quarter of 1973 and monthly surveys since 1986. Survey respondents are randomly drawn from NFIB's membership. The report is released on the second Tuesday of each month. This survey was conducted in October 2022.
 
We excerpt three charts from the report for readers to consider:
 
Image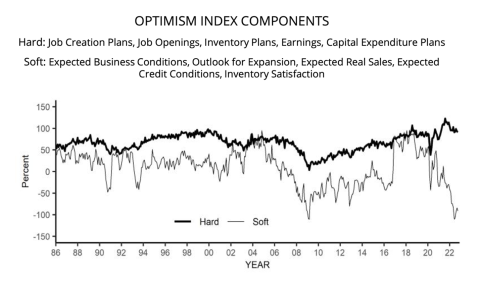 Image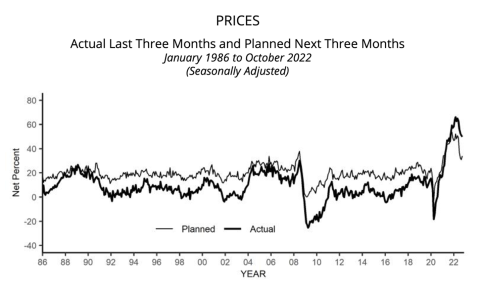 Image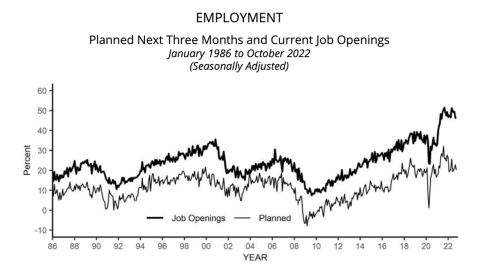 ---
 
The full report can be downloaded at https://assets.nfib.com/nfibcom/SBET-Oct-2022.pdf. We heartily recommend it.
 
David R. Kotok
Chairman & Chief Investment Officer
Email | Bio
---
Links to other websites or electronic media controlled or offered by Third-Parties (non-affiliates of Cumberland Advisors) are provided only as a reference and courtesy to our users. Cumberland Advisors has no control over such websites, does not recommend or endorse any opinions, ideas, products, information, or content of such sites, and makes no warranties as to the accuracy, completeness, reliability or suitability of their content. Cumberland Advisors hereby disclaims liability for any information, materials, products or services posted or offered at any of the Third-Party websites. The Third-Party may have a privacy and/or security policy different from that of Cumberland Advisors. Therefore, please refer to the specific privacy and security policies of the Third-Party when accessing their websites.
---
Sign up for our FREE Cumberland Market Commentaries
---
Cumberland Advisors Market Commentaries offer insights and analysis on upcoming, important economic issues that potentially impact global financial markets. Our team shares their thinking on global economic developments, market news and other factors that often influence investment opportunities and strategies.