Tue Sep 13, 2022
Barron's ran this column on Friday afternoon before Labor Day weekend. It's worthwhile. It discusses the Phillips curve and versions modified for current usage. Here's the link: https://www.barrons.com/articles/inflation-jobs-layoffs-recession-federal-reserve-51662143640.

We added a comment to the article and included a chart, which Barron's published.  Several Barron's readers communicated responses, and we thank them for doing so.

Here's our comment, with chart:

Here's a half-century history of the annual data point entries for a Phillips curve using the CPI and the U3 unemployment rate. We've added an interim data point to show where we are right now. In other words, if things don't change in a few more months, this is what the chart will look like on December 31.

My takeaway is that the Phillips curve doesn't help forecast outcomes, so I must take a view opposed to that articulated by some folks quoted in the Barron's column. Perhaps it might be different if the jobs openings numbers were a million or two million fewer than the jobseekers numbers. But that's not the case today.

The Phillips curve debate has raged for a long time. And so it goes. Here's the chart. See if you can figure out a way to make a reliable forecast. I can't.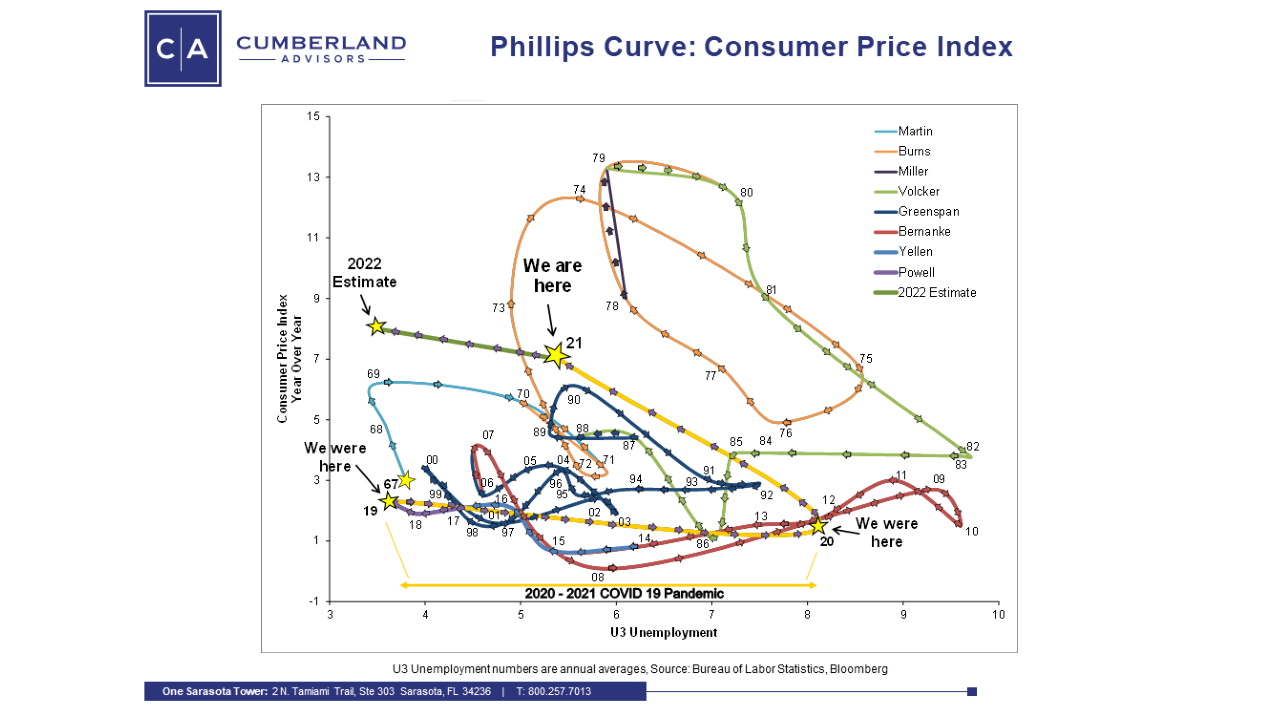 To embellish and enhance this discussion (debate), here's a very timely speech by Catherine Mann, who is a member of the Monetary Policy Committee of the Bank of England. Previously, she was global chief economist at Citi and chief economist at the OECD. In her speech, delivered on Sept. 5, 2022, to the 53rd Annual Conference of the Money Macro and Finance Society, University of Kent, she discusses the Phillips curve's shifting due to changes in inflation expectations. We strongly recommend this speech to readers.

"Inflation expectations, inflation persistence, and monetary policy strategy," https://www.bankofengland.co.uk/speech/2022/september/catherine-l-mann-53rd-annual-conference-of-the-money-macro-and-finance-society

The following day, on Sept. 6, authors at the Federal Reserve Bank of San Francisco weighed in on this Phillips curve issue in "Finding a Soft Landing along the Beveridge Curve," https://www.frbsf.org/economic-research/publications/economic-letter/2022/august/finding-soft-landing-along-beveridge-curve/

To complete the conversation, here's the link to a critical September Brookings paper: "Understanding US inflation during the COVID era," https://www.brookings.edu/bpea-articles/understanding-u-s-inflation-during-the-covid-era/. This paper argues the case that the unemployment rate is a flawed metric to follow as long as the number of job opportunities exceeds the number of job seekers.

Our market view remains in place: interest rates heading higher, wages heading higher, Fed tightening persists, global geopolitical risk intensifies.  We have a cash reserve in the US Equity ETF portfolio.  Of course, market positions may change at any time.
 
David R. Kotok
Chairman & Chief Investment Officer
Email | Bio
---
Links to other websites or electronic media controlled or offered by Third-Parties (non-affiliates of Cumberland Advisors) are provided only as a reference and courtesy to our users. Cumberland Advisors has no control over such websites, does not recommend or endorse any opinions, ideas, products, information, or content of such sites, and makes no warranties as to the accuracy, completeness, reliability or suitability of their content. Cumberland Advisors hereby disclaims liability for any information, materials, products or services posted or offered at any of the Third-Party websites. The Third-Party may have a privacy and/or security policy different from that of Cumberland Advisors. Therefore, please refer to the specific privacy and security policies of the Third-Party when accessing their websites.
---
Sign up for our FREE Cumberland Market Commentaries
---
Cumberland Advisors Market Commentaries offer insights and analysis on upcoming, important economic issues that potentially impact global financial markets. Our team shares their thinking on global economic developments, market news and other factors that often influence investment opportunities and strategies.