Wed Feb 1, 2023
Here's a quick update on the US Equity ETF portfolio.   
 
First, we are still holding a cash reserve.  To me, some stock markets seem too complacent about the outcome.  We discussed this on Bloomberg radio Sunday night when the anchors asked if the US markets are too "sanguine."   My answer was "yes."
 
For all the geopolitical risk reasons we see in the daily news, we continue to hold our overweight defense-aerospace position in the US Equity ETF portfolio. New money additions to those managed accounts and new clients' accounts are quickly rebalanced to model weight. Older positions are mostly above model weight because of price appreciation. We haven't sold a share in the defense sector.
Image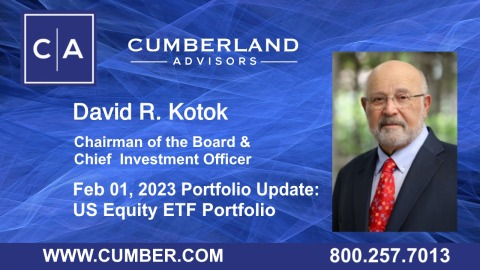 We are watching the debt ceiling and budget debate carefully, as are most (politically) cynical yet dedicated financial market professionals. This highly public political charade comes around every so often.
 
No one expects the US to default. But the politicians on both sides of the Congressional aisle like to play brinkmanship politics, so we must be alert. We will be writing about the debt ceiling debate separately, having watched it for the entire 50 years of Cumberland Advisors' history. Our good friends at Capital Alpha, LLC, in Washington are among the very best analysts we know. Byron Callan and Jim Lucier provide regular and detailed insight into the debate. They currently believe the defense budget will ultimately escape the debt ceiling debate madness. I hope so. All we must do is look around the world to see why the United States faces a prolonged period of necessary rising defense expenditures.
 
We have increased our position exposure to the domestic US oil sector with two selected ETFs. We want to own domestic existing production and the related important servicing. The Biden administration hasn't expanded the incentives. And it has run down the Strategic Petroleum Reserve (SPR). That rundown is over. So, in a world of high risk and energy pressures, we have not seen expanded oil and gas capex, and we are now seeing a failed attempt to refill the SPR.
 
For the discussion that follows, I want to offer a hat tip to Sam Rines, Managing Director of CORBU. Sam is one of the finest energy economists I know. He is also a GIC (Global Interdependence Center) member and regular attendee at our summer gathering in Maine. He will be speaking in Sarasota at the third installment of the forthcoming GIC conference series Ukraine: One Year Later. Session III, which will be held Thursday, March 23, 2023 – Friday, March 24, 2023, is titled "Food, Famine, and Energy, plus the Effects of the War on Central Bank Policy and Financial Markets," and Sam will be on the oil and gas panel. For more information and registration, see https://www.interdependence.org/events/browse/ukraine-one-year-later-session-iii/.  Note that registration is open for the February 16-17 conference.
 
Sam and I discussed the key takeaway from the RFP sent by the US government to try to obtain the first refill of the SPR. It was an offer to buy 3,000,000 barrels of a specified type of domestically produced crude oil. The terms for delivery and details were clearly spelled out, so anyone could then estimate the total all-in cost and therefore the price that would be necessary to complete the contract by a successful bidder. From this complex set of numbers, we can derive an estimate of an oil price floor for the United States and its domestic production. Since the federal government's offer was not accepted by any supplier, we can "back into" an estimate of a base price for US crude. We know that the SPR is low following a drawdown and that the federal government is now a buyer and not a seller. And we know that the worldwide energy position is tightening as China reopens and as Putin's war continues to pressure food and energy prices worldwide. 
 
From all of this, it looks to us as though the trajectory of US domestic crude oil pricing is at a "floor level" in the mid-$80s. And any shock or pressures could take the oil price above $100 per barrel. In addition, the flows expected from the restart in Venezuela are lagging in amount and timing from original estimates. Some oil will make it from Venezuela to US refineries this year but less than originally expected. Bottom line — I think that oil prices are headed higher or staying in the range of high $70s or $80s. There is some chance that a severe recession in America might mitigate this oil price scenario, but it doesn't look like that kind of recession is imminent. 
 
We thank Sam Rines for his conversation with us on the nuances of this oil outlook. 
 
Here's the link to the federal request for proposals. https://www.spr.doe.gov/posting/PURCHASE/FY23%20Winter%20Oil%20Purchase%203MMB/1-Request%20for%20Proposal/FY23%20Winter%20Oil%20Purchase%203MMB%20Request%20for%20Proposal.pdf.
 
The federal government tried to buy. There were no sellers that showed up to fill the order. That implies oil prices are headed higher. 
 
So, as of today, we're overweight defense and overweight oil, and we also have a cash reserve.  Of course, this could change at any time.
David R. Kotok
Chairman & Chief Investment Officer
Email | Bio
---
Links to other websites or electronic media controlled or offered by Third-Parties (non-affiliates of Cumberland Advisors) are provided only as a reference and courtesy to our users. Cumberland Advisors has no control over such websites, does not recommend or endorse any opinions, ideas, products, information, or content of such sites, and makes no warranties as to the accuracy, completeness, reliability or suitability of their content. Cumberland Advisors hereby disclaims liability for any information, materials, products or services posted or offered at any of the Third-Party websites. The Third-Party may have a privacy and/or security policy different from that of Cumberland Advisors. Therefore, please refer to the specific privacy and security policies of the Third-Party when accessing their websites.
---
Sign up for our FREE Cumberland Market Commentaries
---
Cumberland Advisors Market Commentaries offer insights and analysis on upcoming, important economic issues that potentially impact global financial markets. Our team shares their thinking on global economic developments, market news and other factors that often influence investment opportunities and strategies.