Mon Aug 30, 2021
Rick Newman joined our second week gathering at Leen's Lodge. He added much to the discussion and debate. Here's his newest column at Yahoo! Finance. He's talking about COVID costs, insurance premiums, and surcharges for unvaccinated employees. We strongly recommend this column for everyone in a management or policy role in every business or other organization, including every nonprofit entity that has a payroll.
Image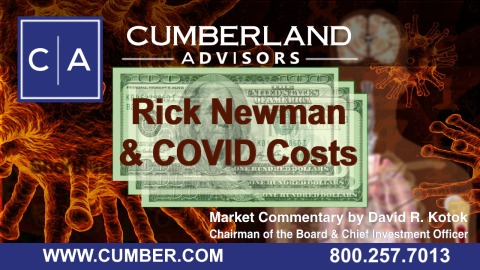 The bottom line is that your employee healthcare costs are heading much higher. Your unvaccinated employees are becoming more costly, and this is only just beginning. If your enterprise is located in a state that doesn't promote public health mitigation, your cost structure is likely to ramp up higher and faster than it will if your business operates in a state with COVID mitigation and vaccination and mask mandates.
 
The cost of a COVID hospitalization unmitigated by insurance and in-network coverage ranges from a low of $50K to a high nearing $80K ("Average cost of hospital care for COVID-19 ranges from $51,000 to $78,000, based on age," https://www.healthcarefinancenews.com/news/average-cost-hospital-care-covid-19-ranges-51000-78000-based-age).
 
Healthcare bills for the uninsured represent the highest cost, though hospitals will not get paid by some. For the insured, health insurance leverages a system of cost reduction and payment for large volumes. With insurance, the average charge for a COVID hospitalization is far less but still substantial, averaging $20K ("Unvaccinated COVID-19 hospitalizations cost the U.S. health system billions of dollars," https://www.healthsystemtracker.org/brief/unvaccinated-covid-patients-cost-the-u-s-health-system-billions-of-dollars/).
 
We are already seeing business shifts away from states that have seen high COVID death and hospitalizations per capita. We expect that trend to accelerate. These costs will filter into healthcare premiums and employment costs. In states such as Florida, where COVID infections are rampant and hospitals are overflowing, we are beginning to see cost estimates for coming insurance renewal cycles rising. Using Delta Airlines' surcharge of $2400 a year ($200 a month) for unvaccinated employees as a guide because it was very recently established and based on a large pool of participants, we can make a first guess at where this ends up. Our view is that small and midsized businesses can double the Delta Airlines number for starters and then adjust estimates as more information is available.
 
Imposing a health insurance premium surcharge for unvaccinated employees, as Delta is doing, is a complicated path for employers with regard to legal compliance, as the Society for Human Resource Management, SHRM, points out in a recent article, "Health Plan Premium Surcharges for the Unvaccinated?" https://www.shrm.org/resourcesandtools/hr-topics/benefits/pages/employers-ponder-health-plan-premium-surcharges-for-the-unvaccinated.aspx.
 
Operating without a vaccination mandate is a costly choice for many. Of course, the immediate impact is death and disease. We see that in Sarasota every day. Another derivative impact is higher employment costs. That adjustment is just starting.
 
Here's Rick Newman's excellent column and accompanying video interview,
 
"Here's the cost of going unvaccinated," https://finance.yahoo.com/news/heres-the-cost-of-going-unvaccinated-182229560.html
David R. Kotok
Chairman of the Board & Chief Investment Officer
Email | Bio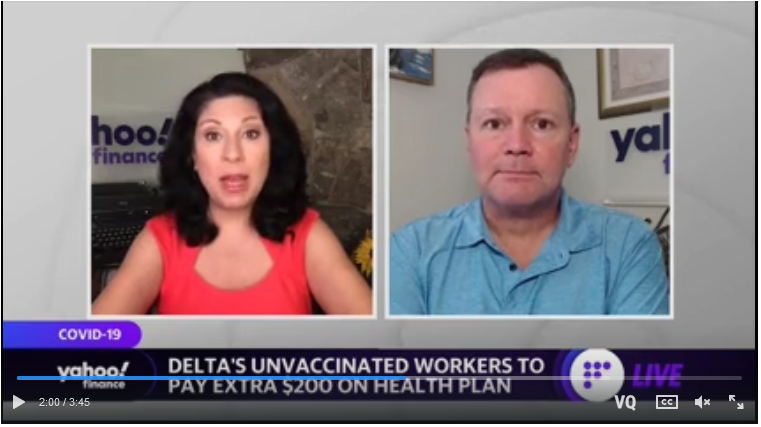 ---
Links to other websites or electronic media controlled or offered by Third-Parties (non-affiliates of Cumberland Advisors) are provided only as a reference and courtesy to our users. Cumberland Advisors has no control over such websites, does not recommend or endorse any opinions, ideas, products, information, or content of such sites, and makes no warranties as to the accuracy, completeness, reliability or suitability of their content. Cumberland Advisors hereby disclaims liability for any information, materials, products or services posted or offered at any of the Third-Party websites. The Third-Party may have a privacy and/or security policy different from that of Cumberland Advisors. Therefore, please refer to the specific privacy and security policies of the Third-Party when accessing their websites.
---
Sign up for our FREE Cumberland Market Commentaries
---
Cumberland Advisors Market Commentaries offer insights and analysis on upcoming, important economic issues that potentially impact global financial markets. Our team shares their thinking on global economic developments, market news and other factors that often influence investment opportunities and strategies.