Wed Nov 30, 2022
US Secretary of Defense Lloyd Austin has sent a letter, excerpted below, to the following key leaders in the House and Senate: 
      Chuck Schumer, Senate Majority Leader (Senate Minority Leader Mitch McConnell was cc'd.)

      Nancy Pelosi, Speaker of the House (House Minority Leader Kevin McCarthy was cc'd.)

      Patrick Leahy, Chairman, Committee on Appropriations, US Senate (Vice Chairman Richard Shelby was cc'd.)

      Rosa DeLauro, Chairwoman, Committee on Appropriations, US House of Representatives (Ranking Member Kay Granger was cc'd.)
 
In the letter, Austin warns congressional leaders on both sides of the aisle that a delay in passing a budget for 2023 would harm military programs and national security. An excerpt follows (the first paragraph), but we encourage readers to read the letter in its entirety at Politico.
Image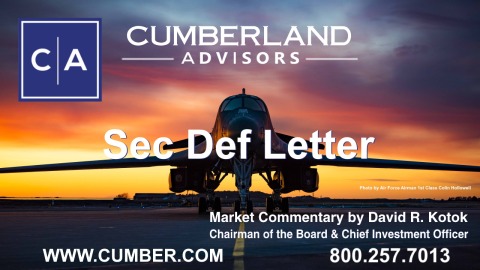 The Department of Defense (DoD) once again faces the threat of an extended continuing resolution (CR) to fund our programs and operations into the new year. It is essential that Congress act now to complete a full-year, whole of government funding bill before the end of 2022. Failure to do so will result in significant harm to our people and our programs and would cause harm to our national security and our competitiveness.
 
We believe that the lame duck session will fund the defense budget needs and that the Congress will act and not obstruct defense spending.  
 
We remain overweight in aerospace defense in our US Equity ETF portfolio.
 
David R. Kotok
Chairman & Chief Investment Officer
Email | Bio
---
Links to other websites or electronic media controlled or offered by Third-Parties (non-affiliates of Cumberland Advisors) are provided only as a reference and courtesy to our users. Cumberland Advisors has no control over such websites, does not recommend or endorse any opinions, ideas, products, information, or content of such sites, and makes no warranties as to the accuracy, completeness, reliability or suitability of their content. Cumberland Advisors hereby disclaims liability for any information, materials, products or services posted or offered at any of the Third-Party websites. The Third-Party may have a privacy and/or security policy different from that of Cumberland Advisors. Therefore, please refer to the specific privacy and security policies of the Third-Party when accessing their websites.
---
Sign up for our FREE Cumberland Market Commentaries
---
Cumberland Advisors Market Commentaries offer insights and analysis on upcoming, important economic issues that potentially impact global financial markets. Our team shares their thinking on global economic developments, market news and other factors that often influence investment opportunities and strategies.