Mon Jun 6, 2022
This Sunday we feature the replay of Part 3 in the "Ukraine: What's Next?" five-part series: "Cyber Security Analysis" (https://www.youtube.com/watch?v=UQRQmLbzDI8&t=281s).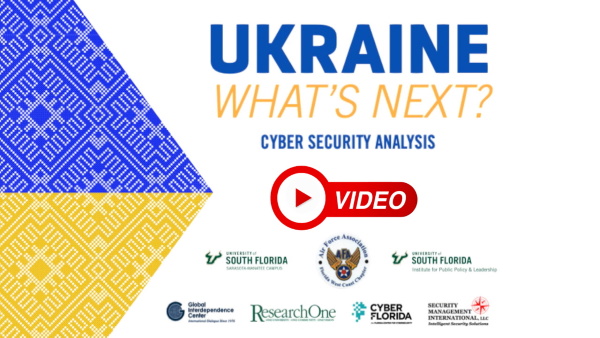 The series is a collaboration among the USF Sarasota-Manatee campus, the Air Force Association Florida West Coast Chapter, Cyber Florida, the Global Interdependence Center, Security Management International, the USF Institute for Public Policy and Leadership, and USF ResearchOne. Sponsors have once again marshalled enormous expertise to bring to participants and viewers an in-depth and extremely useful analysis of the role of cyber security in the Ukraine conflict and far beyond.
 
After introductory remarks, at 3:29, Scott Gray recaps prior installments in the "Ukraine: What's Next?" series. Then, General Keith Alexander, retired Director of the National Security Agency and Commander at US Cyber Command, and founder and co-CEO of IronNet (https://www.ironnet.com), offers a thoroughgoing keynote presentation analyzing Russia's missteps and the role of cyberwarfare not only in Ukraine but across the world and into the future. Ron Sanders, Staff Director for the Florida Center for Cybersecurity, also known as Cyber Florida, introduces General Alexander and moderates the Q&A.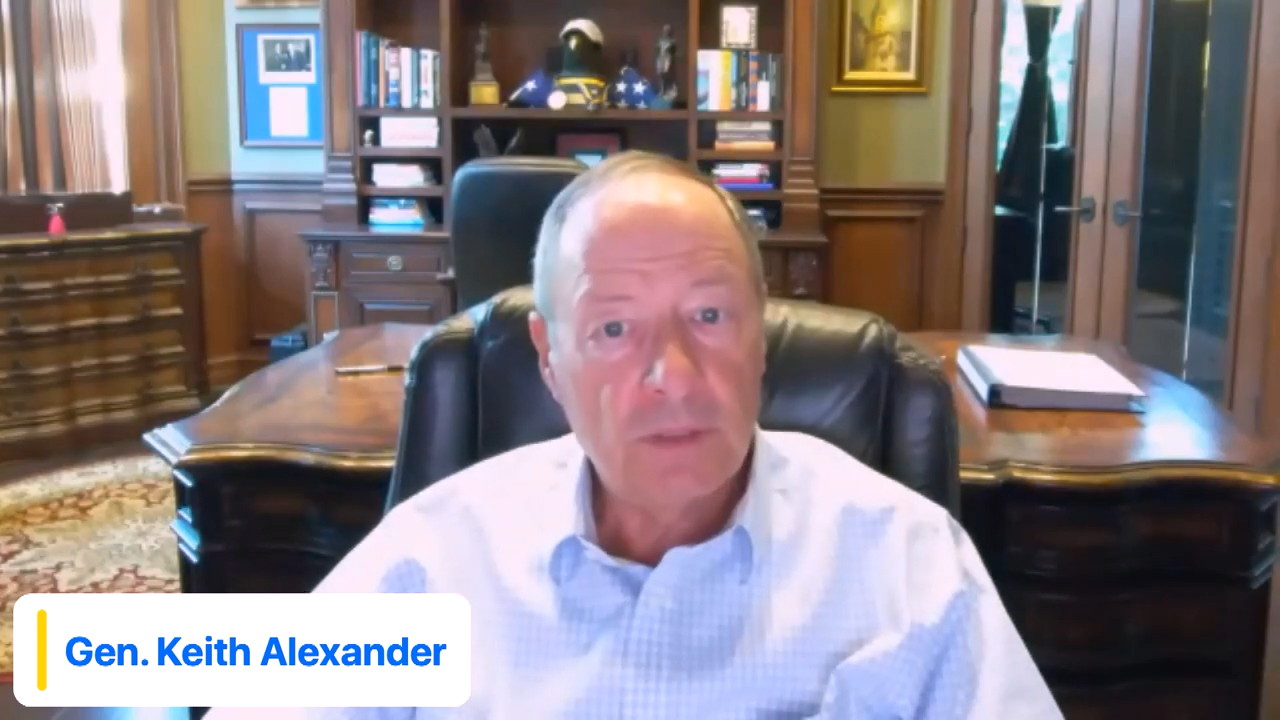 In his keynote, General Alexander maps Vladimir Putin's failures in Ukraine and how cyberattacks remain a key global weapon as Putin attempts to reshape the geopolitical map of Europe. The general discusses the desperate position Putin finds himself in, Russia's options, and a threat many people do not fully grasp: the ever-present threat of the cyber sabotage of critical infrastructure — the electrical grid, fuel, water, key businesses and governmental entities, etc. Looking beyond Russia and the Ukraine, he characterizes China's calculated response to Putin's aggression. He further details the longer-run economic war that China has waged through the cyber theft of hundreds of billions of dollars in intellectual property each year. The cumulative figures are eye-popping. Among the lessons he details is the necessity for public-private partnerships to implement timely information sharing about cyber threats, including wiper viruses, with or without keys, that may be deployed as ransomware.
 
After a Q&A, at 56:29, a panel of cyber security professionals discuss General Alexander's presentation and offer their own insights. The panelists are:
* Chuck Brooks, Cybersecurity Evangelist; Adjunct Faculty, Georgetown University
* Serge Jorgensen, Founding Partner and CTO, Sylint
* Elzar Camper, Solutions and Practices Director, Pivot Point Security
* Ron Sanders, Staff Director, Cyber Florida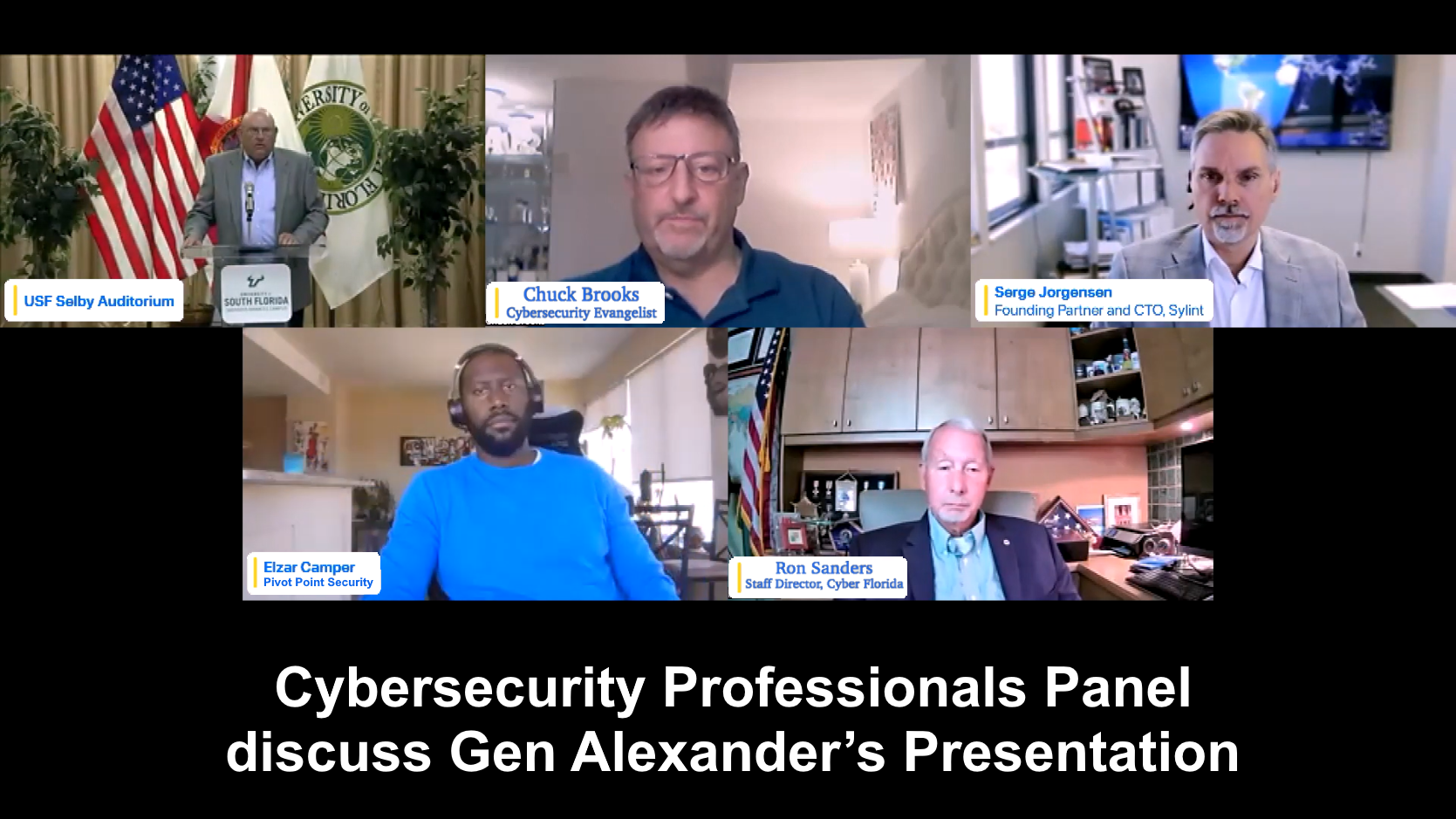 The conversation in this segment is immensely helpful for businesses tasked with assessing cyber threats and insuring against financial loss. (Tip: read the insurance contract carefully — paying the premium may not be enough). The discussion also addresses, among other topics, the idea of rating software to identify applications that pass muster against cyber threats, the crypto connection with cybercrime, and measures to address vulnerabilities.
 
In a final segment, at the 2:00:14 mark, General Scott Gray introduces Lt. General James K. (Kevin) McLaughlin, former Deputy Director of US Cyber Command, who offers his eminently well-informed perspectives on the present and future role of cyber in warfare, on the DOD's perpetual engagement with cyber foes, and on the insidious nature of "corrosive cyberattacks," which are less important individually than they are cumulatively. Corrosive cyberattacks take the form of stealing intellectual property and disrupting democratic processes and institutions and critical infrastructure. He warns about the escalated risk of attacks by Russia or its proxies should Putin not achieve the goals he is aiming for.
 
We hope we've tantalized readers to watch. Part 3 of the "Ukraine: What's Next?" series delivers much to learn, to think about, and to act on. We close with a list of the conferences in the series and with an EventBrite link readers can use to register for Part 5, which focuses on information and disinformation in the battle for hearts and minds. It will be held on June 08, 2022.
 
Ukraine: What's Next?
 
Part 1 – Military and Intelligence Insights (April 13, 2022)
View the conference replay at https://www.youtube.com/watch?v=Ia3FUtifriU&t=5543s.
 
Part 2 – Financial and Economic Impacts (April 27, 2022)
View the conference replay at https://www.youtube.com/watch?v=8N2zwKobfyw.
 
Part 3 – Cyber Security Analysis (May 10, 2022)
https://www.youtube.com/watch?v=UQRQmLbzDI8&t=281s
 
Part 4 – Diplomatic and Humanitarian Aspects (May 24, 2022)
Conference replay is pending. We will feature the program and post the link when it is available.
 
Part 5 – Hearts and Minds: Information and Misinformation (June 08, 2022)
Readers may register for this conference through EventBrite:  https://www.eventbrite.com/e/ukraine-whats-next-tickets-333787847437.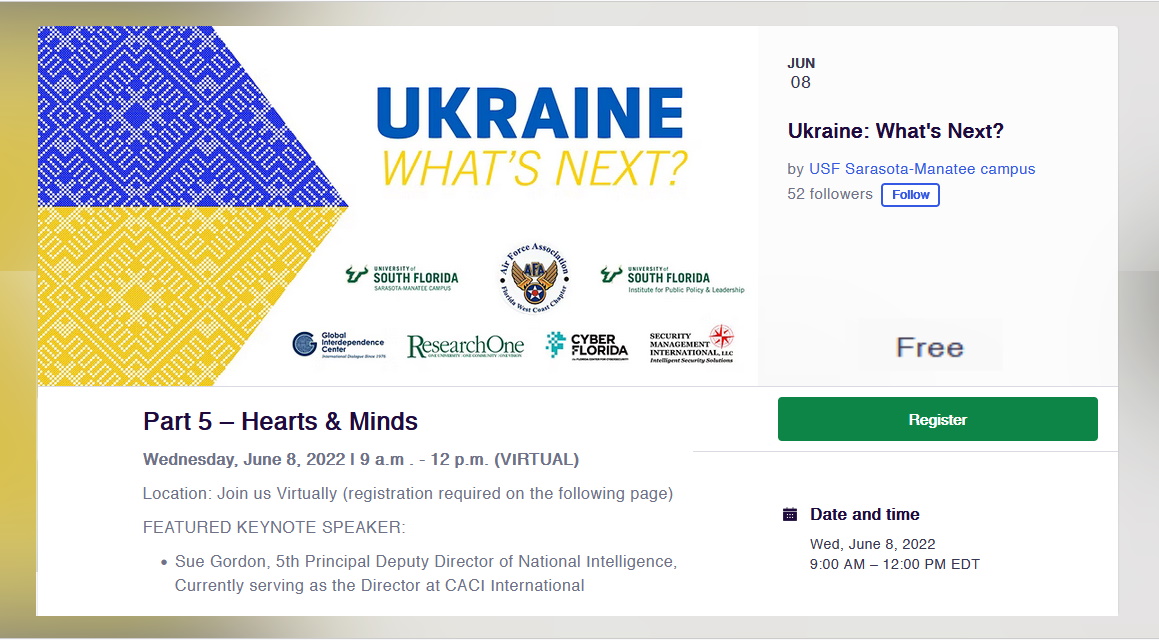 David R. Kotok
Chairman & Chief Investment Officer
Email | Bio