Sun Jan 2, 2022
"To grandmother's house we go," says the song. In the US, airports bustled (when flights not canceled) over the holidays. Families gathered. Some heeded the Omicron warning, some not. 'Twas the season. Now we are watching Omicron cases surge.
 
We start 2022 by writing about vaccines, American history (from Hilleman to Eisenhower to, yes, Elvis), and giving a reason for some optimism about COVID.  We'll end with comments about the financial markets in 2022. This commentary will take a few minutes.  So, we wish you a happy Sunday along with the New Year.
 
We'll start with vaccines.
Image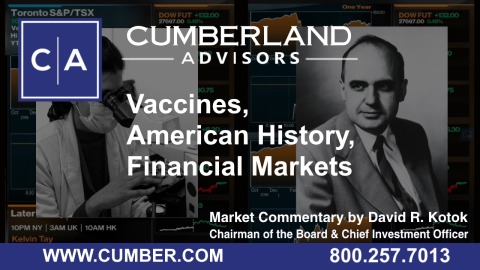 According to British data reported in the BMJ (https://www.bmj.com/content/374/bmj.n2244) and a calculation based on that data (https://qCOVID.org/Home/Licence?licencedUrl=%2FCalculation&licencedAction=Index&licencedController=Calculation), a vaccinated 75-year-old woman has a COVID death risk of 0.45%, or 1 out of 220. An unvaccinated 75-year-old woman, on the other hand, faces a COVID death risk of 5.98%, or 6 out of 100. Both numbers are without a comorbidity worsening the outcomes ("The Age Gap," The Morning newsletter, New York Times, December 23, 2021). The data that the calculator draws upon, however, was collected before Omicron emerged, so we are once again driving into unmapped territory through of data fog as we go to grandmother's house this holiday season.  We still know that grandmother and all the rest of us are considerably safer (including from Omicron) if we've been fully vaccinated and added a booster.
 
We also know more about the kids. Children now too young to be vaccinated run a 20% higher risk of needing hospital care with an Omicron infection than they have with previous variants. "Omicron variant is sending unvaccinated children to the hospital, scientists say,"https://www.deseret.com/coronavirus/2021/12/5/22816415/omicron-variant-unvaccinated-children-hospitalizations). We will be publishing a long commentary about COVID and kids. The information evolution about this virus as a child's disease is sobering for any thoughtful reader. There are also a growing number of pediatric Long COVID Clinics, and we may need still more in the wake of Omicron.
 
Kids COVID is a developing issue.  The bottom line is that unvaccinated children are in a position of high risk, and Long COVID is one of those risks.
 
In our opinion, if COVID were as visible as polio was, the resistance to vaccination would have been greatly diminished. We recall that it was Dr. Jonas Salk who pioneered the polio vaccination and Dr. Albert Sabin who developed the pill that eventually eradicated polio ("Jonas Salk and Albert Bruce Sabin," https://www.sciencehistory.org/historical-profile/jonas-salk-and-albert-bruce-sabin).  Unfortunately, we are now seeing a few polio cases among unvaccinated in African countries. 
 
Now to the COVID vaccines.    
 
Forbes says that many among the unvaccinated remain unconvinced by the Omicron surge. Maybe, maybe not! Others suggest that about one out of eight of the unvaccinated have changed their minds. Epidemiologist Katelyn Jetelina (https://yourlocalepidemiologist.substack.com/about) cited this data from a Kaiser Family Foundation survey in her "Omicron Update: Dec 22" (https://yourlocalepidemiologist.substack.com/p/omicron-update-dec-22) .
 
If you doubt that the politics of vaccination are crazy, please note that Donald Trump and Bill O'Reilly got booed in Dallas when they each proclaimed publicly that they had gotten their boosters (https://twitter.com/NoSpinNews/status/1472983120601403400).  2022 is a political year so we expect that all craziness will only intensify.
 
The vax versus anti-vax debate rages on while the majority (Will it become a politically-motivated silent majority?) of American adults now practice vaccine mitigation. The majority doesn't demonstrate or march in the streets. The majority go to work and try to protect their friends and families. The majority watch the noisy minority and scratch their heads with wonder about their behavior.  
 
Some possible COVID good news.
 
Here's a report from the Defense Department about the development of a COVID vaccine at Walter Reid. I find this report very encouraging and want to share it with readers. "US Army Creates Single Vaccine Against All COVID & SARS Variants, Researchers Say,"https://www.defenseone.com/technology/2021/12/us-army-creates-single-vaccine-effective-against-all-COVID-sars-variants/360089/. Epidemioligist Katelyn Jetelina and renowned physician-scientist Eric Topol have partnered to write an excellent piece about this Defense Department report, diving into the science behind the vaccine: "Pan-coronavirus 'super' vaccine," https://yourlocalepidemiologist.substack.com/p/pan-coronavirus-super-vaccine. I read Dr. Jetelina's notes at Your Local Epidemiologist (https://yourlocalepidemiologist.substack.com) regularly. The subscription is low-cost. She is a dedicated epidemiologist who writes clearly for general audiences. Readers may want to consider a subscription.
 
We are not surprised by this good news — we're pleased, of course, but not surprised. The Defense Department has a huge operation devoted to pathogens. It has a superb track record dating back to the 1950s. Readers who don't know this American history may want to learn about Dr. Maurice Hilleman, who developed 40 vaccines, some of which are still administered today, including a vaccination for the 1957 Asian flu. Here's a summary of his life's work at Wikipedia: https://en.wikipedia.org/wiki/Maurice_Hilleman.
 
In this hard-to-find two-minute video, Hilleman himself comments on the emergence of the 1957 pandemic and the vaccine developed to counter it: "1957 Asian Flu Pandemic," https://www.historyofvaccines.org/content/1957-asian-flu-pandemic.
Image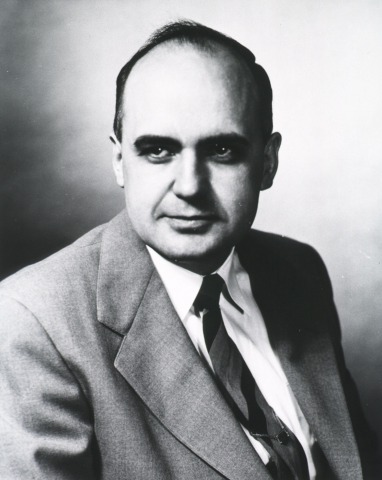 Maurice Ralph Hilleman (1919–2005)
The nation owes him a lot. The Asian flu pandemic was blunted by a Defense Department vaccination program developed under his leadership. We're hopeful that a similar history may occur with the Covid pandemic.
 
Lastly, we again recommend reading of Chapter 7 of Niall Ferguson's excellent book Doom: The Politics of Catastrophe (https://www.amazon.com/Doom-Politics-Catastrophe-Niall-Ferguson/dp/0593297393/).  Niall recounts the detailed history of the Asian flu pandemic of 1957–1958. It was a different era then. Now we have a portion of the population that refuses evidence, gets angry at caregivers when they get sick, and finds themselves disproportionately in hospitals or morgues. 
 
And that's where we are. Despite fierce resistance mounted by some, the most effective tool we've seen to move the needle on vaccinations to date has been the vaccination requirement. See "How's That Vaccine Mandate Working for the Federal Government?" at https://www.medpagetoday.com/infectiousdisease/covid19vaccine/95896.
 
We're about to test the limits on constitutional power and vaccines. Remember, the first vaccination was ordered before the US Constitution was written. Then-General George Washington vaccinated his troops against smallpox during the Revolutionary War. See "George Washington and the First Mass Military Inoculation" at the Library of Congress website: https://www.loc.gov/rr/scitech/GW&smallpoxinoculation.html.
 
On January 7, 2022, the US Supreme Court is scheduled to hear arguments as to whether a US president can legally enforce vaccine mandates for the employees of large employers and for healthcare workers ("Supreme Court Sets Oral Arguments on Biden Covid-19 Vaccine Rules,"https://www.wsj.com/articles/supreme-court-sets-oral-arguments-on-biden-covid-19-vaccine-rules-11640218967).
 
There is a historical precedent for the current court to consider, from way back in 1905. The fight against vaccine mandates is not new, and the Supreme Court has considered it before. In this case, the vaccine in question was for smallpox, which killed 30% of those it infected and scarred many survivors for life. The court found in "Jacobson v. Massachusetts," that the State of Massachusetts did have the right to protect public health with a vaccine mandate. That ruling is one reason we do not live in fear of smallpox today. If Jacobson had won his case against the state, smallpox might still be with us in America. ("The conservative Supreme Court that embraced vaccine mandates," https://thehill.com/changing-america/opinion/584236-the-conservative-supreme-court-that-embraced-vaccine-mandates) Interested readers may review the court's findings here: "Jacobson v. Massachusetts, 197 U.S. 11 (1905),"https://supreme.justia.com/cases/federal/us/197/11/.
 
When a virus is visible, the society can respond more rationally.  Here's a photo from 1901, tweeted by the charity organization @DrJennersHouse.  It illustrates the difference a vaccine — and a vaccine mandate — can make:
Image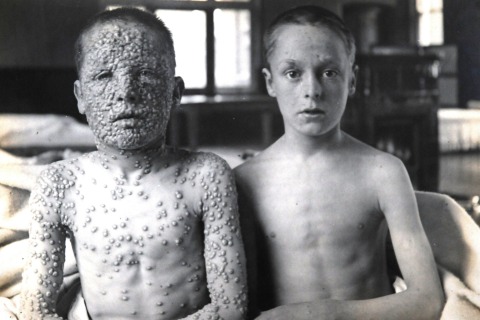 (https://twitter.com/DrJennersHouse/status/1129788165768785921)
 
It is useful to consider that SARS-CoV-2 and its parade of variants is not the last pandemic virus the US will face. In fact, there is research to suggest that each aggressive new COVID variant will be a result of mutations that will make it more immunity evasive and more transmissible. We've now seen that over and over. Here's a link to a serious medical research effort: "Genomic diversification of long polynucleotide fragments is a signature of emerging SARS-CoV-2 variants of concern," https://papers.ssrn.com/sol3/papers.cfm?abstract_id=3993373.  2022 may show the next variant.  No one knows when or what it will look like.
 
In 1950s, when the polio vaccine was rolling out and the Asian flu pandemic of 1957–58 got underway, we did not have social media. We did have role models. One of them was Dwight D. Eisenhower, who had to be convinced to set an example by getting Hilleman's flu vaccine rather than to wait for everyone else. Ike, a Republican, showed enormous leadership as a sitting president in midst of a pandemic. 
 
Another hero was a 21-year-old Elvis Presley, who got his shot in the most public way possible, in front of cameras, just before going onstage to sing on the Ed Sullivan Show in 1956. That's a fascinating story that readers can enjoy here: "When Elvis Helped to Conquer Polio,"https://www.politico.com/news/magazine/2020/12/18/elvis-presley-polio-vaccine-confidence-448131.
 
No one can say what Elvis would do were he alive today; but if you'll indulge me for a moment, let's imagine him crooning not to a girl who thinks he might be fooling around, but to an audience of the 21stcentury vaccine-hesitant whose lives and lifelong health are at elevated risk this winter because of Omicron.
 
Here's Elvis with "Suspicious Minds," sung in 1970 in Las Vegas, in case you want to join me: https://www.youtube.com/watch?v=T1g5tVGZhfk.
To all our readers, please be safe and careful.
 
Let's turn now to the financial markets.
 
For market agents, the financial markets are eagerly looking for the post-COVID landscape. As COVID news ebbs and flows, the markets respond with volatility in stock prices and swings between the "risk-on" and "risk-off" trading framework. Market agents are continually assessing the vaccination and treatment results while also digesting how we must adjust to the shock.
 
That shock includes a component which financial markets are not yet confronting. It is Long COVID symptoms. We are looking at an impact on 10–20–30 million Americans. It shows up in partial, temporary, or permanent disabilities. It has triggered an entire developing industry in medical research and biotech focused on dealing with long-term post-viral disease. Long COVID is the reason our Cumberland US Equity ETF portfolios are so overweight the healthcare sector. Long COVID ensures that these companies will be very busy for years to come. 
 
My personal view and this Cumberland investment thesis is supported by growing evidence from the Long COVID Initiative and other organizations. They are seeing that the number of Long COVID cases continues to grow. 
 
That growing burden of impairment has a major longer-term impact on the labor force. In America, we will be grappling with it for years to come. So will the rest of the world. We expect to continue to see a large change in wage rates and salaries and the redefinition of jobs. We also expect to see much more capital shift from scarce labor to other means of production like robots and telemedicine. 
 
One final note. It is the unvaccinated members of the labor force who survived COVID that are the most likely to suffer the Long COVID symptoms of temporary, partial, or permanent disability. 
 
Please let that one sink in.  2022 will be a fascinating year in markets and in the American and global economies and in writing the history of the third year of this COVID pandemic.
 
This isn't over.
David R. Kotok
Chairman & Chief Investment Officer
Email | Bio
---
Links to other websites or electronic media controlled or offered by Third-Parties (non-affiliates of Cumberland Advisors) are provided only as a reference and courtesy to our users. Cumberland Advisors has no control over such websites, does not recommend or endorse any opinions, ideas, products, information, or content of such sites, and makes no warranties as to the accuracy, completeness, reliability or suitability of their content. Cumberland Advisors hereby disclaims liability for any information, materials, products or services posted or offered at any of the Third-Party websites. The Third-Party may have a privacy and/or security policy different from that of Cumberland Advisors. Therefore, please refer to the specific privacy and security policies of the Third-Party when accessing their websites.
---
Sign up for our FREE Cumberland Market Commentaries
---
Cumberland Advisors Market Commentaries offer insights and analysis on upcoming, important economic issues that potentially impact global financial markets. Our team shares their thinking on global economic developments, market news and other factors that often influence investment opportunities and strategies.