Wed Nov 16, 2022
"Wild Times"


1. In Cumberland's Week in Review, released on November 12, Matt McAleer and John Mousseau (Moose) discuss the wild times in the stock and bond markets. They capably cover what's happened in about 10 minutes; there's not much for me to add: https://www.youtube.com/watch?v=H_gAo0hj0Iw. (Please note that Matt and Moose are following in the footsteps of some terrific media personalities. Before YouTube and earbuds, etc., and for those who were listening to radio before 1988, here's a link to the history of the Bob and Ray Show: "Bob and Ray," https://en.wikipedia.org/wiki/Bob_and_Ray. These days I listen to Bloomberg Radio whenever I'm in the car; thank you, Sirius.)
 
2. The FTX affair is a continuing saga of meltdown, allegations, investigations, hedge fund pain, disappearing billions, perpetrator searches by folks tracking private airplanes from the Bahamas to Argentina, and worries about whether there will be significant contagion or no contagion or some contagion. We're watching that newsflow. Cumberland has avoided exposure to cryptocurrencies in managed accounts.  See
 
"Funds vanish at bankrupt crypto exchange FTX; probe underway," https://apnews.com/article/cryptocurrency-technology-business-d866be4d1b3b9b88a6e774543a2b6a14) 
 
"Sam Bankman-Fried denies rumors that he fled to Argentina," https://cointelegraph.com/news/sam-bankman-fried-denies-rumors-that-he-fled-to-argentina
 
We see in the FTX debacle the secondary effects of the crypto demise in various forms. Were real money and actualized losses not involved, the story would read like a fictional depiction. Below is the official notice of seizure by the Bahamas regulator. Hat tip to Bill Kennedy of RiskBridge for sending it.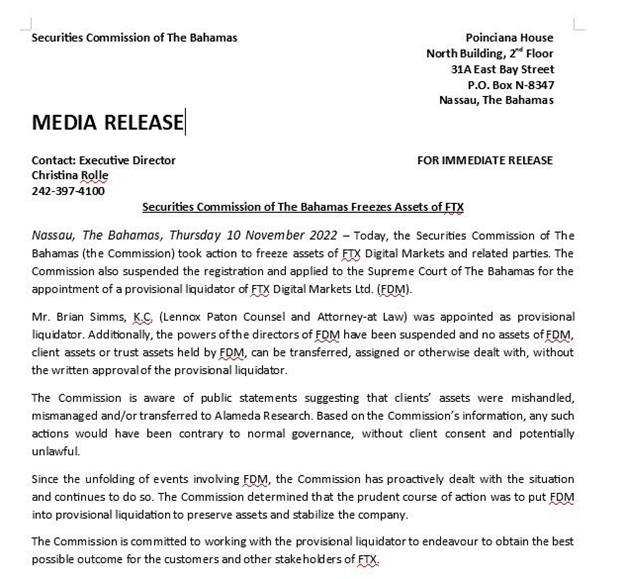 See also "Bahamas securities regulators freeze assets of FTX's unit," https://www.reuters.com/technology/bahamas-securities-regulators-freeze-assets-ftxs-unit-2022-11-10/.
 
Kotok comment: I am glad the US authorities didn't enter the moral hazard arena and engage in regulation and supervision of crypto. The FDIC didn't insure anything, and the Fed is still studying crypto. I don't see banks' capital impaired. American taxpayers don't own any liability in the crypto meltdown. Please note that fraud and theft are already criminal acts and prohibited under US law. I don't need another regulator added to the list of law enforcers that already exist. That's my opinion, though there are many who disagree.  My fear is the politicians of all types will now clamor for "something to be done".  That is typical.  Politicians tend to chase the horse after the barndoor is opened. My view is simple: people are entitled to do dumb things and to lose money as well as speculate and profit.  That is a personal free choice and the consequences are the outcomes whether you like them or not.  Adding regulatory moral hazard places the loss risk on the taxpayer.  In my view, there's enough of that in the system now.  We don't need any more.
 
3. With Trump's formal announcement, the 2024 presidential contest has already officially begun even as the paint isn't dry yet on the final 2022 midterm results.   More on that in later missives.   Meanwhile, it looks like the next two years will offer America a divided government. The Senate remains marginally Democratic, and the House, by a squeaker of a margin, appears headed for Republican control. There was no "red wave." Furthermore, the outlook for markets after the 2022 midterms is not quite as certain as some pundits suggest. This is one of a very few tight outcomes for a midterm election in the last 100-plus years. It is difficult to draw inferences because there are so few data points in history when the president's party has done better than expected in midterms during problematic economic conditions. Michael Cembalest of J.P. Morgan Asset Management wrote on November 9, "I consider the market consequences of the midterms to be negligible given the business cycle issues in play" ("Little Red Wagon: a preliminary assessment of 2022 midterm election results," https://am.jpmorgan.com/content/dam/jpm-am-aem/global/en/insights/eye-on-the-market/2022-midterm-elections-amv.pdf). We agree.
 
4. This man is the next likely chair of the House Financial Services Committee, assuming the Republicans take control of the House of Representatives: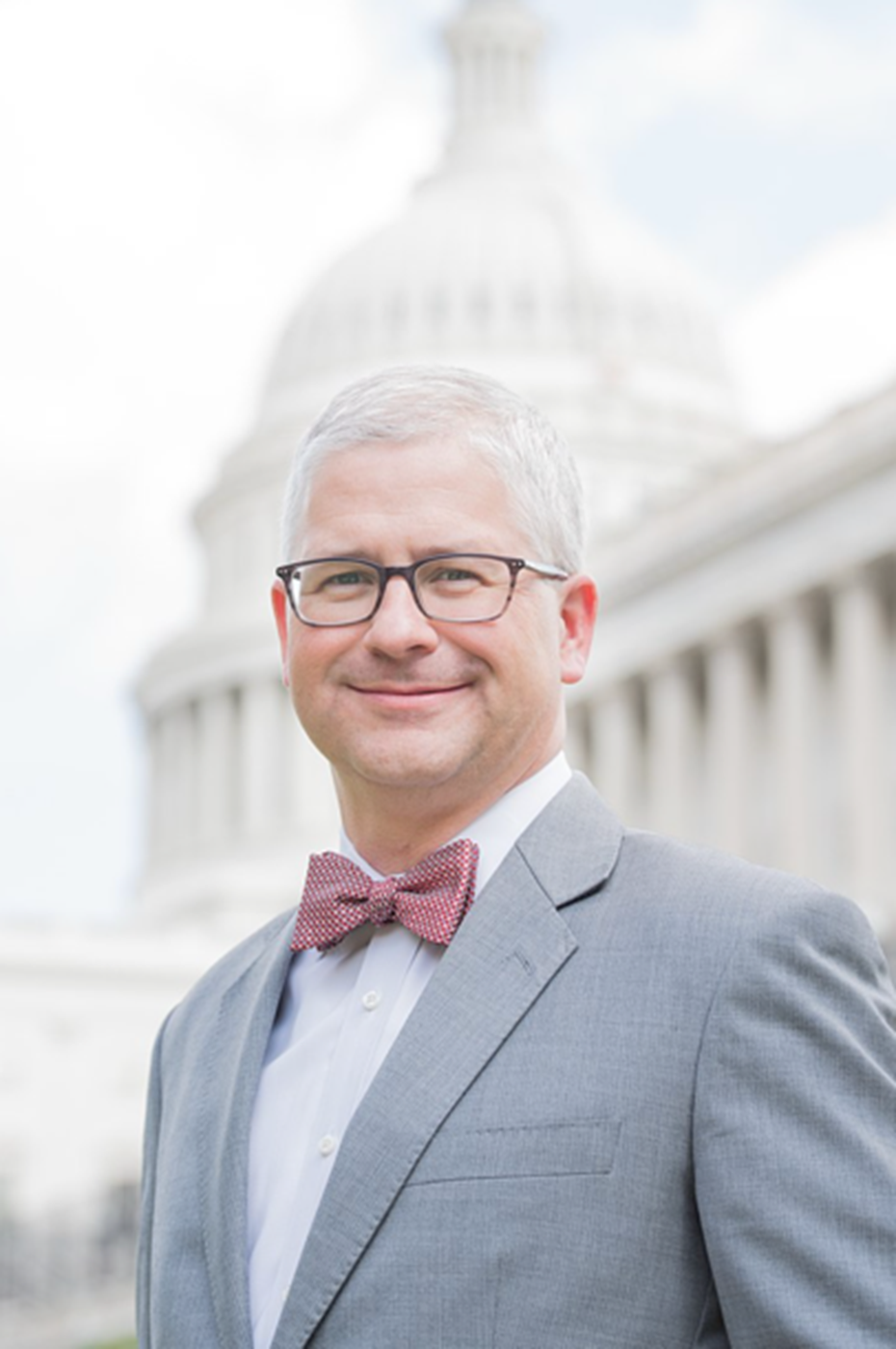 ("Patrick McHenry," U.S. House Office of Photography/House Creative Services - [1], Public Domain, https://commons.wikimedia.org/w/index.php?curid=78290298)
 
In an article titled "The potential new House Financial Services chair" (https://www.politico.com/newsletters/the-long-game/2022/11/09/the-potential-new-house-financial-services-chair-00065738), Politico Reporters Zachary Warmbrodt and Sam Sutton wrote of Patrick McHenry,
 
The 47-year-old North Carolina Republican will need to find a way to manage the expectations of GOP members who will want him to push hard against regulators appointed by President Joe Biden, as well as financial companies that they see as advancing "woke" policies on environmental, social and governance issues. And he'll need to do that while harboring hope of striking bipartisan deals on issues such as cryptocurrency regulation, data privacy and capital formation, if the GOP wins back a majority as expected.
 
5. Meanwhile, respiratory disease surges, and three are at work at once in the US: RSV, flu, and Covid. Illness is hitting kids especially hard ("The 'tripledemic' of RSV, COVID and flu is causing school closures across the US 'It's going to be a tough winter,'" https://www.yahoo.com/lifestyle/rsv-covid-flu-school-closures-140100704.html). A Florida newspaper headline reads "Florida children getting hit with a tsunami of viruses. How bad will it get?" (https://www.sun-sentinel.com/health/fl-ne-florida-children-hit-with-viruses-20221112-4iivlh24ovhohazx57umtbohhu-story.html). How serious is this situation? Who better to ask than the doctors who treat kids? See "'I've Never Seen Anything Like This' in the Pediatric ED," https://www.medpagetoday.com/opinion/second-opinions/101679.
 
The tripledemic has implications for the municipal bond market.  Cumberland's director of research in muni credit is Patty Healy. Patty notes in our morning strategy calls how the pediatric hospitals are filling up and how they are stopping discretionary care because they are running out of bed space. She notes how important this issue is for hospital bond credits, since it is the discretionary elements that have the highest revenue coverage contribution to a hospital's debt service. 
 
The "tripledemic" is having another result that piles on the labor shortage problem in the United States.  In record numbers, parents are missing work in order to take care of sick kids.  As the chart shows, we've spiked to a new high and above the Covid peak of 2020.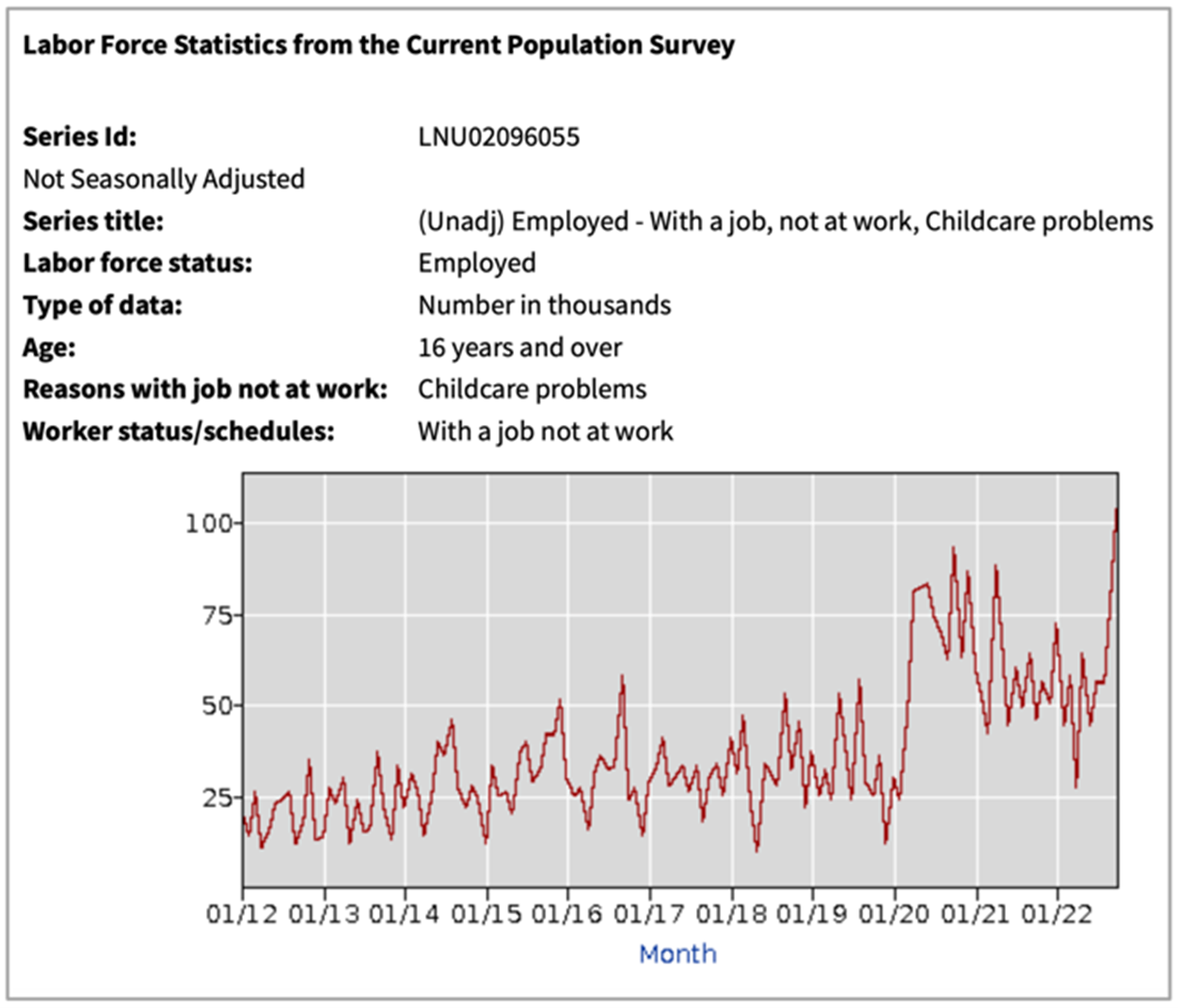 (https://data.bls.gov/timeseries/LNU02096055)
 
See "RSV, covid and flu are keeping kids out of school — and parents out of work," https://www.washingtonpost.com/business/2022/11/15/work-absences-childcare/.
 
6. Last, the "Musky" smell coming from the Twitter saga is another bizarre phenomenon. Imagine a $44 billion acquisition turned upside down. "Bankruptcy" talk by the acquirer coming only day s after closing? Really! Here's a tweet and video metaphor to consider. You can see the "icy end" for yourself.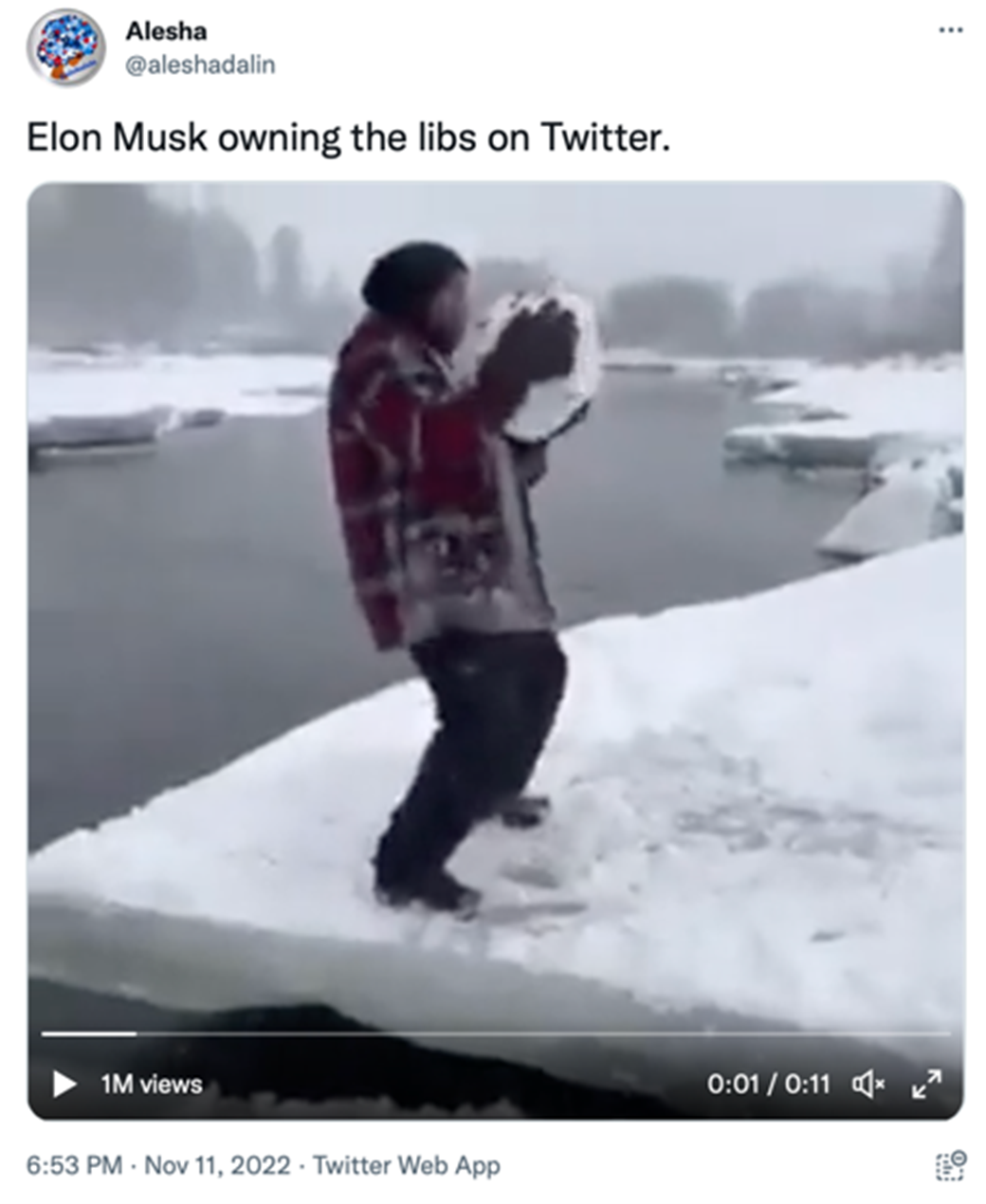 https://twitter.com/aleshadalin/status/1591217664441352194?s=20&t=UkEm8EdillI1orpUx3qxWA
 
For one account of the fiasco, see "Musk's Twitter loses key executives, triggers sharp FTC warning," https://www.politico.com/news/2022/11/10/fake-account-chaos-engulfs-musks-twitter-00066217.
 
Wild times are the code words for where we are.   
 
We're now about 70% invested in our US Equity ETF portfolio. Of course, this could change at any time.
 
We wish you a safe Thanksgiving holiday and please journey with care if you are traveling.
David R. Kotok
Chairman & Chief Investment Officer
Email | Bio
---
Links to other websites or electronic media controlled or offered by Third-Parties (non-affiliates of Cumberland Advisors) are provided only as a reference and courtesy to our users. Cumberland Advisors has no control over such websites, does not recommend or endorse any opinions, ideas, products, information, or content of such sites, and makes no warranties as to the accuracy, completeness, reliability or suitability of their content. Cumberland Advisors hereby disclaims liability for any information, materials, products or services posted or offered at any of the Third-Party websites. The Third-Party may have a privacy and/or security policy different from that of Cumberland Advisors. Therefore, please refer to the specific privacy and security policies of the Third-Party when accessing their websites.
---
Sign up for our FREE Cumberland Market Commentaries
---
Cumberland Advisors Market Commentaries offer insights and analysis on upcoming, important economic issues that potentially impact global financial markets. Our team shares their thinking on global economic developments, market news and other factors that often influence investment opportunities and strategies.