Camp Kotok: Maine Woods, Economists & Wine
August 6, 2020 8:30am by Barry Ritholtz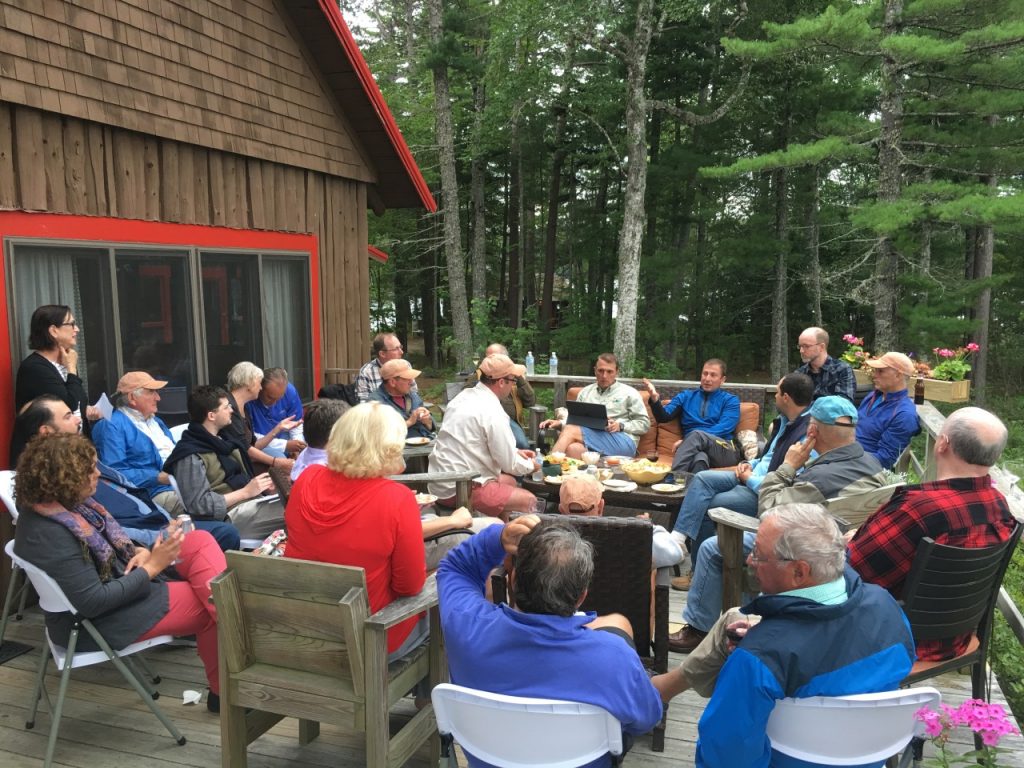 Talking Rates in the Maine Woods With Economists Over Good Wine
"Taking place right before the Jackson Hole Economic Symposium, the gathering is a chance for money managers, traders, and economists to discuss crucial issues without restraint."
Bloomberg Businessweek, August 27, 2019
Barry Ritholtz Note: This is the week I would normally be in Maine for Camp Kotok. Due to the pandemic, the event was cancelled, although some did make the journey. This is the complete version of my BW write up last year's event, freed from the paywall. Enjoy. 
Let's get this out of the way upfront: There is no such entity as the "Shadow Kansas City Federal Reserve Board."
This isn't a "The first rule of Fight Club" situation. No one denies that a gathering of money managers, bond traders, and economists has been taking place at Leen's Lodge in Grand Lake Stream, Maine, for several decades. It's just that most of the conversations are off the record or governed by the Chatham House Rule, which doesn't allow identification of speakers without their permission. Many attendees have an affiliation with the Federal Reserve, as current or former employees, but aren't authorized to speak on the Fed's behalf.
The long weekend in Maine takes place shortly before the Jackson Hole Economic Symposium, an event dating to 1982, held in Wyoming and hosted by the Kansas City Federal Reserve. Hence, the gathering became known in some circles as the "Shadow Kansas City Federal Reserve Board" because of the Fed affiliation of many attendees, more than a few of whom head off to Jackson Hole right after the gathering.
The group makes no claim to any official imprimatur. Instead, "Camp Kotok," as it has become known—after David Kotok, chairman and cofounder of Cumberland Advisors, who began holding the meetings more than 20 years ago—has fishing and drinking and hiking and shooting and smoking of cigars in the pristine wilds of Maine, all of which may be great fun, but it's hardly the reason to gather each year.
The main draw is the opportunity to discuss and debate the big issues of monetary policy, economics, and finance, with a like-minded group of serious policy wonks and high-profile money managers, away from the usual routines of the office.
For the record, those of us at Cumberland Advisors miss our friends and colleagues and hope this virus has been tamed by next year so that we can safely gather together again.
Read Barry's full report over at Ritholtz.com: https://ritholtz.com/2020/08/camp-kotok-maine-woods-economists-wine/