Sun Oct 30, 2022
A number of readers responded to our case study of Union County, FL, in Part 4 of our ESG series. As always, we appreciate the thoughtful dialogue.
Image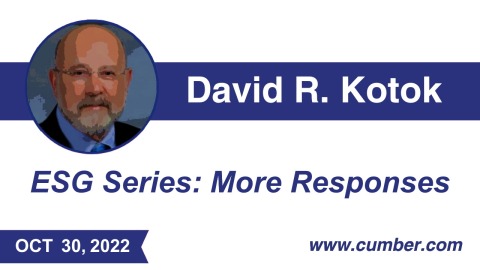 Before we segue to a few selected reader responses, Peter Gold is a GIC vice-chair and was a key organizer of the Rowan Conference we have referred to in "ESG Part 4: Union County, FL" (https://www.cumber.com/market-commentary/esg-part-4-union-county-fl). He sent out the following summary on the E portion of the conference, in which he noted the Climate Adaptation Center (CAC), headquartered in Sarasota, and its director, Bob Bunting. We are including Peter's entire email and a link to Bob's presentation and slides here. We note that the global E does not evidence itself in Union County. There, the E questions are local. Here's Peter Gold on the global side of the E in the ESG space.
 
I was recently privileged to participate in a Rowan University/GIC conference on ESG at Rowan University School of Business. Other presenters were from Bloomberg, the Federal Reserve Bank of Atlanta, AIG, Moody's, Rowan, U of South Florida, Cooper Medical School, Cumberland Advisors, Morgan Stanley, Wisdom Tree, and last but certainly not least, the Climate Adaptation Center.
 
This well-done program was an eye opener for me in several respects. It confirmed, in a nonpartisan and scientific way, that climate change and planet deterioration is an existential threat which is already impacting and harming global quality of life and life itself. (Parenthetically, slowing the harm may also present opportunities.)
 
Side note: Perhaps like you, in many ways I am a realist who needs to be convinced before committing my assets (human, relationships, intellectual, and financial), and I am convinced that unless we undertake immediate collective and individual actions there will be immutable harm to the planet, its economies, and to quality of life and life itself. True, in every sector and in every country.
 
Respectfully, while understanding how we got here is important, more important is how to remedy the situation.
 
I want to thank Bob Bunting, Director of the Climate Adaptation Center, for so promptly responding to my request for a subsection of his slide presentation — so that I can send an executive summary to you. Please take a few minutes to review.
 
The slides, summarized: The climate has already changed (sea level rise, superhurricanes, droughts, forest fires); more frequent disasters (in the 1980s there were 100-plus days between billion-dollar disasters, and in 2020 it was less than 20 days). Climate change isn't coming, it's here — time to get going, do what we can do as individuals, and talk about it.
 
If you are so inclined, please consider supporting the Climate Adaptation Center. I'm happy to introduce you to Bob, if desired. The CAC is at 

www.theclimateadaptationcenter.org

. Please talk about this regardless of your interests and please take some action.
 
Be well.
 
Peter A Gold, Esquire

Here is the link to Bob Bunting's presentation at the Rowan University/GIC conference, and his slide deck: "The Science Behind Climate Change," https://www.interdependence.org/resources/the-science-behind-climate-change/#.Y1q6ulLMIUQ
 
Let's move on now to readers' responses to last Sunday's commentary on Union County, FL.
 
Tim wrote:
 
I don't understand why you would pick Union County to analyze when there are very limited investments to be made there. It looks more like a political analysis.
 
My response: Would you locate a factory there? Or nearby? The factory is going to another state. Union County made number 1 on a national death list ranking of all 3000 counties in America. What county would you select?
 
Richard responded:
 
Do the characteristics of Union result in lower ESG, or do lower ESG scores cause the Union results? Interesting questions.
 
Frank sent us a news story about Yakima County, WA, and a comment:
 
ESG analysis for this county could be devastating even though no prison there, toxic similar to Hanford problem but no cleanup. Yakima bond ratings might not be such a great thing to purchase, if I get your drift!
 
"'Forever chemicals' pollute families' drinking water,"
https://replica.seattletimes.com/infinity/article_popover_share.aspx?guid=3567e98c-c42b-40a0-a8b3-e011c1830fcc
 
Kent wrote:
 
With respect to Union County, Florida, ESG research provides a benefit to helping a community clean up some of their problems.
 
I was at the Grant's Conference last week and one of the speakers, Leigh Goehring of Goehring and Rozencwajg, mentioned that "At present, normal market/investment cycle is being hindered by outside forces that didn't exist previously. The emergence of climate concerns and related ESG has forced capital to flow out of the traditional hydrocarbon-based energy and into renewables".
 
G&R went on to discuss the supply of oil in the market saying, "The market needs more supply, but the normal clearing mechanism is being blocked by ESG pressures. Engine #1 secured three Exxon board seats in May 2021, despite owning a mere 2/10 of 1% of the shares outstanding. The fund waged a public campaign urging Exxon to slash upstream capital investment. Fearing similar shareholder activism, most energy companies have diverted spending away from production and just focus instead on either returning capital to shareholders or funding renewable projects.
 
They also mentioned and discussed energy return on energy invested (EROEI), which is an obscure but very important metric, in their opinion. One of Bill Gates' favorite economists came up with this metric. For example, for every unit of energy "invested" in the natural gas ecosystem 30 units of usable power are released in the form of electricity. Natural gas power generation is said to have one of the best energy return on energy invested [ratios] at 30 to 1. Throughout history each new energy source has had a better EROEI ratio than the energy source that it is replacing. Wind and solar have EROEIs that are much less than Natural Gas and cannot effectively power our economy without the use of fossil fuels. However I am sure that renewables will have much higher ESG scores than Nat Gas and Oil.
 
I wonder, who is in charge of an ESG score? Can there be multiple scores for the same company that vary widely? Can the scores be politically influenced? That's probably rhetorical.
 
Time will tell. I'm reminded of the phrase "Banks continue to invent new ways to lose money when the old ways work so well."
 
Hope you are well.
 
Go Phillies!
 
Dan Katz, who served as a senior adviser at the Treasury Department, 2019-21, and is a co-founder and portfolio manager at Amberwave Partners, wrote to share his own thoughts and an article he wrote on ESG for the National Review. Here's Dan:
 
"I saw your recent piece on the ESG debate and thought you might be interested in a recent column I had in National Review that touched on many of the same topics. I also discussed the recent Florida actions, and argued that (a) the actions won't and shouldn't stop the consideration of ESG, since fiduciaries can and should still consider ESG factors; and (b) the actions won't address the real underlying complaints of Florida and other states about the excessive market focus on ESG risks relative to consideration of other traditionally non-pecuniary risks. Nuance is difficult to come by in this area, and hopefully I added some.
 
"Hope you enjoy and feedback is most welcome."
 
"Why ESG Can't Be Completely Abandoned,"
https://www.nationalreview.com/2022/09/why-esg-cant-be-completely-abandoned/
 
Paul called me to ask, "How is it possible for the county with the nation's highest per capita cancer death rate to have a county public health website that doesn't mention the word "cancer"? I had no response except to say, "It is what it is."
 
Finally, our own Patty Healy brought to my attention this tidbit about Jackson, MS, the subject of our second installment in the ESG series. She points out, "In addition to poor utility operations, financial reporting is delayed. Moody's affirms ratings and assigns stable outlook due to substantial federal and state support."
 
Here's the Moody's ratings assessment: "Moody's Investors Service has affirmed the City of Jackson, MS's ratings, which include a Baa3 on approximately $170 million of GOULT bonds and a Ba1 on approximately $5.6 million of Series 2011 A and B bonds. Moody's has also affirmed the rating Ba2 rating for the revenue bonds of the City of Jackson Water and Sewer Enterprise. These bonds are outstanding in the amount of approximately $240 million. The outlooks on both the city and enterprise ratings are stable."
 
Readers, in a world awash with ESG issues, please have a happy Sunday. Thank you for reading.
David R. Kotok
Chairman & Chief Investment Officer
Email | Bio
---
Links to other websites or electronic media controlled or offered by Third-Parties (non-affiliates of Cumberland Advisors) are provided only as a reference and courtesy to our users. Cumberland Advisors has no control over such websites, does not recommend or endorse any opinions, ideas, products, information, or content of such sites, and makes no warranties as to the accuracy, completeness, reliability or suitability of their content. Cumberland Advisors hereby disclaims liability for any information, materials, products or services posted or offered at any of the Third-Party websites. The Third-Party may have a privacy and/or security policy different from that of Cumberland Advisors. Therefore, please refer to the specific privacy and security policies of the Third-Party when accessing their websites.
---
Sign up for our FREE Cumberland Market Commentaries
---
Cumberland Advisors Market Commentaries offer insights and analysis on upcoming, important economic issues that potentially impact global financial markets. Our team shares their thinking on global economic developments, market news and other factors that often influence investment opportunities and strategies.