Sun Nov 27, 2022
Readers offered a range of responses to the fifth installment in our ESG series, on Texas anti-ESG policy and its impacts. (See "ESG Part 5: Texas," https://www.cumber.com/market-commentary/esg-part-5-texas.)
Image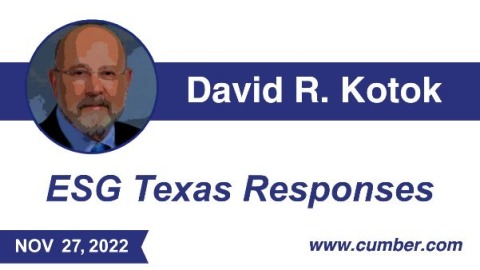 As context for the conversation, we asked Cumberland's Chief US Economist, David Berson, about the size of the TX economy.
 
David summarized:
 
1) Texas' share of U.S. non-farm payroll employment was up to an all-time high of 8.9 percent for September, second only to California (11.5 percent). Note that while Texas's share of employment continues to rise almost every year, the California share has been relatively flat for the past 20 years.

2) Unlike the U.S. as a whole, real GDP growth was positive for Texas in the first half of 2022. The share of real GDP for the nation coming from Texas was 9.3 percent in the second quarter (down a tad from the record high of 9.5 percent in 2020Q2) — again, second highest amongst all of the states to California.
A new paper from Mytiah Caldwell, Prithvi Kalkunte, and Christopher Slijk of the Dallas Fed reports that the state's economic outlook is now weakening as labor shortages and inflation persist while output slows and new home sales fall: "Texas Economic Outlook Weakens, Price Pressures Persist" (https://www.dallasfed.org/research/economics/2022/1108).
 
Let's turn to what readers had to say.
 
A Texan pointed out, "As with so much in Texas politics today, it's worth asking: who benefits from excluding JPM from muni underwriting? Well … lots of mid-market firms with deep Texas political connections are thrilled. Maybe even grateful."
 
Natalie Cohen of National Municipal Research shared her take:
 
The topic that David Kotok, Chairman and Chief Investment Officer of Cumberland Advisors, discussed in his Sunday letter strikes an ironic chord. The State of Texas has been known for requiring competitive bidding on municipal securities for its local governments and school districts on the belief that open competition results in the lowest cost for municipalities and the taxpayers that support them. Similarly, success of the Texas economy has been related to the state's welcoming business environment, that emphasizes limited government intervention.  Further, the state's current elected officials, decry what they call "cancel" culture. Yet this is the effect of recent Texas laws over which banks may underwrite public securities and what investments the state's public pension funds are allowed to make. The Wharton researchers cited in Kotok's letter, estimate additional $300–500 million interest costs for municipalities (and their taxpayers) during the "first eight months following the Texas laws."
 
The people and businesses of the State of Texas have also borne the costs of increasing numbers of $1 billion+ disasters over the last 40 years. The National Center for Environmental Information, NCEI, keeps track of weather disasters costing at least $1 billion, adjusted for inflation. For example, in the 1980s, Texas experienced 1.4 events per year, rising to 8.6 per year over the last five years, 10 events per year over the last three years and 12 in 2021. The NCEI estimates roughly $400 billion damage from disasters in Texas since 2010.  
 
Evidence connecting carbon emissions with severe weather events is strong, unless one wants to disavow the validity of hundreds of scientific researchers. Until Russia invaded Ukraine, many oil and gas companies in Texas and elsewhere, were looking for ways to shift into lower-carbon activities. The war has opened the door for increased oil and gas production in the U.S. to soften this distortion of supply and demand. Rather than pushing harder for effective alternatives to ease a transition away from carbon-based fuel, the state has chosen instead to bring down a hammer against those [who], as Kotok says, "offer views inconsistent with the views of the government in power."

 
Lisa sent a chart and link from the NCEI, a division of the NOAA, and commented, "It's ironic that the states bucking ESG investing and climate change action are already paying a lot for weather-related disaster costs, with the future set to be significantly more challenging."
 
Image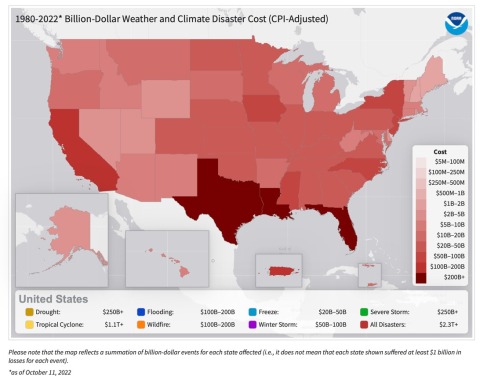 Here's the NCEI link: "Billion Dollar Weather and Climate Disasters: Disaster Cost and Frequency," https://www.ncei.noaa.gov/access/billions/.
 
Paul O'Brien, a US public pension trustee and former Deputy CIO at the Abu Dhabi Investment Authority, deepened the discussion with several interesting points:
 
Great stuff, David. I really appreciate the deep research and all the links. This is an important topic. It's important to use facts like these. I will push back on a few things, though, in the interest of a fuller discussion.
 
The Texas list of forbidden investments is mostly funds, not stocks. Pensions will typically hold equities through separate accounts not commingled funds. While I think the Texas list is silly, it also is unlikely to change the opportunity set, or returns, of Texas pension funds.
 
The muni underwriting cost effect is better posed, since it measures actual impact. But note that the cost is about 3 basis points of Texas GDP. Is that material? Fossil fuels and related industries make up a big share of employment and state and local tax revenues in Texas. Is the trade-off worth it? 
 
More broadly, I accept that Texas faces severe long-term impacts from climate change. But those impacts are uncertain in timing and amount. Meanwhile, Texas makes a lot of money from $90 WTI. Maybe it makes sense for Texas to swap oil for dollars for a while and save some of the money for future adaptations? (Wyoming has a massive budget surplus this year from fossil fuel royalties. Most will be saved.)

 
Bob Bunting of the Climate Adaptation Center (https://www.theclimateadaptationcenter.org), shared bullets regarding what Texas can expect in the future, providing context for the state's stance on ESG. Bob wrote: 
 
Since 1970, Texas has warmed about 3°F.
 
By 2050, the state will warm another 3°F or so.
 
It's getting hotter, and more humid, too. For example, in San Antonio, summer extreme heat and humidity days will increase from 80 days a year in 2000 to 130+ days by 2050. Extreme heat is measured by the heat index. Readings over 105° are considered extreme.
 
Houston will be the second hottest city in the USA by 2050.
 
Dallas dew points have risen from 70° to 73° since 1980 and will hit 75° by 2050 — more humid. Also, the heat island effect in all the big cites is extreme, with downtown up to 20°F hotter than the burbs now! This is creating ozone pollution, which is hazardous to humans and creates major respiratory issues in many.
 
Higher humidity mean more days for mosquitos to bite!
 
Nine of the 10 hottest cities in the US will be in Texas by 2050. Heat will kill the most people as it becomes increasing unbearable.
 
Extreme precipitation in high, and amounts are on the increase in Texas. Extreme drought is already a big deal there, as it is the #1 state for drought, but the severity of such droughts is expected to increase by 75% by 2050. The drought severity means a lot to agricultural production acreage and a big increase in wildfire potential.
 
Texans will need a lot more power to stay cool, and they can still have extreme cold events like the polar vortex as the climate continues to destabilize.

 

Image

 

Sea level rise is a big issue on the Texas coast, as it is in FL. Sea level in TX could average 10–12 inches more by 2050, and their land is low, like ours is.
 
More-severe hurricanes will continue to increase and do more damage from storm surge, wind, and heavy rainfall causing flooding — all on top of sea levels that will be higher.
 
A 100-year flood is now 9X more likely in areas that are less than 4 feet above sea level than it was in 1970.
 
Finally, Philippa Dunne of TLRAnalytics (https://www.tlranalytics.com) sent a substantive response, excerpted here:
 
Your piece landed in my mailbox just as I finished reviewing a report on extreme climate events in the US in recent years—the average annual cost over the last five years is running at $148.4 billion, about 3 times the 42-year inflation adjusted average (https://www.climate.gov/news-features/blogs/beyond-data/2021-us-billion-dollar-weather-and-climate-disasters-historical). You mentioned that restricting competition in muni auctions costs the Texas taxpayer, and it's encouraging to read through the many reports you linked to supporting the many burdens and inconsistencies….  
 
The Texas Tribune has a full page on climate change in Texas (https://www.texastribune.org/series/texas-climate-change/). The intro includes what climate change means for Texas residents and promises to evaluate "politics and policies that will accelerate—or block—climate solutions." The page also includes advice on caring for your mental health in a series of worsening natural disasters, details extreme heat concerns of West Texas farmers, and outlines the plight of a north Texas town whose water supply is "on the brink," because of heat, drought, and faulty wells.
 
On October 25, the Austin American-Statesman reported that a federal study found the ability of Texas's power grid (ERCOT) to handle an event like Winter Storm Uri has improved only "marginally," despite 18 months of effort and assurances from Governor Perry. Uri came close to causing the grid to collapse and killed hundreds of people. (https://www.statesman.com/story/business/energy-resource/2022/10/25/texas-power-grid-still-vulnerable-to-extreme-winter-weather-report-says/69589181007/)
 
In August, the Texas Standard interviewed Jeremy Porter (https://firststreet.org/team/jeremy-porter/), one of the authors of a recent study on the extreme heat belt. The belt includes parts of East Texas, Louisiana, and runs up through Illinois between the high plains and the Appalachians, and includes disjunct areas in corners of the southwest, along the southern Atlantic coast, and in Florida, for now barely missing your beloved paradise. (The Standard has a nifty map that took me a few minutes to figure out.) Porter explained (https://www.texasstandard.org/stories/extreme-heat-belt-texas-weather-increased-temperatures/) that it's hard for people to grasp climate numbers because they are often given in averages, like 2 degrees over 70 years, and that many think, since change is projected out to 2100, that it's not something they are going to have to deal with. His team looked out just 30 years with the goal of presenting the data in a way people can understand and landed on the National Weather Service's 125-degree heat index, the top threshold of their Extreme Heat warning range. Translating the science, he notes that a 95-degree temperature with 80% humidity gets you to an index of 125, and that by 2053 the belt may be experiencing at least one day a year at that level, and perhaps "prolonged exposure." His team offers this information to allow communities to best prepare for these events (https://firststreet.org/data-access/).
 
Leaving all of that aside, there's also just the straight-up waste of taxpayer dollars.

Heading back to Comptroller Hegar's neck of the woods, Hegar signs off by noting that the workers in his agency, including Texas Treasury Safekeeping Company, have "worked tirelessly" to produce the list, and notes that the work is "just beginning." Presumably handed over by long suffering taxpayers, perhaps that money could be rerouted to the power grid, a more sustainable water supply, or even deeper investment in public education as a preventative measure.

 
---

There is much to consider as we contemplate the reality of rapid climate change, policies and their impacts, and present and future climate-change-driven costs. In closing, we invite readers to consider a recent WSJ article about the businesses that are now keeping mum about their climate action plans in response to states' policies punishing ESG investing: "Clipped Green Claims at COP27 Might Signal Progress," https://www.wsj.com/articles/clipped-green-claims-at-cop27-might-signal-progress-11667826386. We leave it to readers to determine which company policy is transparent and which is quiet because of fear of the kind of retribution that we see in Texas and elsewhere.
 
We wish readers a happy post-Thanksgiving Sunday that we're observing on this resplendent third rock from the Sun.
David R. Kotok
Chairman & Chief Investment Officer
Email | Bio
---
Links to other websites or electronic media controlled or offered by Third-Parties (non-affiliates of Cumberland Advisors) are provided only as a reference and courtesy to our users. Cumberland Advisors has no control over such websites, does not recommend or endorse any opinions, ideas, products, information, or content of such sites, and makes no warranties as to the accuracy, completeness, reliability or suitability of their content. Cumberland Advisors hereby disclaims liability for any information, materials, products or services posted or offered at any of the Third-Party websites. The Third-Party may have a privacy and/or security policy different from that of Cumberland Advisors. Therefore, please refer to the specific privacy and security policies of the Third-Party when accessing their websites.
---
Sign up for our FREE Cumberland Market Commentaries
---
Cumberland Advisors Market Commentaries offer insights and analysis on upcoming, important economic issues that potentially impact global financial markets. Our team shares their thinking on global economic developments, market news and other factors that often influence investment opportunities and strategies.