Sat Mar 18, 2023
Cumberland Advisors Week in Review

Today's Date: Mar 18, 2023

Email | About
---
The Cumberland Advisors Week in Review is a recap of news, commentary, and opinion from our team. These are not revised assessments, and circumstances may have changed in the market from the time of original publication. We may include older commentaries that our editors have determined may be of interest to our audience. Your feedback is always welcome.
---
Cumberland Advisors' Friday, March 17, 2023 Week in Review is now available. Our end-of-week update on market conditions features highlights in equities, bonds, and our week in trading. Thank you for joining us.

Matt McAleer and Equities
- Five day equity market returns don't tell the whole week's story
- Uncertainty in financials kept banks grinding away
- More cross asset class volatility present, such as bids in gold & silver
- Added to SIL, and initiated positions in QQQ & IJR for US ETF

Shaun Burgess and Fixed Income
- Bank failure fears drove big run into U.S. Treasuries
- Large moves down in yields for the 2 and 10 year
- Not as much action in tax free and taxable munis
- CPI & PPI reports were overshadowed by other headlines

Watch the latest update on YouTube: Cumberland Advisors' Week in Review

Access past video updates including the most recent via this YouTube Playlist URL: https://www.youtube.com/playlist?list=PLu1JZIQ1mPrtx_q7i_C9FWN-cb9f594C1

Please send any feedback from today's email/video to Matt McAleer. You can reach him at:
Email: [email protected]
Twitter: https://twitter.com/matthewcmcaleer
LinkedIn: https://www.linkedin.com/in/matthew-c-mcaleer/
Call Matt: (800) 257-7013 ext. 346

Other questions or comments? Email us at [email protected] or give us a call at (800) 257-7013

Have a great weekend,
Cumberland Advisors
---
Recent News About Cumberland Advisors
The Bond Buyer | Municipal market contemplates fallout from banking crisis
 Quoted: John R. Mousseau, CFA & David W. Berson, Ph.D. | Fri March 17, 2023
---
Morningstar | EMEA Morning Briefing: Stock Futures Jump After Credit Suisse Gets Central Bank Support
 Quoted: David R. Kotok | Thu March 16, 2023
---
The Wall Street Journal | Stocks Fall, Treasurys Rally as Banking Fear Returns
 Quoted: David R. Kotok | Wed March 15, 2023
---
The Bond Buyer | Issuers, rating agencies are direct of anti-ESG bill in Florida
 Quoted: David R. Kotok | Wed March 15, 2023
---
The Bond Buyer | War on woke hits muni bond market as Florida lawmakers eye ESG curbs
 Quoted: John R. Mousseau, CFA | Mon February 27, 2023
 
---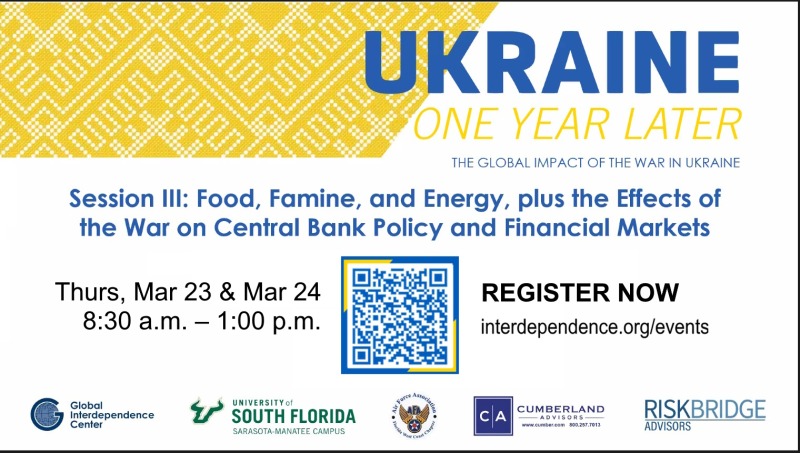 Ukraine: One Year Later – Session III: Food, Famine, and Energy, plus the Effects of the War on Central Bank Policy and Financial Markets
---

We invite you to register to join Session III of GIC's "Ukraine: One Year Later" conference: https://www.interdependence.org/events/browse/ukraine-one-year-later-session-iii/

This is a virtual event (no frills in-person seating is available at USF Sarasota-Manatee), March 23-24, 2023, which will explore U.S. and world bonds, world stock markets, food and famine, oil and gas, and how monetary policymakers deal with spillover effects from food, energy, and geopolitical shocks following the 2022 invasion of Ukraine through panels through two days of panel discussions.

This Session will consider the depth of market reactions in the world's bond markets, stocks markets, and other markets of various types. Day two will dive deep into the food and famine outcomes inflicted by Putin's war on the world and its implications. There will be an examination of the energy issues, including impacts on oil and gas and the market effects from this war. Lastly, Catherine L. Mann, Ph.D., Member of the Monetary Policy Committee of the Bank of England, will discuss the spillover effects of the war on policymakers and offer observations as a sitting central banker. A former Polish central banker and World Bank executive will join the discussion. Bloomberg's Michael McKee will join in moderating that discussion.
 
---
Links to other websites or electronic media controlled or offered by Third-Parties (non-affiliates of Cumberland Advisors) are provided only as a reference and courtesy to our users. Cumberland Advisors has no control over such websites, does not recommend or endorse any opinions, ideas, products, information, or content of such sites, and makes no warranties as to the accuracy, completeness, reliability or suitability of their content. Cumberland Advisors hereby disclaims liability for any information, materials, products or services posted or offered at any of the Third-Party websites. The Third-Party may have a privacy and/or security policy different from that of Cumberland Advisors. Therefore, please refer to the specific privacy and security policies of the Third-Party when accessing their websites.
---
Sign up for our FREE Cumberland Market Commentaries
---
Cumberland Advisors Market Commentaries offer insights and analysis on upcoming, important economic issues that potentially impact global financial markets. Our team shares their thinking on global economic developments, market news and other factors that often influence investment opportunities and strategies.