Sat Jul 10, 2021
Thank you for joining Cumberland Advisors for this Friday, July 09, 2021, end-of-week update on market conditions, equities & bonds with our Executive Vice President & Director of Equity Strategies, Matt McAleer and our Senior Vice President of Research & Portfolio Manager, Patricia Healy, CFA.
Matt McAleer - Equities / ETFs:
 
- Some volatility in Equity Market this week
- Has the economy peaked and is that a problem?
- There's been a change in character in this market. Matt provides color.
- We have charts to share pertaining to the first half of 2021
- We first look at the chart, Max Drawdown by Calendar Year
- The next chart explores various years by halves to illustrate the lack of a clear correlation to drawdowns in any first half of a year to the year's second half.
- We have to trade what we see from day to day, week to week and remain flexible.
- Matt explains cash levels and how he's positioning portfolios based upon current conditions in the market.
- Our International Portfolio works to weight heavier in developed markets vs. emerging.
- Matt talks about other strategies and what's behind the changes we've made


Patricia Healy, CFA - Fixed Income:

- Short week, many on vacation too. Reason for volatility?
- Patty provides numbers on Treasuries & Munis and gives us her perspective as to why they're at their current levels.
- FOMC meeting indicates for now that the Fed won't move too much, with inflation spike seen as only transitory.
- Patty has a chart to share tracking US Treasury rates
- We expect rates to creep slowly upward as normalcy returns
- Not much issuance this week with Munis. Demand, payments, and taxes all in play affecting Munis.
- Unemployment a little higher than expected this week.
- About nine billion in Muni supply coming online next week.
- Enjoy your weekend!
 
---
Please reach out with any questions/comments you may have about this update; we appreciate your calls, comments, and emails. Watch in the player above or at this link: https://youtu.be/p0dSJy4TZwg

Have a great weekend!
-Matt McAleer & Cumberland Advisors
 
Please send Matt McAleer any feedback from today's email/video. You can reach him at:
-Link to Matt's Email: Matthew.McAleer@Cumber.com
-Link to Matt's Twitter: https://twitter.com/MattMcAleer4
-Link to Matt's LinkedIn: https://www.linkedin.com/in/matthew-c-mcaleer/
-Call Matt: (800) 257-7013

Other questions or comments? Email us at info@cumber.com or give us a call at (800) 257-7013.
---
Image

The Bond Buyer | Market debates whether Illinois can capitalize on rating momentum
 Quoted: John R. Mousseau, CFA | Tue July 6, 2021


Bloomberg | S&P 500 Perfect Earnings Record Is on the Line With Peak Growth
 Quoted: David R. Kotok | Sat July 10, 2021


Fintech ZOOM | Global stocks tumble on worries about latest Covid wave
 Quoted: David R. Kotok | Fri July 9, 2021


U.S. News & World Report | Fed Minutes Reveal Little for Markets
 Quoted: Robert Eisenbeis, Ph.D. | Thu July 8, 2021


U.S. News & World Report | ADP: Employers Added 692,000 Jobs in June
 Quoted: David R. Kotok | Wed June 30, 2021


Bloomberg | 'Strategic Shock' From Covid Will Take Years: David Kotok
 Quoted: David R. Kotok | Mon June 28, 2021


U.S. News & World Report | ADP: Employers Added 692,000 Jobs in June
 Quoted: David R. Kotok | Wed June 30, 2021


Bloomberg | Cumberland Advisors: Credit Spreads Are Tight (Video)
 Quoted: David R. Kotok | Tue June 15, 2021
---
Recent Market Commentary
Cumberland Advisors Market Commentaries offer insights and analysis on upcoming, important economic issues that potentially impact global financial markets. Our team shares their thinking on global economic developments, market news and other factors that often influence investment opportunities and strategies.
Follow our website's navigation links or click here to read our market commentary:
Image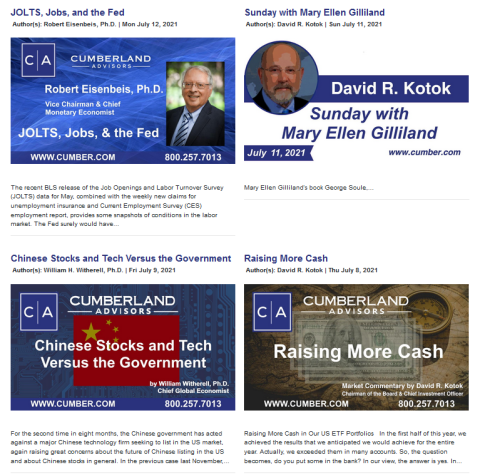 Sign up for our FREE Cumberland Market Commentaries
---
Links to other websites or electronic media controlled or offered by Third-Parties (non-affiliates of Cumberland Advisors) are provided only as a reference and courtesy to our users. Cumberland Advisors has no control over such websites, does not recommend or endorse any opinions, ideas, products, information, or content of such sites, and makes no warranties as to the accuracy, completeness, reliability or suitability of their content. Cumberland Advisors hereby disclaims liability for any information, materials, products or services posted or offered at any of the Third-Party websites. The Third-Party may have a privacy and/or security policy different from that of Cumberland Advisors. Therefore, please refer to the specific privacy and security policies of the Third-Party when accessing their websites.